Revolutionizing ASE Certifications: Remote Testing with ProProctor [RR 873]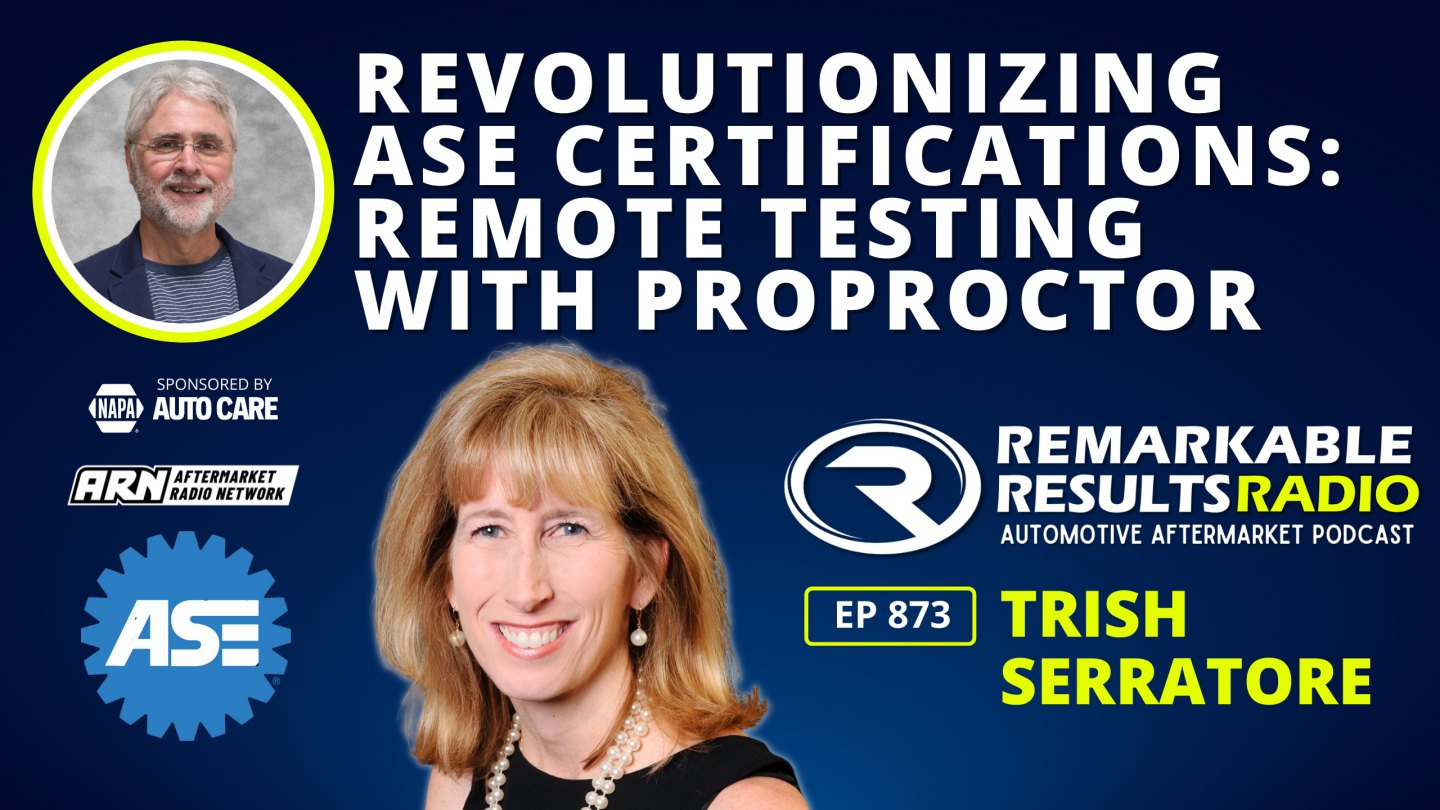 Trish Serratore, who is retiring after 35 years with the Automotive Service Excellence (ASE) organization, discusses new testing and certification for electric vehicles, instructor training, and the process of remote testing with ProProctor. Trish explains the safety standards for EV technicians and the convenience of taking tests from home. As we bid farewell to Trish, we also look forward to the exciting developments in the pipeline!
Trish Serratore, Senior Vice President of Communication at ASE. Trish's previous episodes HERE
Show Notes
New Leadership and Retirement (00:00:16) Discussion about Trish Serratore retiring after 35 years with ASE.
New EV Testing and Certification (00:02:13) Introduction of the new certification for electric vehicles called XEV, focusing on safety standards for technicians and industry professionals.
The process of remote testing (00:07:57) Explains the steps and security measures involved in taking a test at home using ProProctor.
Benefits of remote testing for re-certifiers (00:08:47) Discusses the advantages of remote testing for technicians who are already certified and need to re-certify.
Feedback and improvements for remote testing (00:11:06) Addresses the feedback received regarding the remote testing process and discusses potential improvements to make it more efficient and consistent.
Options for Testing (00:17:19) Exploring the different options available for testing, including test centers, and the mobile renewal app.
Future Updates to Renewal App (00:18:46) Information about upcoming updates to the renewal app.
Thanks to our Partner, NAPA AUTO CARE
Learn more about NAPA AUTO CARE and the benefits of being part of the NAPA family by visiting https://www.napaonline.com/en/auto-care
Connect with the Podcast:
-Join our Insider List: https://remarkableresults.biz/insider
-All books mentioned on our podcasts: https://remarkableresults.biz/books
-Our Classroom page for personal or team learning: https://remarkableresults.biz/classroom
-Buy Me a Coffee: https://www.buymeacoffee.com/carm
-The Aftermarket Radio Network: https://aftermarketradionetwork.com
-Special episode collections: https://remarkableresults.biz/collections