Listening to Service Advisor Phone Calls [THA 343]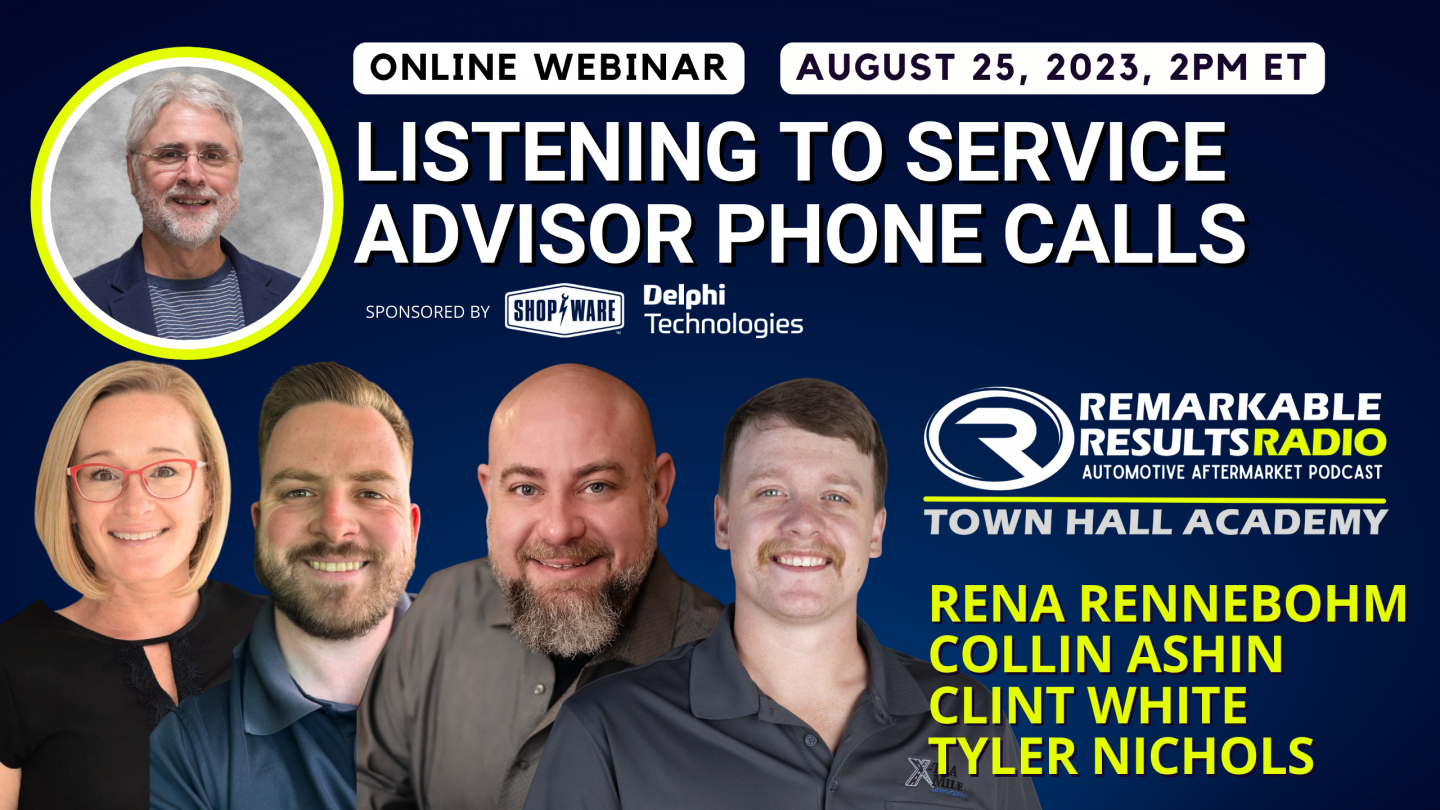 "The art of asking the right questions: this approach, inspired by the Socratic method, helps uncover valuable insights and ensures a thorough understanding of situations. Authenticity is key in every interaction."
Carm Capriotto introduces a panel to discuss the importance of listening to service advisor calls. Rena Rennebohm and Clint White are service advisor coaches, while Collin Ashin and Tyler Nichols are their clients. They discuss the benefits of reviewing recorded calls, such as identifying areas for improvement, enhancing problem-solving skills, creating a safe environment for feedback, the value of coaching, and the need for continuous improvement. Remember, the journey to self-improvement begins with a single step.
Rena Rennebohm, CEO Empowered Advisor. Listen to Rena's previous episodes HERE.
Collin Ashin, European Auto Garage, Knoxville, TN
Clint White, Service Advisor Coach & Shop Consultant with CWI and currently holds multiple ASE certifications. Clint's previous episodes HERE
Tyler Nichols, X-tra Mile Auto Care, Stillwater, OK
Show Notes:
Listening to service advisor calls (00:00:28) Discussion on the impact of listening to service advisor calls and how it improves their performance.
Coaching style and empowerment (00:03:56) Exploration of the coaching style that focuses on empowerment and positive experiences for service advisors.
Enhanced problem solving (00:09:20) Discussion on the benefits of reviewing recorded calls for service advisors to improve their ability to respond effectively and professionally.
Drawing attention to extended silences and lazy language (00:10:25) Conversation about the importance of avoiding extended silences while speaking and the impact it has on customer confidence.
Trust building and providing lessons before listening to calls (00:14:27) Explanation of the approach to establish trust and provide education and tools before giving critique on recorded calls.
The Importance of Coaching and Training (00:16:41) Discussion on the value of coaching and training in various industries, using examples like Tiger Woods and football players.
Working with Top Advisors (00:17:37) Exploring the concept of working with top advisors and keeping them at the top of their game.
Using Scripts as a Guide (00:18:51) The benefits and challenges of using scripts in client interactions, emphasizing the need for authenticity and personalization.
Improving Call Structure and Clarity (00:24:32) Discussion on the importance of having a structured call and how it helps in assessing improvement.
Seeking Feedback from Spouse (00:25:15) Sharing phone calls with a spouse to get their input on how the calls sound and if they seem forced.
Building the Clock Analogy (00:32:56) Explains the analogy of building a clock to illustrate the importance of not overcomplicating things in the automotive industry.
Realizing You're Still a Good Advisor (00:34:17) Discusses the realization that having a coach doesn't mean you're a bad advisor, but rather an opportunity to improve and fine-tune skills.
Pain Points in Listening to Calls (00:35:24) Explores the discomfort and growth that comes from listening to difficult phone calls and the benefits of having a coach to provide objective feedback.
The value of consistency in customer interactions (00:48:01) Emphasizes the importance of maintaining consistent service across multiple locations for customer satisfaction.
Thanks to our Partners Shop-Ware and Delphi Technologies
Shop-Ware: More Time. More Profit. Shop-Ware Shop Management https://getshopware.com/
Delphi Technologies: Keeping current on the latest vehicle systems and how to repair them is a must for today's technicians. http://DelphiAftermarket.com
Connect with the Podcast
-Join our Insider List: https://remarkableresults.biz/insider
-All books mentioned on our podcasts: https://remarkableresults.biz/books
-Our Classroom page for personal or team learning: https://remarkableresults.biz/classroom
-Buy Me a Coffee: https://www.buymeacoffee.com/carm
-The Aftermarket Radio Network: https://aftermarketradionetwork.com
-Special episode collections: https://remarkableresults.biz/collections