Today's Class: Adaptive Learning Technology [RR 879]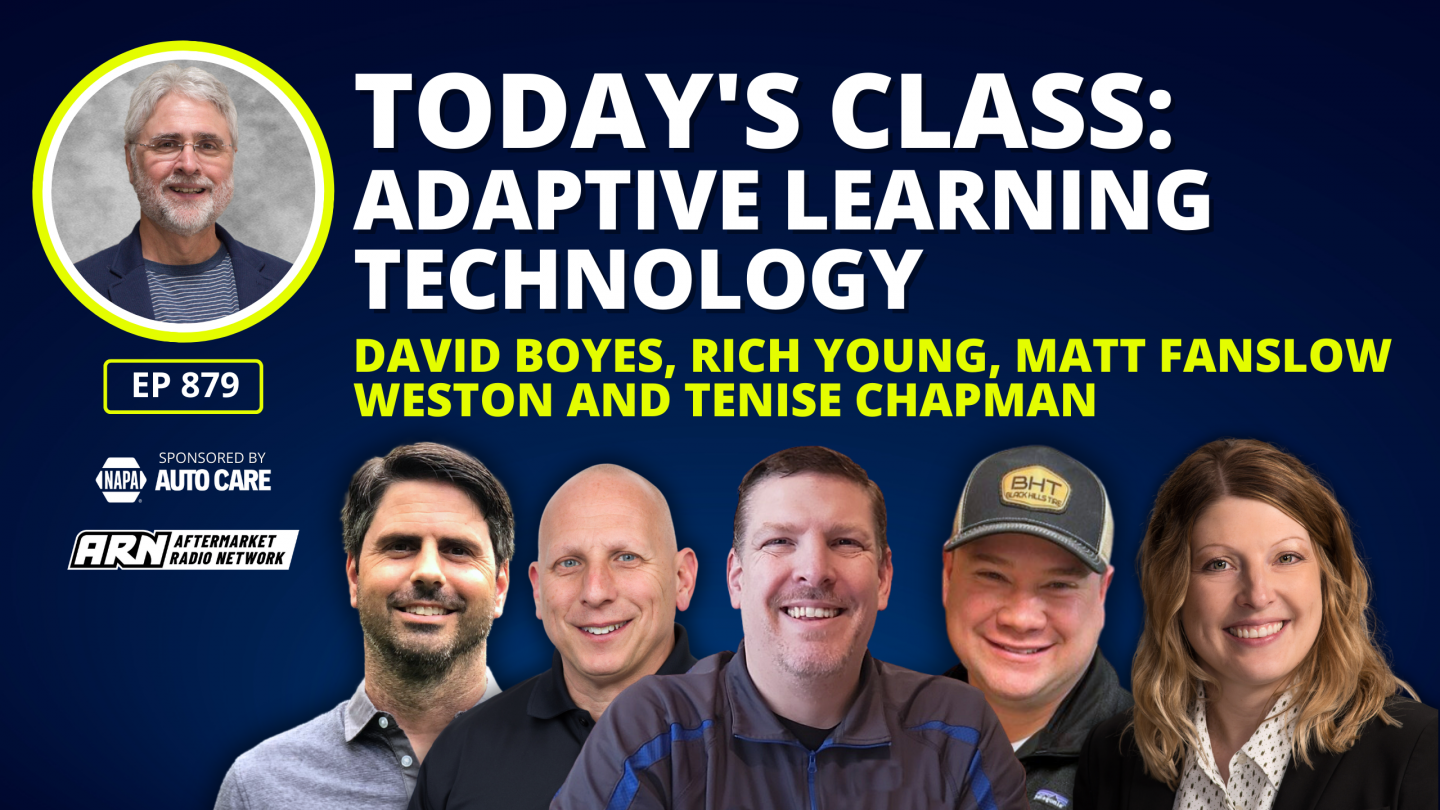 Our panel discusses the benefits of "Today's Class" software, a key training tool for technicians and service advisors in the automotive industry. David Boyes, President of "Today's Class" explains that Today's Class uses adaptive learning technology to make training sessions accessible and tailored to the strengths and weaknesses of each team member. The episode highlights the importance of continuous training and its impact on team building and knowledge retention in the industry.
David Boyes, President of 'Today's Class"  An online learning organization that has been supporting the automotive industry for more than 20 years.
Rich Young, Charlie & Rays, Essex, MD
Weston and Tenise Chapman, Black Hills Tire, Rapid City, SD
Matt Fanslow, lead diagnostician and shop manager, Riverside Automotive, Red Wing, MN. Matt's previous episodes HERE
Matt Fanslow Podcast: Diagnosing the Aftermarket A to Z
Show Notes
The concept of training resume (00:01:00) Discussion on the importance of recording training attendance and assessments for technicians and shop owners.
Leveraging technology for adaptive learning (00:03:42) Explanation of how adaptive learning technology is used to deliver training sessions that adjust to the strengths and weaknesses of the team.
Impact of daily learning sessions and quizzes (00:06:11) Testimonials about how the daily learning sessions and quizzes have improved communication and knowledge retention among technicians.
Training and Team Building (00:08:11) Discussion on the importance of training and how it leads to team building and improved knowledge levels in the shop.
Motivation and Engagement (00:09:38) Exploration of how the use of technology and gamification techniques can motivate technicians and service advisors to engage in training.
Adaptive Learning Engine (00:12:24) Explanation of the adaptive engine used in the training platform, which assesses individual knowledge levels and focuses on areas of weakness for personalized learning.
The importance of training and knowledge reinforcement (00:16:07) Discussion on the training system that includes content, tasks, and observations, and how it helps reinforce knowledge over time.
Using Today's Class for technician training (00:16:44) Examples of technicians at different levels using Today's Class for training, with a focus on electrical repairs.
Benefits and challenges of implementing Today's Class (00:18:04) Discussion on the reactions and experiences of employees when implementing Today's Class in an automotive shop.
The importance of grooming and teaching youth in the industry (00:24:23) Discussion on the need to bring in and develop young talent in the automotive industry.
The need for effective systems to train and progress technicians (00:24:38) Exploration of the lack of good systems to take technicians from a low level to mastery, and the importance of continuous improvement.
The challenge of retention rate in traditional training methods (00:26:13) Discussion on the low retention rate in conventional training methods and the potential of using technology to reinforce learning and improve retention.
Training as a Tool (00:32:13) Discussion on the use of training as a tool for employee development and the challenges of getting technicians to engage in training.
Recruiting Younger Technicians (00:36:45) The potential of Today's Class as a tool to attract younger technicians to the automotive industry and showcase the industry's commitment to training.
Training for service writers (00:41:26) The shop owner highlights the unexpected benefits of Today's Class app in training service writers and improving their automotive knowledge and people skills.
Thanks to our Partner, NAPA Auto Care
Learn more about NAPA Auto Care and the benefits of being part of the NAPA family by visiting https://www.napaonline.com/en/auto-care
Connect with the Podcast:
-Join our Insider List: https://remarkableresults.biz/insider
-All books mentioned on our podcasts: https://remarkableresults.biz/books
-Our Classroom page for personal or team learning: https://remarkableresults.biz/classroom
-Buy Me a Coffee: https://www.buymeacoffee.com/carm
-The Aftermarket Radio Network: https://aftermarketradionetwork.com
-Special episode collections: https://remarkableresults.biz/collections