Network Security: Protecting Your Business [THA 352]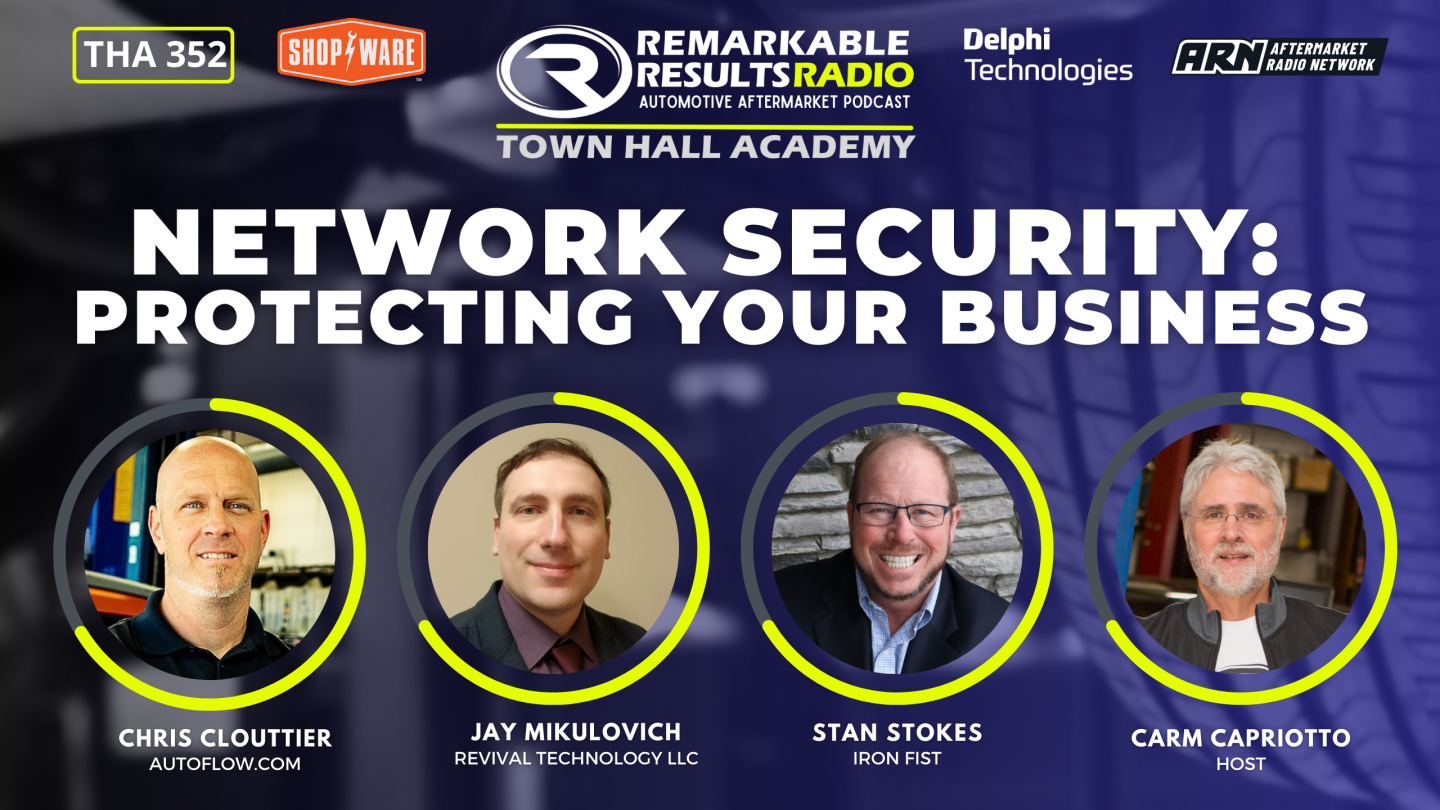 Is your business prepared for cyber-attacks? It's not a question of 'if' it's a question of 'when.'
Our panel discusses the importance of network security and protecting businesses from cyber threats. They emphasize the need for multiple layers of protection, including two-factor authentication, and caution against phishing attacks. They also highlight the importance of training employees to recognize such threats and having a proactive approach to cybersecurity. Let's stay ahead of potential threats and make it more difficult for hackers to target our businesses.
Chris Cloutier is co-owner of Golden Rule Auto Care in Dallas Texas and CEO of Autoflow. Chris's previous episodes HERE
Jay Mikulovich, founder and CEO of Revival Technology LLC.
Stan Stokes, Founder & CEO of Iron Fist Marketing Consultants. Stan's previous episodes HERE
Show Notes:
The importance of two-factor authentication (00:02:07) Explains the significance of using two-factor authentication to add an extra layer of security to passwords.
The vulnerability of software packages (00:03:48) Discusses how no software is perfect and can have vulnerabilities, emphasizing the need for multiple layers of security.
The dangers of phishing attacks (00:08:06) Explains the concept of phishing and how hackers use email to trick users into clicking on malicious links or attachments.
The challenges of being reactive to security breaches (00:10:04) The difficulties of being reactive to security breaches and emphasize the importance of being proactive in protecting business operations.
The vulnerabilities of relying on technology (00:11:24) The vulnerabilities of relying heavily on technology and the need for shop owners to understand their level of vulnerability and seek expert advice.
The importance of backups and cybersecurity measures (00:20:38) Discussion on the need for backup plans, having multiple backups, and the importance of cybersecurity measures to protect against potential data loss or breaches.
Difference between IT support and network security (00:23:39) Explaining the distinction between IT support and network security, and the importance of understanding and vetting service providers to ensure proactive cybersecurity measures are in place.
Updating Network Security (00:27:58) Discussion on the importance of regularly updating network firewalls, equipment, and passwords to prevent hacking and security breaches.
The Risks of Delaying Updates (00:28:51) Exploration of the consequences of not updating desktops, including vulnerabilities, outdated patches, and potential hacking threats.
Password Management and Security (00:30:41) Advice on using password managers, generating unique passwords, and the importance of having strong, lengthy passwords to enhance security.
The importance of strong passwords and data encryption (00:37:03) Discussion on the significance of using strong passwords and encrypting data to protect against cyber threats.
Securing networks and vulnerabilities (00:37:54) Exploration of the importance of securing networks, including the use of firewalls and regular security scans, to prevent hacking and data breaches.
Understanding APIs and their role in data protection (00:39:34) Explanation of APIs (Application Programming Interfaces) as a means of limiting data access between systems and the importance of authentication in ensuring secure communication.
Take baby steps to minimize risk (00:46:05) The importance of taking small steps to implement cybersecurity measures and reduce the risk for business owners.
Be the harder target (00:47:11) Being proactive in implementing security measures, such as cameras and updates, to make your business a less vulnerable target for hackers.
Thanks to our Partners Shop-Ware and Delphi Technologies
Shop-Ware: More Time. More Profit. Shop-Ware Shop Management https://getshopware.com/
Delphi Technologies: Keeping current on the latest vehicle systems and how to repair them is a must for today's technicians. http://DelphiAftermarket.com
Connect with the Podcast
-Follow on Facebook: https://www.facebook.com/RemarkableResultsRadioPodcast/
-Follow on LinkedIn: https://www.linkedin.com/in/carmcapriotto/
-Follow on Instagram: https://www.instagram.com/remarkableresultsradiopodcast/
-Follow on Twitter: https://twitter.com/RResultsBiz
-Join our Insider List: https://remarkableresults.biz/insider
-All books mentioned on our podcasts: https://remarkableresults.biz/books
-Our Classroom page for personal or team learning: https://remarkableresults.biz/classroom
-Buy Me a Coffee: https://www.buymeacoffee.com/carm
-The Aftermarket Radio Network: https://aftermarketradionetwork.com
-Special episode collections: https://remarkableresults.biz/collections