Doubling Down On Diagnostics [RR 898]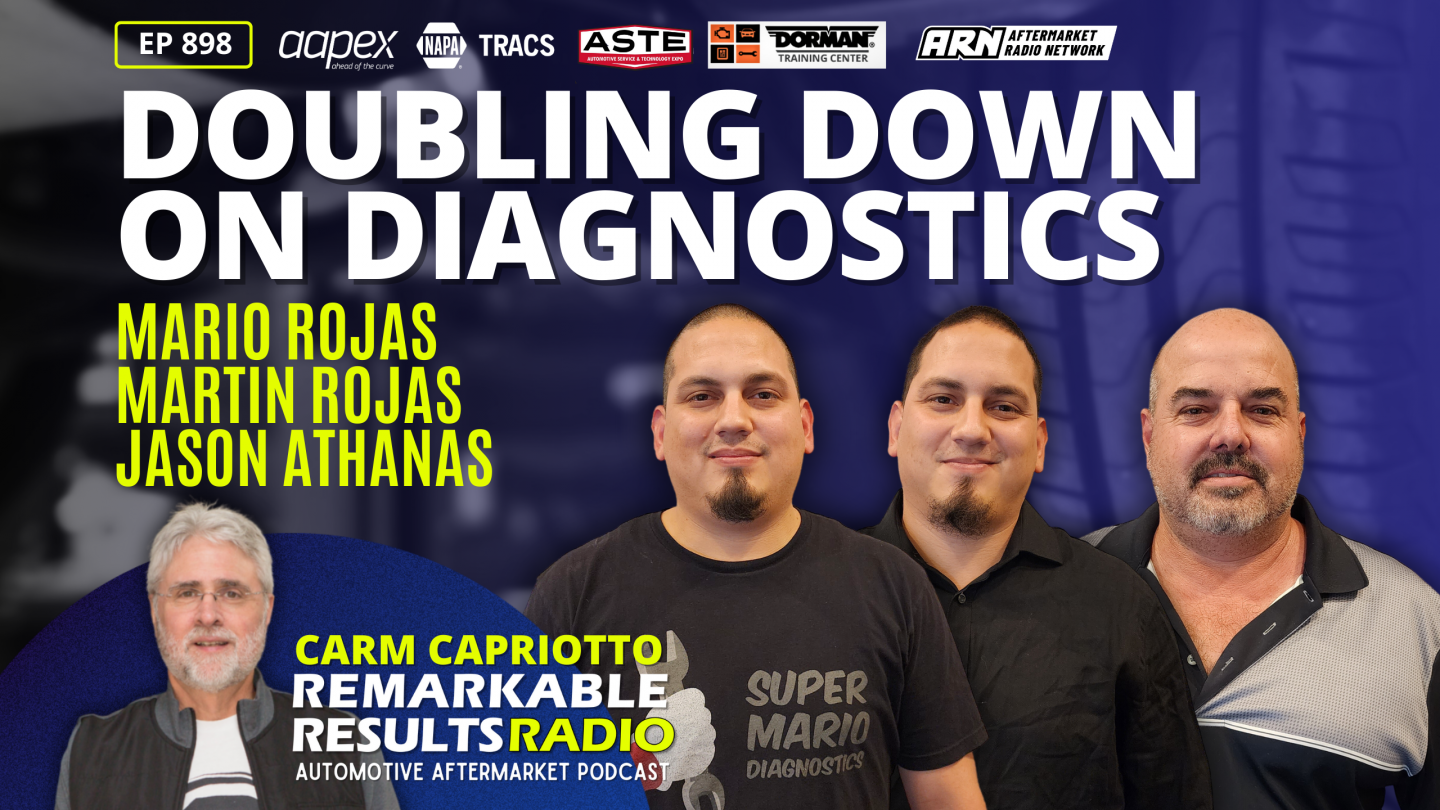 Recorded Live at ASTE 2023, twin brothers Mario and Martin Rojas and their employer Jason Athanas, discuss their work in the automotive industry, the importance of continuous training and staying updated on technology, and their unique business model. Mario also talks about his YouTube channel 'Super Mario Diagnostics, which is used for training and customer engagement.
Mario, Martin Rojas, and Jason Athanas, Autobahn Performance, Oakland Park, FL
Show Notes
The twins' journey to finding Jason (00:02:23) Mario and Martin Rojas explain why they decided to join Jason's shop.
The importance of proper tools in a shop (00:03:06) The significance of having the right equipment and factory scan tools in a shop to effectively.
Challenging the traditional rating system for technicians (00:04:03) The dissatisfaction with the current rating system for technicians and propose alternative ways to evaluate and recognize their skills and experience.
The technician's self-training (00:08:15)
Martin's diagnostic skills (00:09:13)
The owner's role and challenges (00:10:08) Jason talks about his role and the challenges he faces in balancing his technician work with ownership responsibilities.
The satellite location and shuttle service (00:16:54) Discussion about the separate buildings, shuttle service, and transportation methods used by the shop.
Using YouTube videos as a marketing tool (00:18:19) Conversation about the agreement to film YouTube videos and how it benefits the shop by attracting technicians and showcasing their work to customers.
Thanks to our Partners, AAPEX and NAPA TRACS
Set your sights on Las Vegas in 2024. Mark your calendar now … November 5th-7th, 2024. AAPEX – Now more than ever. And don't miss the next free AAPEX webinar. Register now at http://AAPEXSHOW.COM/WEBINAR
NAPA TRACS will move your shop into the SMS fast lane with onsite training and six days a week of support and local representation. Find NAPA TRACS on the Web at http://napatracs.com/
Connect with the Podcast:
-Follow on Facebook: https://www.facebook.com/RemarkableResultsRadioPodcast/
-Follow on LinkedIn: https://www.linkedin.com/in/carmcapriotto/
-Follow on Instagram: https://www.instagram.com/remarkableresultsradiopodcast/
-Follow on Twitter: https://twitter.com/RResultsBiz
-Visit the Website: https://remarkableresults.biz/
-Join our Insider List: https://remarkableresults.biz/insider
-All books mentioned on our podcasts: https://remarkableresults.biz/books
-Our Classroom page for personal or team learning: https://remarkableresults.biz/classroom
-Buy Me a Coffee: https://www.buymeacoffee.com/carm
-The Aftermarket Radio Network: https://aftermarketradionetwork.com
-Special episode collections: https://remarkableresults.biz/collections