Gain Commitment From Your Team: Lead From the Front [AW 182]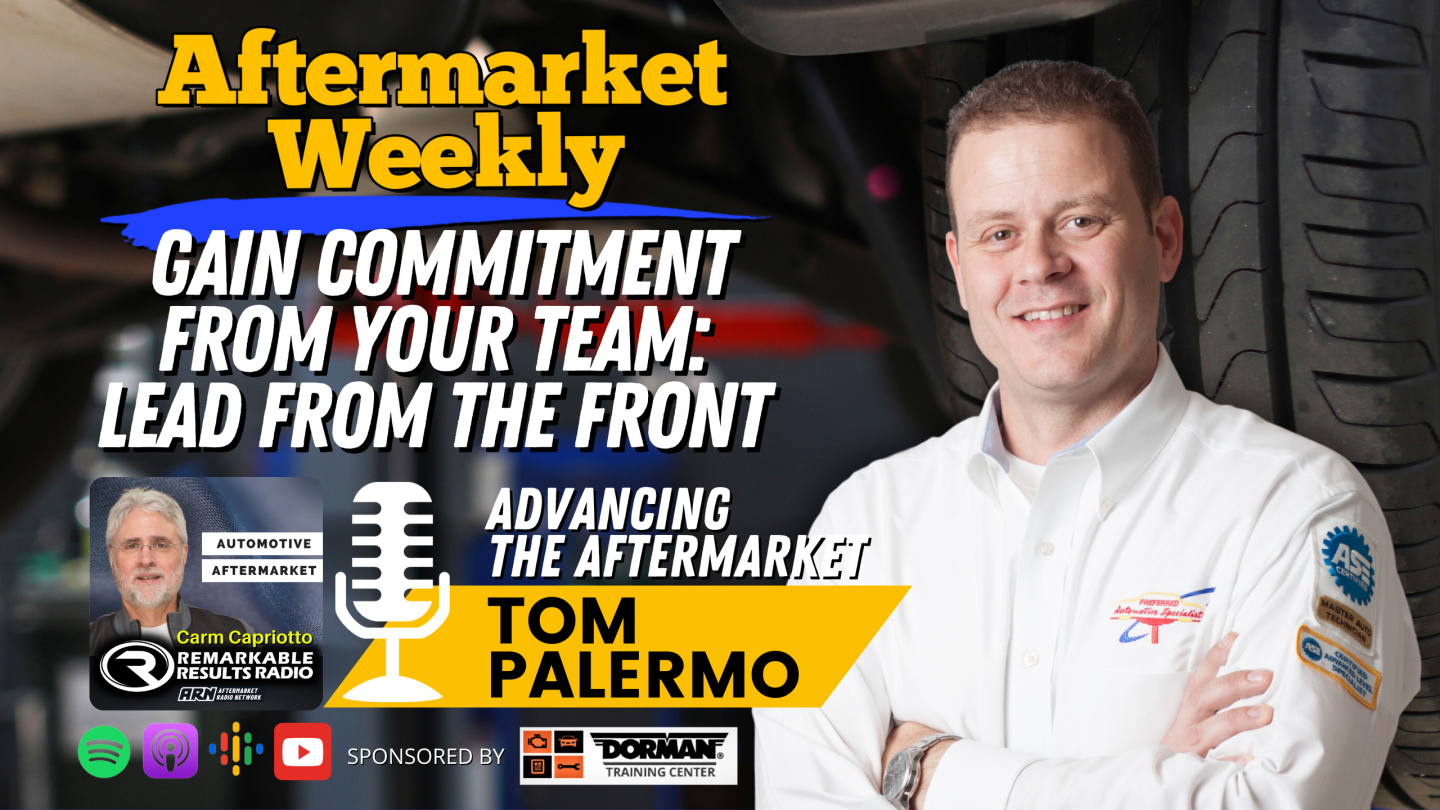 Tom Palermo discusses the importance of continuous training for technicians, the increasing average age of vehicles, and his strategies for fostering a positive company culture and building strong customer relationships. He also discusses the challenges and opportunities presented by electric vehicles and the importance of hands-on training.
Tom Palermo, Preferred Automotive Specialists in Philadelphia, PA. Tom's previous episodes HERE
Show Notes:
The current state of business at Palermo's (00:03:26) Tom Palermo discusses how busy his shop is and becoming the go-to shop for diagnostics.
The increase in the average age of vehicles (00:04:07) Tom Palermo mentions that the average age of vehicles is still increasing due to inflationary times, as people are choosing to hold onto their cars longer to avoid car payments and increased insurance costs.
Getting commitment from the team (00:05:08) Tom Palermo shares his strategy of leading from the front and actively participating in his own business to motivate his employees and create a family-like culture in the shop.
Training and expanding services (00:06:28) Discussion on the benefits of cross-training technicians and expanding services to become a one-stop shop for customers.
Creating a culture of learning and teamwork (00:08:03) Exploration of the importance of building a team environment, promoting culture, and providing training opportunities for technicians.
Concerns and opportunities with electric vehicles (00:10:23) Conversation about consumer concerns and technician concerns regarding electric vehicles, as well as the need for businesses to adapt to the evolving automotive industry.
The importance of continuous training (00:13:13) Discussion on the evolution of the automotive industry and the need for technicians and shop owners to continuously train and adapt to new technologies.
The challenges of hands-on training (00:16:02) the need for hands-on training in the automotive industry and the effectiveness of learning through practical experience.
Monitoring productivity and customer loyalty (00:18:16) Explanation of how monitoring productivity can be used as a training tool and the shift in customer behavior, from seeking diagnoses and getting repairs elsewhere to valuing a good shop.
The value of relationships and trust (00:19:27) The importance of building relationships with customers and gaining their trust in the automotive industry.
Customer relationship management strategies (00:20:28) Discussion about the various customer relationship management techniques used, including email blasts, follow-up phone calls, and special promotions for valued customers.
Training for service advisors (00:25:04) The need for more training for service advisors in the automotive industry and the importance of standardized approaches to dealing with customers.
Retention rate and treating employees like family (00:26:29) Conversation about the high retention rate of employees at Palermo's and their approach of treating employees like family.
Creating a better work environment for technicians (00:28:34) Importance of providing a well-lit, air-conditioned, and well-equipped shop to improve technician productivity, safety, and job satisfaction.
Thanks to our Partner, Dorman Products.
Dorman gives people greater freedom to fix vehicles by constantly developing new repair solutions that put owners and technicians first. Take the Dorman Virtual Tour at www.DormanProducts.com/Tour
Connect with the Podcast:
-Follow on Facebook: https://www.facebook.com/RemarkableResultsRadioPodcast/
-Follow on LinkedIn: https://www.linkedin.com/in/carmcapriotto/
-Follow on Instagram: https://www.instagram.com/remarkableresultsradiopodcast/
-Follow on Twitter: https://twitter.com/RResultsBiz
-Join our Insider List: https://remarkableresults.biz/insider
-All books mentioned on our podcasts: https://remarkableresults.biz/books
-Our Classroom page for personal or team learning: https://remarkableresults.biz/classroom
-Buy Me a Coffee: https://www.buymeacoffee.com/carm
-The Aftermarket Radio Network: https://aftermarketradionetwork.com
-Special episode collections: https://remarkableresults.biz/collections