Insights Into AAPEX 2023: Right to Repair and Magic Johnson [RR 899]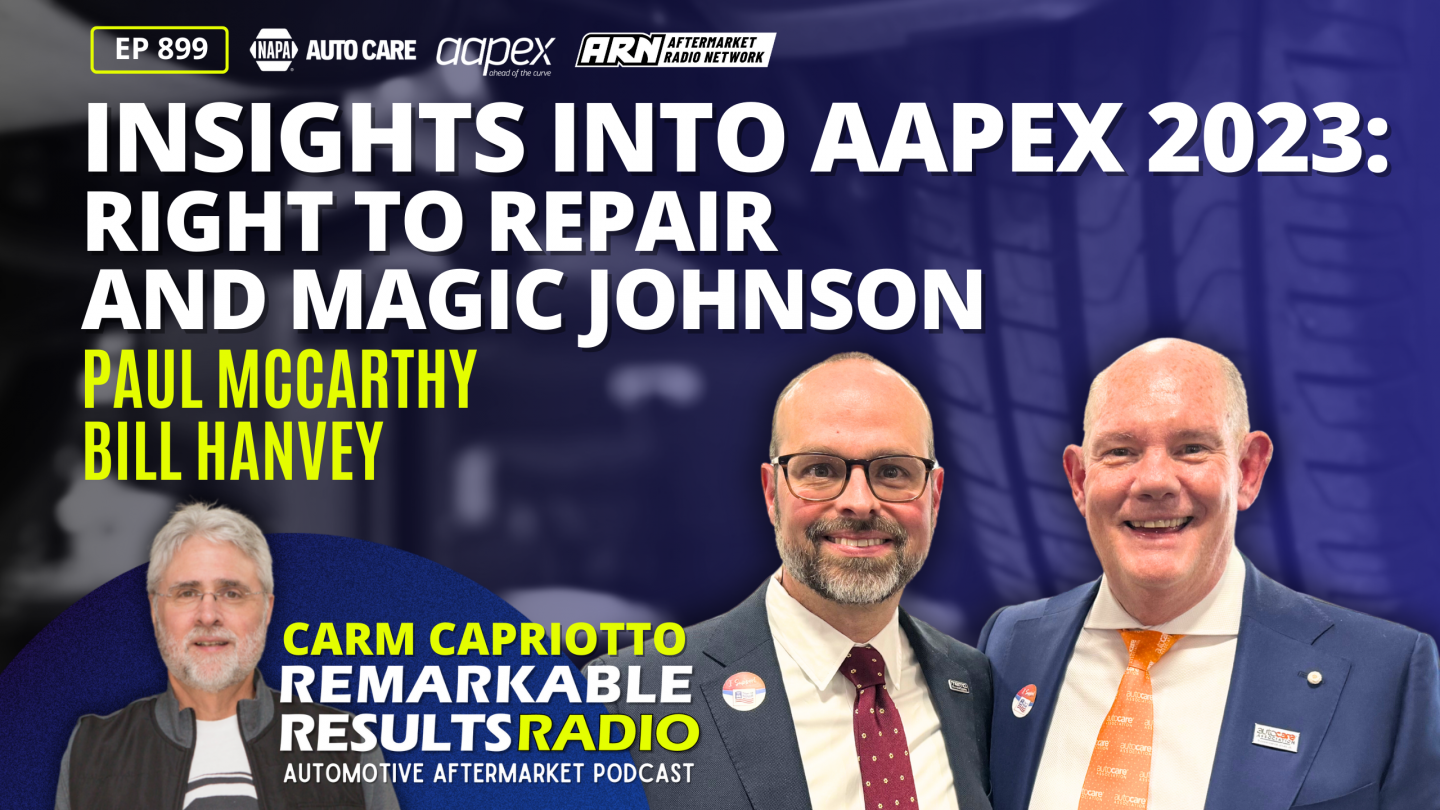 Recorded Live at AAPEX 2023, Bill Hanvey and Paul McCarthy give insights into Right to Repair, what it takes to put on a massive show encompassing 2,600 exhibitors, and 46,000 buyers, and a recap of Magic Johnson's engaging keynote. In a recent study, by 2035 there could be a 54% decline in market share due to repair restrictions, translating to $92 Billion lost by the independent aftermarket. This issue is not just about the industry, but also about the consumers who rely on affordable and accessible auto services.
Bill Hanvey, President and CEO of the Auto Care Association. Find Bill's other episodes HERE.
Paul McCarthy, President and CEO of MEMA (Motor & Equipment Manufacturers Association). Find Paul's other episodes HERE.
Show Notes
The impact of Right to Repair (00:02:58) Bill Hanvey and Paul McCarthy discuss a study by Roland Berger that predicts a decline in market share for the independent aftermarket due to repair restrictions.
The importance of grassroots efforts in right to repair (00:04:51) The role of grassroots efforts and listener engagement in gaining support for the Right to Repair bill.
Exceeding pre-COVID numbers at AAPEX 2023 (00:11:42) Conversation about the number of exhibitors and buyers at AAPEX, and positive feedback received.
The technology-driven automotive industry (00:12:46) Exploration of the automotive industry's shift towards technology, the importance of data, and the excitement and opportunities it brings.
The breakfast panel for next year (00:19:10) Discussion about planning for the next year's breakfast panel and the constant effort to innovate the show.
The larger show for next year (00:19:33) Announcement of a larger show for the next year with more space and exciting new technology and innovations.
Magic Johnson's appearance (00:20:22) Conversation about how Magic Johnson was chosen as a speaker and his impressive presence and interactions with the audience.
Thanks to our Partner, NAPA Auto Care
Learn more about NAPA Auto Care and the benefits of being part of the NAPA family by visiting https://www.napaonline.com/en/auto-care
Connect with the Podcast:
-Follow on Facebook: https://www.facebook.com/RemarkableResultsRadioPodcast/
-Follow on LinkedIn: https://www.linkedin.com/in/carmcapriotto/
-Follow on Instagram: https://www.instagram.com/remarkableresultsradiopodcast/
-Follow on Twitter: https://twitter.com/RResultsBiz
-Join our Insider List: https://remarkableresults.biz/insider
-All books mentioned on our podcasts: https://remarkableresults.biz/books
-Our Classroom page for personal or team learning: https://remarkableresults.biz/classroom
-Buy Me a Coffee: https://www.buymeacoffee.com/carm
-The Aftermarket Radio Network: https://aftermarketradionetwork.com
-Special episode collections: https://remarkableresults.biz/collections