The Rise and Fall and the Rise Again of the Electric Vehicle [AW 159]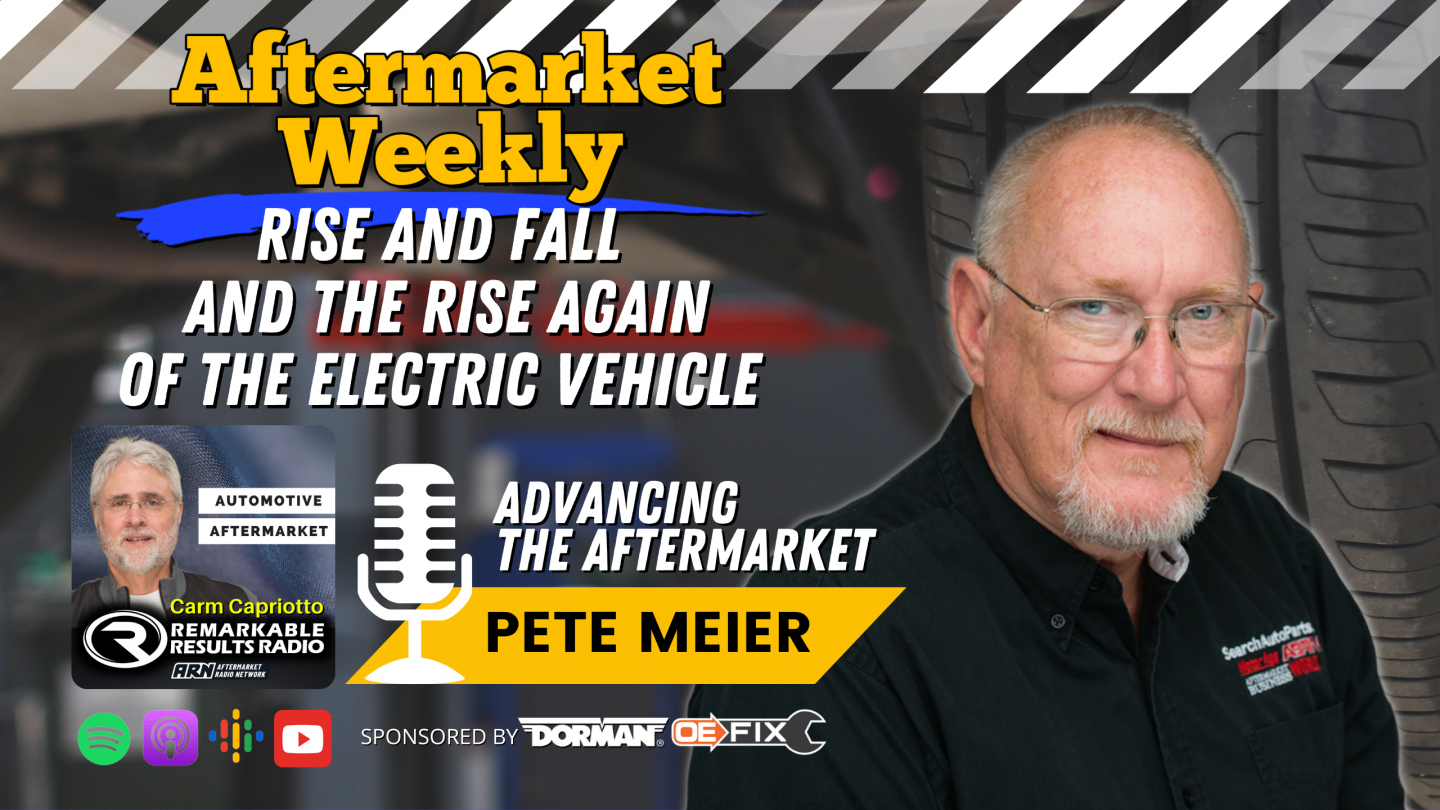 Electric vehicles (EVs) are a hot topic in the automotive industry and for good reason. They offer numerous benefits, such as reducing emissions and improving fuel economy, but they also present some challenges, including a lack of infrastructure and range anxiety. Pete Meier shares his perspective on the impact of EVs on the industry and offers some insights into their history and future. His message is one of encouragement and reassurance, emphasizing that technicians have risen to the challenge of the rapidly changing industry.
Pete Meier, Creative Director, Motor Age, and industry trainer. Bikers C.A.R.E Inc. Listen to Pete's other episodes HERE
Watch Full Video Episode HERE
The Rise of EVs (00:03:28) Forecasted sales of hybrid and battery electric vehicles and the reality of the US fleet of cars on the road.
The History of Electric Vehicles (00:06:06))Pete Meier shares the history of electric vehicles, including the first propulsion system and the first rechargeable batteries.
The Model T Ford (00:06:59) How the Model T Ford put the death toll on the first EVs due to its affordability and mass production.
The Wild West of Automotive Innovation (00:08:08) The early days of electric vehicles and how it was a time of innovation and startups.
Environmental Issues of the First EVs (00:08:50) The first electric vehicles were created to solve an environmental issue caused by horse-drawn carriages in New York City in the early 1900s.
The Rise of Hybrid Vehicles (00:13:23) The history of hybrid vehicles, starting with the GM EV1 and leading up to the popular Toyota Prius.
Greenhouse Gas Emissions (00:17:04) Greenhouse gas emissions and how they contribute to global warming and climate change.
California's Zero Emissions Vehicle Sales Plan (00:23:16) Discussion of California's plan to achieve 100% zero emissions vehicle sales by 2035 and its implications.
European Union's Zero Emissions Car Deadline (00:25:36) Discussion of the European Union's plan for all new cars to be zero emissions and cannot emit any CO2 by 2035.
Alternative Solutions to Electric Vehicles (00:28:46) Discussion of alternative solutions to electric vehicles, including plug-in hybrids and synthetic fuels, and the importance of considering the entire lifecycle of a vehicle.
Training and Education on EV Systems (00:32:26) Pete Meier encourages technicians to seek out training and education on EV systems, especially those who are up and coming in their careers.
Passion to Help Abused Children (00:34:57) Pete's passion to support abused children and recommends listening to his episode on Remarkable Results Radio.
Thanks to our Partner, Dorman Products. Dorman gives people greater freedom to fix vehicles by constantly developing new repair solutions that put owners and technicians first. Take the Dorman Virtual Tour at www.DormanProducts.com/Tour
Connect with the Podcast:
-Join our Insider List: https://remarkableresults.biz/insider
-All books mentioned on our podcasts: https://remarkableresults.biz/books
-Our Classroom page for personal or team learning: https://remarkableresults.biz/classroom
-Buy Me a Coffee: https://www.buymeacoffee.com/carm
-The Aftermarket Radio Network: https://aftermarketradionetwork.com
-Special episode collections: https://remarkableresults.biz/collections