Defining Mentoring and Its Role in Implementing Change [AW 179]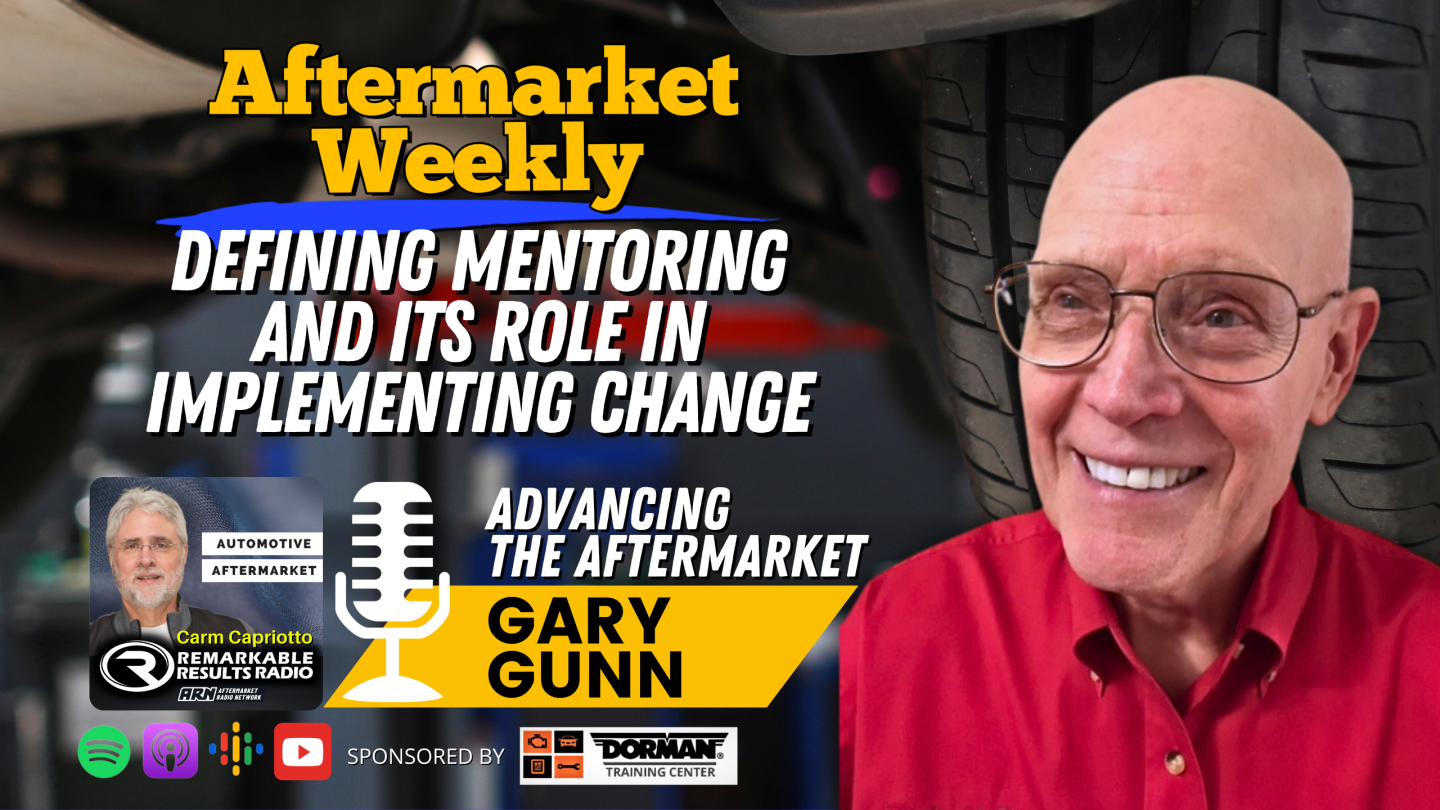 Gary Gunn discusses how mentoring differs from coaching and how it can benefit shop owners in defining their own success and implementing necessary changes in their businesses. Gary shares his experience as a mentor and offers tools and strategies for shop owners to implement new ideas and overcome challenges. He emphasizes the importance of working on the business and oneself, creating a scoreboard for business performance, and understanding the true cost of doing business. Gary also explains the role of a true mentor and the value of assessments in tailoring mentoring approaches. Carm and Gary believe that mentoring can enhance the value of coaching and help shop owners gain confidence and make informed decisions.
Gary Gunn, Auto Shop Showcase
Show Notes:
The importance of mentoring for shop owners (00:01:12) Gary Gunn discusses the concept of mentoring for shop owners and how it can benefit them in achieving better lives.
Defining mentoring and its role in implementing change (00:05:56) Gary explains his definition of mentoring and how it involves helping shop owners implement changes that will lead to true freedom and success in their businesses.
The role of a mentor in addressing specific struggles (00:07:03) Gary talks about how a mentor can assist with specific challenges such as hiring, budgeting, and determining financial goals, and how their role is to help mentees become self-sufficient in these areas.
Implementing Ideas from Training (00:09:35) Discussion on the challenges shop owners face when trying to implement new ideas and how mentoring can help them overcome resistance and successfully implement changes.
Using Tools for Implementation (00:11:32) Explanation of the five tools that shop owners can utilize to implement changes in their business, including staff training sessions and staff behavior sessions.
Understanding the True Cost of Doing Business (00:15:02) Explanation of the concept of the true cost of doing business and how it can help shop owners analyze their financials and make informed decisions.
The missing piece for shop owners (00:19:05) How mentoring can complement coaching and provide shop owners with additional value and guidance.
Group mentoring and individual sessions (00:22:01) The different formats of mentoring, including group mentoring sessions and one-on-one sessions, based on the specific needs of the participants.
The concept of mentoring in the automotive industry (00:26:50) Discussion on the importance of accepting the need for mentoring and the discrepancy between appearances and reality in the industry.
The potential benefits of seeking a mentor (00:27:10) Highlighting the potential positive impact of finding a mentor to help individuals and businesses grow and improve.
The role of a mentor as a supplement to coaching (00:28:45) Explaining how a mentor can work alongside existing coaching programs to provide additional support and guidance to shop owners.
Thanks to our Partner, Dorman Products.
Dorman gives people greater freedom to fix vehicles by constantly developing new repair solutions that put owners and technicians first. Take the Dorman Virtual Tour at www.DormanProducts.com/Tour
Connect with the Podcast:
-Join our Insider List: https://remarkableresults.biz/insider
-All books mentioned on our podcasts: https://remarkableresults.biz/books
-Our Classroom page for personal or team learning: https://remarkableresults.biz/classroom
-Buy Me a Coffee: https://www.buymeacoffee.com/carm
-The Aftermarket Radio Network: https://aftermarketradionetwork.com
-Special episode collections: https://remarkableresults.biz/collections