Why Invest In Digital Signage & Great Branding [CC 089]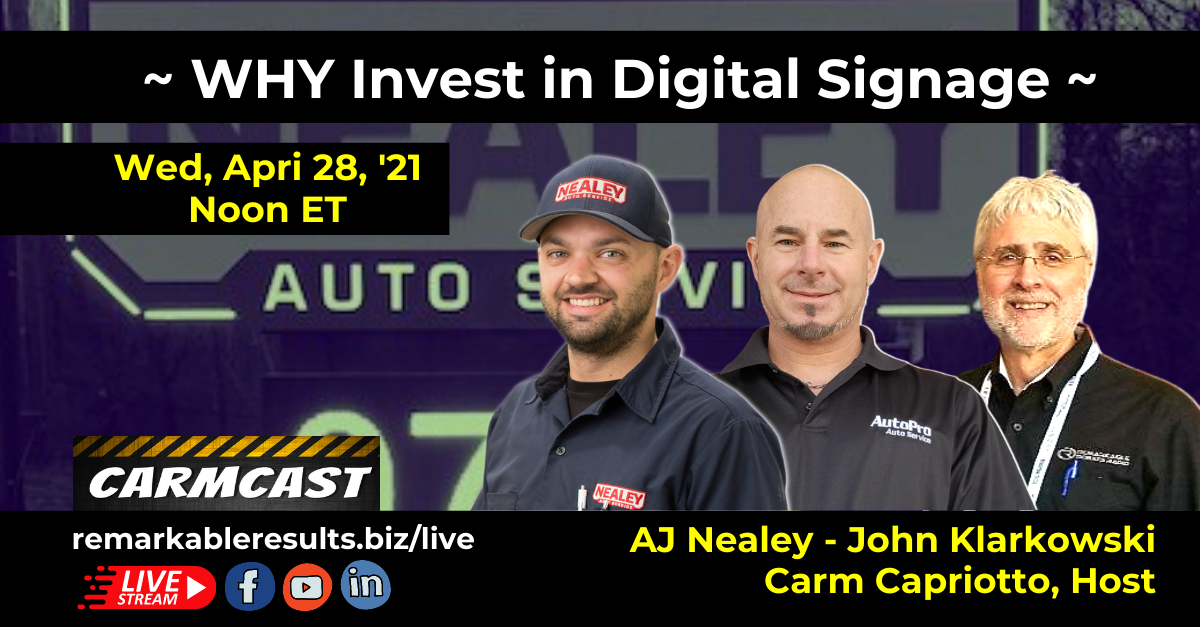 The Panel:
AJ Nealey, Nealey's Auto Service, Edgewater, MD
John Klarkowski, AutoPro Auto Service, Brooklyn Park, MN
Talking Points:
Discover the number of cars that pass by your location. Search for Car Count in your County
Find a state or county website
They may update the numbers yearly
Number of cars, trucks, etc
AJ started with a DIY sign
His new sign cost him $42K
The company he hired did the permitting
AJ justified at $700 per month because his referrals justified the investment
If he gets 3 new customers a month. Sign pays for it.
His driveby referrals doubled
Lights up at night
AJ can change the sign wording from anywhere
Seasonal message
If it is going to rain that day he can put up a message on wiper blades
AJ has over-communicated his brand message and is totally consistent
John started with not much money and created signs on a budget
The old-style sign with the letters needed to be changed 15' up in the air
John's is located off the path with only 4,000 cars a day going by
Installed digital sign and he saw within 8 months an increase in car count of 20%
People said they discovered him because of his sign
Digital signs grab attention
His signs change every 20 seconds
Check with your local ordinances
The messages are their unique selling points
The messages are conversation starters
John started to change his clientele from the shop he purchased. A strong reason for the branding and signage change
Product packaging shows professionalism
John's investment is prox $15K for his digital sign
He went with monochrome. A single color
AJ went with color in his digital sign
Make your branding professional that may include a new sign
More car count
More professional customers
John $120K increase in revenue because of his sign and branding investment
Link to the 'BOOKS' page, highlighting all books discussed in the podcast library HERE. Leaders are readers.
Listen for free on Apple Podcasts, Google Podcasts, Spreaker, iHeart Radio, Spotify, Podchaser, and many more. Mobile Listening APP's HERE
Find every podcast episode HERE.
Every episode is segmented by Series HERE.
Key Word Search HERE.
Be socially involved and in touch with the show:
Facebook Twitter Linked In Email
Join the Ecosystem – Subscribe to the INSIDER NEWSLETTER HERE.

Are you seeing auto shops in your area get hundreds of 5-star Google reviews and are you feeling left behind because your shop only has a few?
Hey look, Broadly is your answer to getting more online reviews. With more reviews, your business will rank higher in search results — and that means more customers coming into your shop every day.
Broadly helps you automatically request reviews so that your customers can promote your business with just one click.
When you immediately ask for a review after service, when the experience is still fresh in their mind, // you're more likely to get a 5-star positive review.
Plus, asking for feedback makes your customer feel valued and more connected to your business. Isn't that what you want a connected customer? See how Broadly can help grow your auto shop. Visit www.getbroadly.com/carm to learn more.