Employee Amenities with JJ Greenfield and Kelly Michel [CC 091]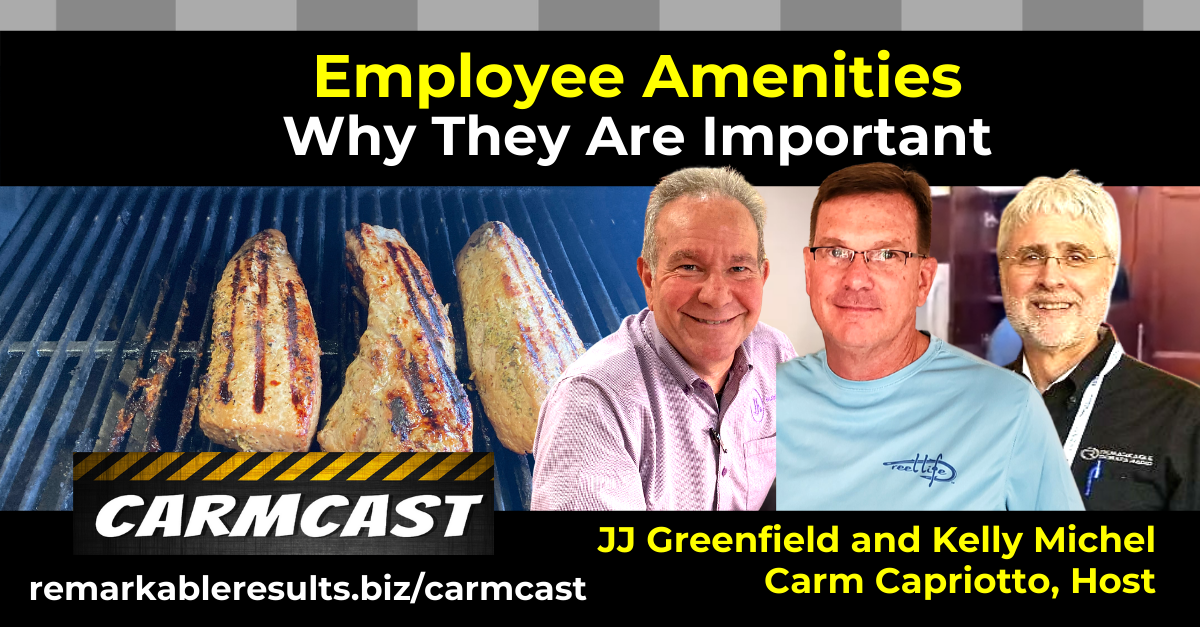 JJ Greenfield from JJ Auto Care, Jacksonville, FL. Link to his previous episodes HERE
Kelly Michel from Kelly's Auto Repair, Dunnellon, FL
Key Talking Points
Providing a comfortable break room- a clean area for eating breakfast or lunches. Tables, and chairs. Stocked fridge, microwave etc.
Providing lunches once a week or once a month- eating together is actually a hidden team-building exercise without the actual meeting event. Social atmosphere and friend basis instead of coworkers in the shop.
The world will wait while everyone eats lunch- consider closing shop for an hour to provide a break for your employees
Technician bathroom- air-conditioned with shower. Give your techs the opportunity to cool off or get ready for an appointment after work.
Embroidered towels for each technician- JJ launders them weekly himself
JJ has cocktail hour Friday evenings
Kelly added a bathroom and shower when he was renovating an office for his wife- he also redid the breakroom with drywall, table, chairs, pizza plate, TV, fridge etc
Celebrate employee wins- Kelly got a cake for when his tech received ASE master technician certification
Kelly lowered the temperature of the building by having a protective coating applied to reflect the sun
Link to the 'BOOKS' page, highlighting all books discussed in the podcast library HERE. Leaders are readers.
Listen for free on Apple Podcasts, Google Podcasts, Spreaker, iHeart Radio, Spotify, Podchaser, and many more. Mobile Listening APP's HERE
Find every podcast episode HERE.
Every episode is segmented by Series HERE.
Key Word Search HERE.
Be socially involved and in touch with the show:
Facebook Twitter Linked In Email
Join the Ecosystem – Subscribe to the INSIDER NEWSLETTER HERE.

Are you seeing auto shops in your area get hundreds of 5-star Google reviews and are you feeling left behind because your shop only has a few?
Hey look, Broadly is your answer to getting more online reviews. With more reviews, your business will rank higher in search results — and that means more customers coming into your shop every day.
Broadly helps you automatically request reviews so that your customers can promote your business with just one click.
When you immediately ask for a review after service, when the experience is still fresh in their mind, // you're more likely to get a 5-star positive review.
Plus, asking for feedback makes your customer feel valued and more connected to your business. Isn't that what you want a connected customer? See how Broadly can help grow your auto shop. Visit www.getbroadly.com/carm to learn more.