Day End Processes with Bill Nalu and Joe Hanson [CC 093]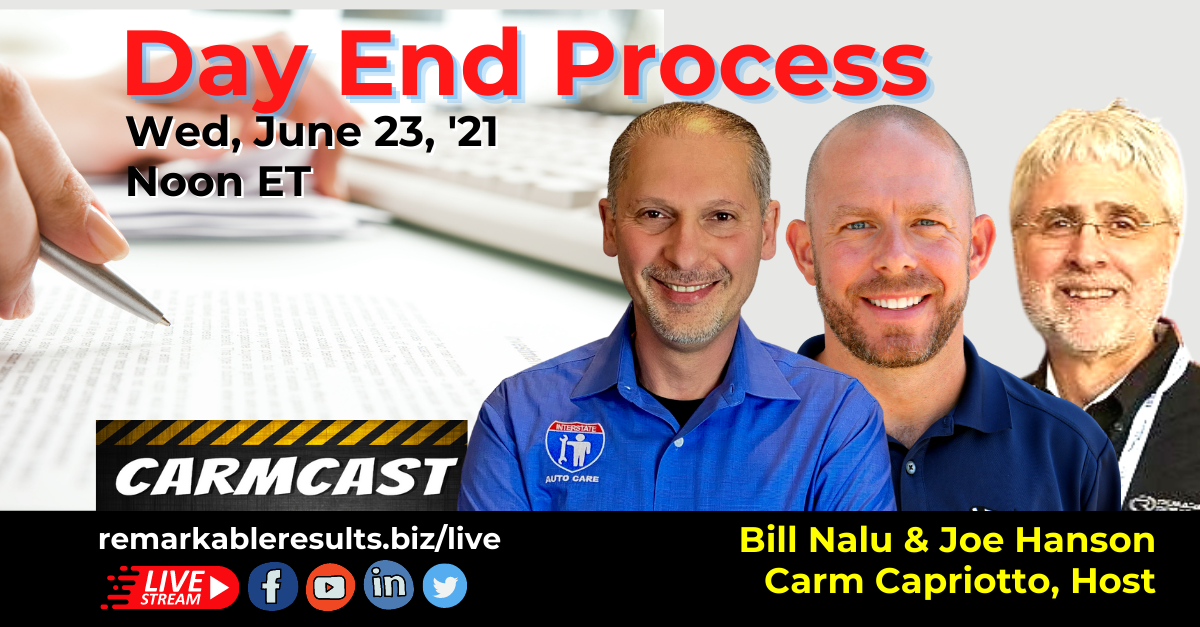 Panel:
Joe Hanson, Gordies Garage, Roseville, MI. Listen to Joe's previous episodes HERE.
Bill Nalu, Interstate Auto Care, Madision Heights, MI. Listen to Bill's previous episodes HERE.
Key talking points:
Done the same way daily. Predictable
One person in charge of the process
Joe:Planning, production recap of the day
Feedback
Parts review for next day
Make the morning a quick start. Get mentally prepared for the next day.
What is coming in. Set the expectation (stage) for the next day's production
Cash in – Cash outUse bank bag and drop off
Manage parts returns. Don't let it get out of hand.
Bill:Set the stage or table for the next day
Your survival is dependent on great organized processes
Bill offers flexible hours to his team
Verify if the vehicle left out has its windows up and is lockedKey's are locked up
Check all building doors. Be sure they are locked
Be sure after-hours customer pick-up's keys are in the lockbox
A walk through the shop:Acetylene tanks are closed
Doors are closed
Hoist locked down
All electronic tools locked in a special cabinet
All other tools and equipment out of sight from prying eyes
Verify the bank deposit against the shop management system
Check HVAC system or thermostats
Lock up cash drawer cash
Thanks to Bill Nalu and Joe Hanson for their contribution to the aftermarket
Link to the 'BOOKS' page, highlighting all books discussed in the podcast library HERE. Leaders are readers.
Listen for free on Apple Podcasts, Google Podcasts, Spreaker, iHeart Radio, Spotify, Podchaser, and many more. Mobile Listening APP's HERE
Find every podcast episode HERE.
Every episode is segmented by Series HERE.
Key Word Search HERE.
Be socially involved and in touch with the show:
Facebook Twitter Linked In Email
Join the Ecosystem – Subscribe to the INSIDER NEWSLETTER HERE.

Are you seeing auto shops in your area get hundreds of 5-star Google reviews and are you feeling left behind because your shop only has a few?
Hey look, Broadly is your answer to getting more online reviews. With more reviews, your business will rank higher in search results — and that means more customers coming into your shop every day.
Broadly helps you automatically request reviews so that your customers can promote your business with just one click.
When you immediately ask for a review after service, when the experience is still fresh in their mind, you're more likely to get a 5-star positive review.
Plus, asking for feedback makes your customer feel valued and more connected to your business. Isn't that what you want a connected customer? See how Broadly can help grow your auto shop. Visit www.getbroadly.com/carm to learn more.