Facing Our Challenges Head-On with Craig Noel [RR 653]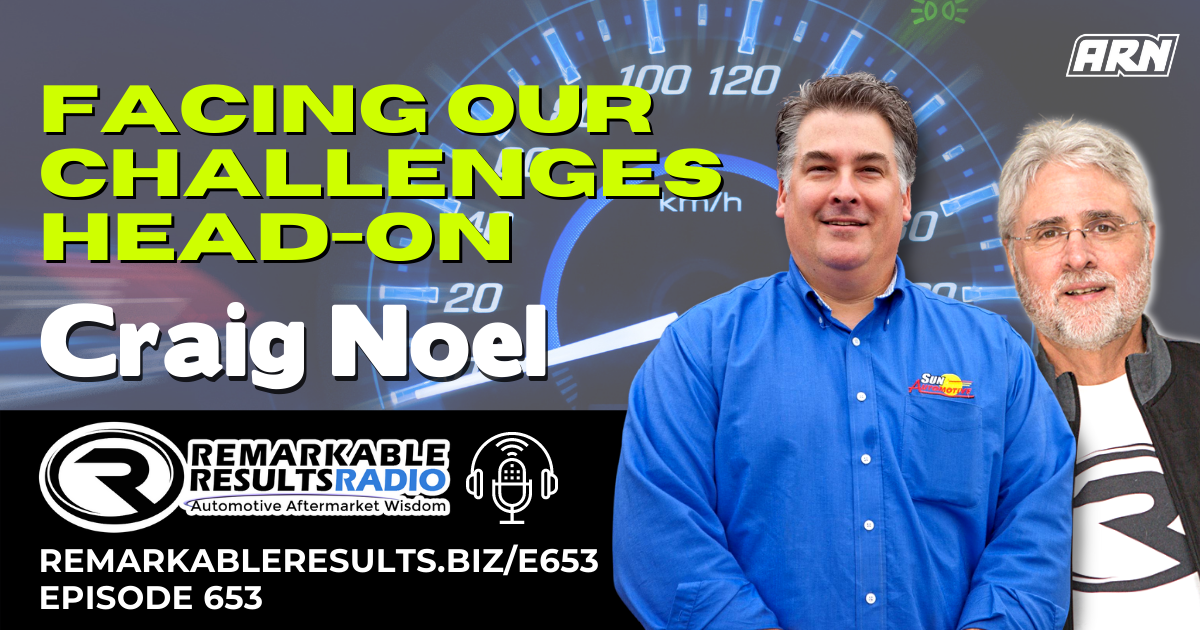 Craig Noel, Owner of 4 location Sun Automotive Springfield, OR. Craig graduated from Lane Community College in 1987 with a Bachelor of Science in Automotive Repair and quickly went to work. He worked for Ford as a Senior Master Technician and then working my way up through the ranks as Team Lead, Service Advisor, Assistant Service Manager.
He has also built ground up Street Rods/Show Cars for over 30 years as a hobby. He was "headhunted" by the original owner of Sun Automotive in 2011 and became GM at that time. As of January 1st 2017, he is the proud owner of Sun Automotive. Listen to Craig's previous episodes HERE.
Key Talking Points
Training- slow things down instead of hurrying and overpromising and underdelivering. Service advisers need to be trained to understand and layout how the repair process looks for the customer along the way to both educate them in the moment and to set the expectation of what to expect in the future. "Don't promise what you don't know." Repair order audits- it needs to be clear and easy to understand that the spouse at home will know what's going on and the competitor be impressed. "Paint a good picture." Technicians need to sell the job to the advisor that can be resold to the customer.   

Education- vehicles now are 4 times more complex than the Apollo rocket. Being a rocket scientist 40 years ago was a recognized and respected career path. We are now automotive engineers and it should be plan A instead of plan B. Capture PTA/School boards and get in front of students and parents. 

Culture- teaming together employees that have passion for people and the industry. Paid training during business hours. Respecting their family time. 

Community- being involved and present. Always have a finger on the pulse of the community and get involved when you can.   

Advice- don't get lost in the white noise when promoting who you are, pierce the white noise with a sincerity arrow. 

Retention- both for employees and customers. Create an environment neither want to leave.
Thanks to Craig Noel for his contribution to the aftermarket's premier podcast.
Link to the 'BOOKS' page, highlighting all books discussed in the podcast library HERE. Leaders are readers.
Listen for free on Apple Podcasts, Google Podcasts, Spreaker, iHeart Radio, Spotify, Podchaser, and many more. Mobile Listening APP's HERE
Find every podcast episode HERE.
Every episode is segmented by Series HERE.
Key Word Search HERE.
Be socially involved and in touch with the show:
Facebook   Twitter  LinkedIn   Instagram  Youtube   Email  
Join the Ecosystem – Subscribe to the INSIDER NEWSLETTER HERE.

As a member of the NAPA family, AutoCare Center owners can take advantage of the NAPA National Health Program from the NAPA Insurance Center. This "NAPA only" program gives you and your employees access to national "large group" rates on medical insurance with premiums discounted up to 30 percent. These rates are based on the collective purchasing potential of 22,500 NAPA locations including both NAPA AUTO PARTS stores and NAPA AutoCare Centers.
The NAPA Insurance Center can help you with a variety of other insurance benefits too. For more information about The NAPA National Health Benefits program as well as all of the insurance benefits available to your AutoCare Center and your employees, visit the NAPA Benefits Center, at www.napabenefitscenter.com or call the NAPA Benefits Center at 844-627-2123.