Second in Command: A CEO Perspective [THA 230]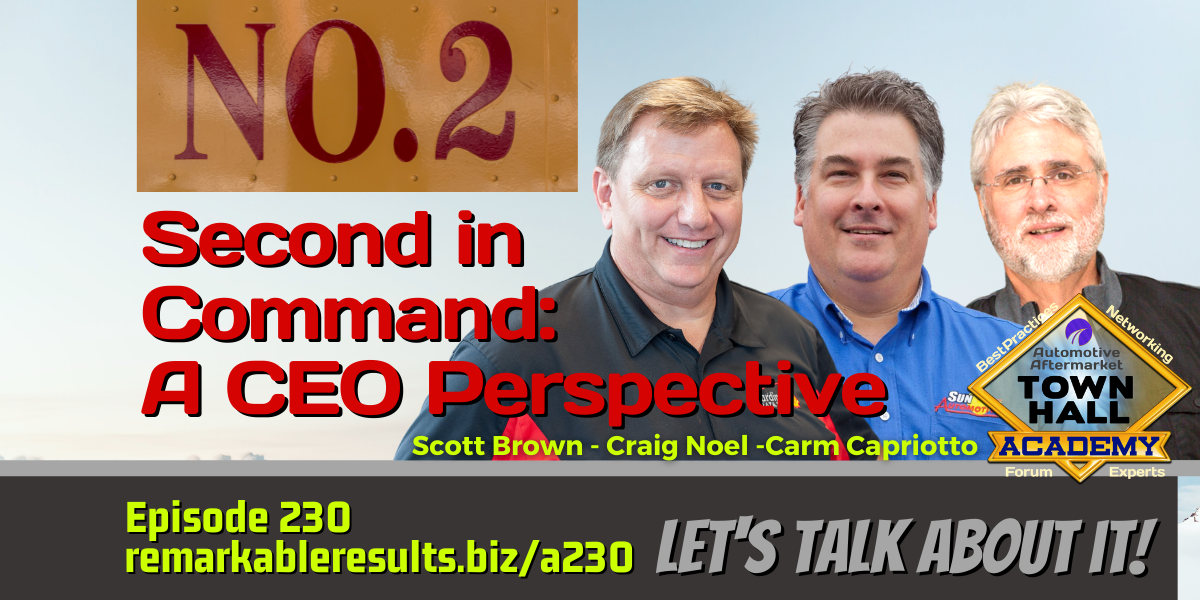 Scott Brown, Cardinal Plaza Shell, Springfield, VA. The second-generation owner of Cardinal Plaza Shell, a 2,700 square feet, 5 bay independent repair shop and LEVEL 5 Solutions, an automotive technology company. Celebrated 50 years in business during 2019. Scott is a Member & Past President of Virginia Automotive Association, Member of Car Care Professional Network through the ACA. and founding partner of the Blue Ocean Buying Group for independent repair shops
Craig Noel, Owner of 4 location Sun Automotive Springfield, OR. Craig graduated from Lane Community College in 1987 with a Bachelor of Science in Automotive Repair and quickly went to work. He worked for Ford as a Senior Master Technician and then working my way up through the ranks as Team Lead, Service Advisor, Assistant Service Manager.
He has also built ground up Street Rods/Show Cars for over 30 years as a hobby. He was "headhunted" by the original owner of Sun Automotive in 2011 and became GM at that time. As of January 1st 2017, he is the proud owner of Sun Automotive. Listen to Craig's previous episodes HERE.
Key Talking Points
General Manager- "mini-me" and coaching process to get into COO role

COO- confident trusting all aspects of the business including financial decisions

Doesn't depend on locations, but more so on employee count and how much business, you're doing. You need someone to compliment you as an owner and it will be different with every business. They are "decision filters."

CEO/COO- training for both roles. Separated roles (guard rails) moving in the same direction. Learning about yourself, the business, and the relationship with roles 

Attention to detail- helps with training advisors, inventory, processes etc

CEO- stay in the future, manage team, set the vision/strategy, allocate resources 

COO- stays in the now, managing own team, execute the vision, leads change

"Make your presence present when you're not present."- what would the CEO do? Make moral decisions, let go as an owner so they learn.

Equal relationship- both doing equally important things in business

Communication- both ways up and down especially in beginning, changing the habit of employees, they need to communicate with GM/COO. Consider taking a survey in your business on communication.

Cheerlead them so they cheerlead others even when things are smooth. Bigger the position, the bigger the target for negatives. Keep supporting. "How am I doing? What's next?"- questions GM/COO will be asking. 70% mental positive deposits (emotional bank account), 30% withdrawals giving direction and guidance  

Finding GM/COO- hardest job to fill, almost like entering a marriage. Hiring from outside can be difficult to fill the position. Internal candidates- task them certain things, what is their ability to think ahead multiple steps?
Facebook   Twitter  LinkedIn   Instagram  Youtube   Email  
Join the Ecosystem – Subscribe to the INSIDER NEWSLETTER HERE.

This episode is brought to you by Shop-Ware Shop Management. It's time to run your business at its fullest potential with the industry's leading technology. Shop-Ware Shop Management will increase your efficiency with lightning-fast workflows, help your staff capture more sales every day, and create very happy customers who promote your business. Shops running Shop-Ware have More Time and generate More Profit—join them! Schedule a free live demonstration and find out how 30 minutes can transform your shop at getshopware.com

This episode is brought to you by Shop Marketing Pros. Your guides are Kim and Brian Walker with a rich history as shop owners and industry veterans. When someone searches for a shop, who are they finding? Your competitors? It should be you! The good people over at Shop Marketing Pros know how to drive website traffic and make Google work for you! www.shopmarketingpros.com