Are You Going To ASTE? An Update [CC 095]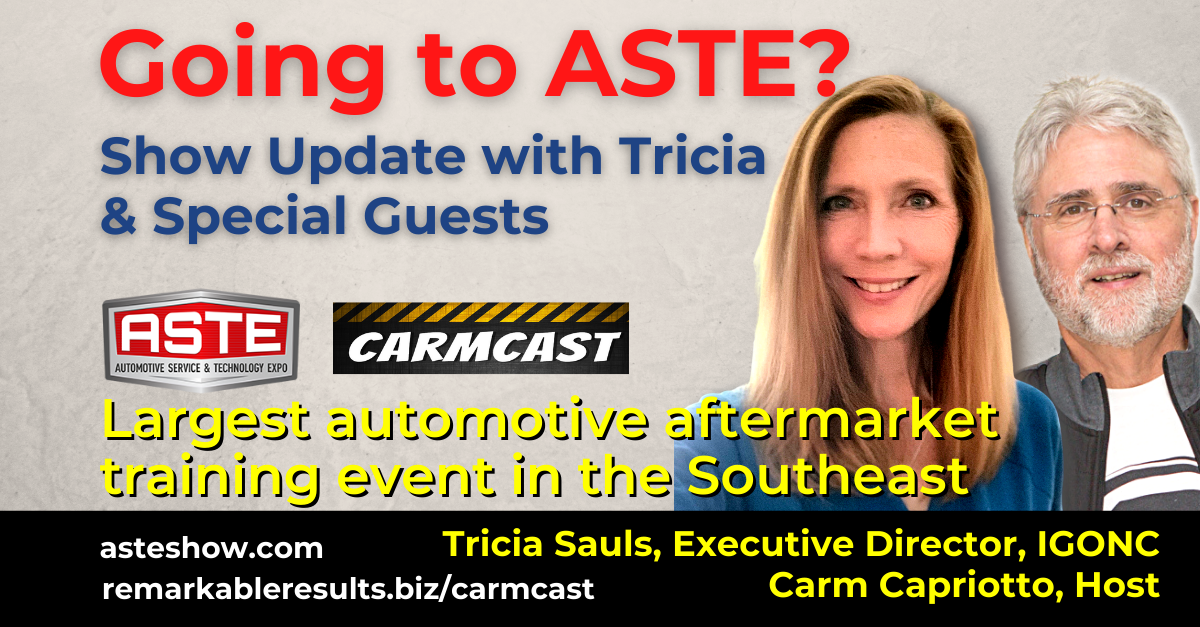 Tricia Sauls, Executive Director, IGONC Listen to Tricia's previous episodes HERE
Key Talking Points:
Produced by associations- put on and driven by local members. 25% owners, 75% team. 38+ classes. Training doesn't cost, it pays. 

Affordable show to attend- team package available  

Networking- you're not alone in the dark, meet a support system and get to the next level

Brandon Steckler- pressure waveform acquisition and analysis from inside out 

George Zeeks- 3 managers you need in business as it grows, a class for owners and employees

Tony Mercury- 4 pillars of internet marketing – website, SEO, paid search, social media
Thanks to Tricia Sauls, Brandon Steckler, George Zeeks and Tony Mercury for their contribution to the aftermarket
Link to the 'BOOKS' page, highlighting all books discussed in the podcast library HERE. Leaders are readers.
Listen for free on Apple Podcasts, Google Podcasts, Spreaker, iHeart Radio, Spotify, Podchaser, and many more. Mobile Listening APP's HERE
Find every podcast episode HERE.
Every episode is segmented by Series HERE.
Key Word Search HERE.
Be socially involved and in touch with the show:
Facebook   Twitter   Linked In   Email
Join the Ecosystem – Subscribe to the INSIDER NEWSLETTER HERE.

Are you seeing auto shops in your area get hundreds of 5-star Google reviews and are you feeling left behind because your shop only has a few?
Hey look, Broadly is your answer to getting more online reviews. With more reviews, your business will rank higher in search results — and that means more customers coming into your shop every day.
Broadly helps you automatically request reviews so that your customers can promote your business with just one click.
When you immediately ask for a review after service, when the experience is still fresh in their mind, you're more likely to get a 5-star positive review.
Plus, asking for feedback makes your customer feel valued and more connected to your business. Isn't that what you want a connected customer? See how Broadly can help grow your auto shop.  Visit www.getbroadly.com/carm to learn more.