Unstoppable with Amy and Kelly Michel [RR 663]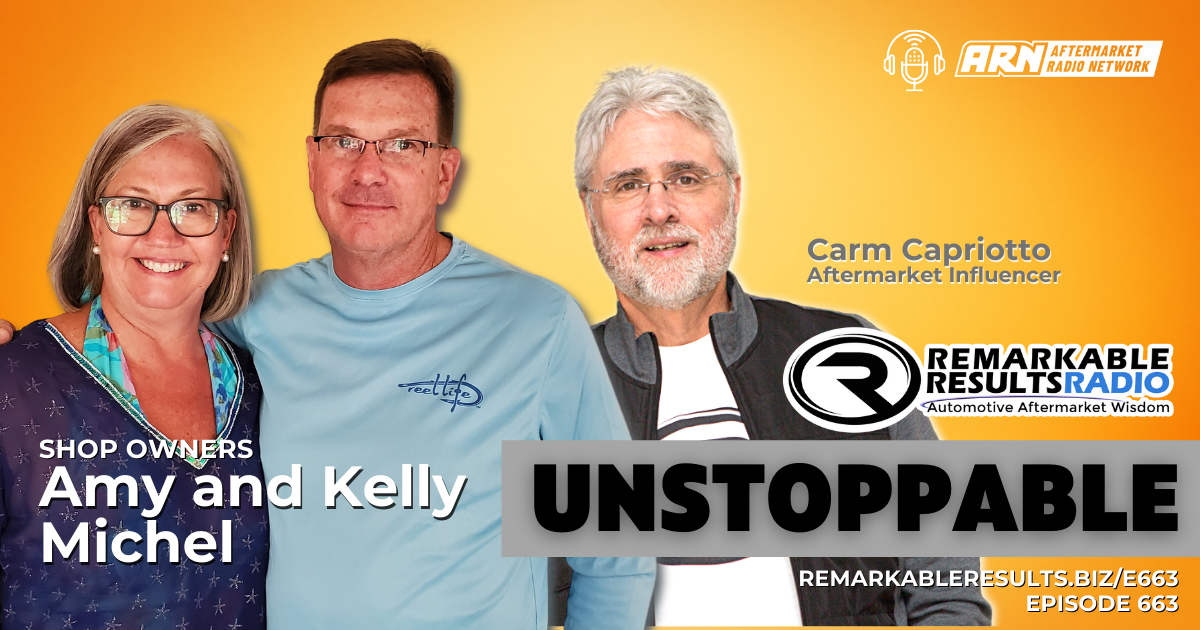 Amy and Kelly Michel- In 1965, at the age of 3, little did Kelly know Kelly's Auto Repair was going to be founded one day. At 3 years old he could screw nuts and bolts together and was always intrigued with taking things apart, figuring out how they work and putting them back together. After working for his father in his auto repair business for 15 years and then moving to Dunnellon he realized he wanted to follow in his footsteps. To repair cars as well as him and to deal with people as respectfully as he had taught him. And so, 30 years later, in 1995 Kelly's Auto Repair & Service was born. Listen to Kelly's previous episodes HERE
Key Talking Points
26 years in business and Kelly's been in the industry for over 40 years- build shop ground up, started with 2 people, has now expanded to 8 bays and 4 technicians. Kelly is still working in the bays. 

Amy manages the business side, Kelly manages the shop, and employees

Take separate cars to work- both work 5 days a week, working on second in command (their son who is 33 years old), nephew is second service advisor, niece PT customer service representative 

Succession planning for son- succession classes for both Kelly and his son, continue to have open conversations together, setting up finances for their son to succeed  

Marketing- what can you do differently? National fun holidays, trivia, giveaways etc. Look for all opportunities. Market differently to different target audiences.  

Staying ahead of curve- adopted DVI's and text to pay early, always looking to keep business efficient, stays up to date with technology, looking for a new point of sale software 

Drop key customers- hard work, ATI mentorship 
Thanks to Amy and Kelly Michel for their contribution to the aftermarket's premier podcast.
Link to the 'BOOKS' page, highlighting all books discussed in the podcast library HERE. Leaders are readers.
Listen for free on Apple Podcasts, Google Podcasts, Spreaker, iHeart Radio, Spotify, Podchaser, and many more. Mobile Listening APP's HERE
Find every podcast episode HERE.
Every episode is segmented by Series HERE.
Key Word Search HERE.
Be socially involved and in touch with the show:
Facebook   Twitter  LinkedIn   Instagram  Youtube   Email  
Join the Ecosystem – Subscribe to the INSIDER NEWSLETTER HERE.

NAPA Autotech Training helps your technicians keep their skills sharp and their NAPA Know How up to date. It's the highest quality technical training that covers almost every vehicle system and every make and model. NAPA Autotech is presented by experienced instructors who are ASE master certified technicians. Even after a class is over, techs can access course information online with ClassPass. So when questions come up later they can get the answers. AutoCare Center owners who have taken advantage of Autotech Training say that well-trained technicians are helping to increase their shop's repair capability and raise bay productivity. That results in fewer comebacks, more satisfied shop customers, and reduced technician turnover.
Learn more about NAPA AutoCare and the benefits of being part of the NAPA family by visiting www.NAPAAutoCare.com.