Creating a Training Culture [THA 235]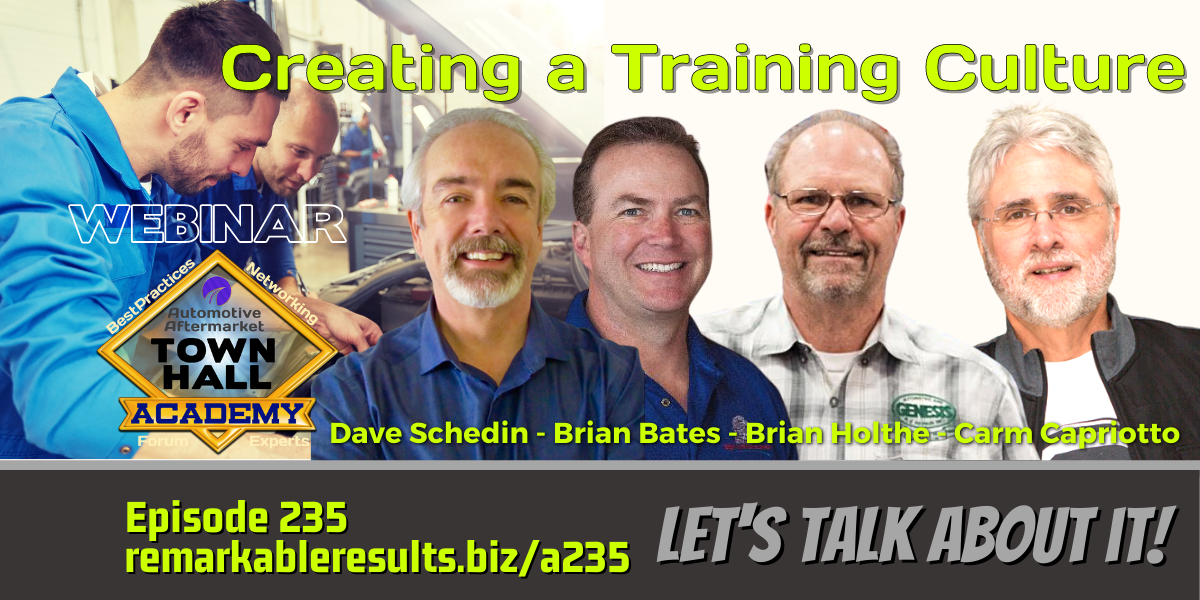 Dave Schedin has 40+ years of experience in the automotive field. He has extensive General Motors University Automotive & Business Management training and is a graduate of the Arizona Automotive Institute. Dave began his career as a young lad in an independent shop in '79 and began working as an Apprentice Tech advancing to a Master Level Driveability Tech. In '86 he moved into the dealership arena as a Lead Driveability Tech and obtained both the Chevrolet and ASE Master Technician status and became a Shop Foreman overseeing 24 Techs, Assistant Service Manager, Service Manager to Fixed Operations Manager.
In '97 Dave started and managed "Dave's Auto Repair" in the Pacific Northwest where he took that business to a near million-dollar sales level in under FOUR years by implementing and continuing to developing the
"CompuTrek Automotive Management Systems." Since 2006 Dave has been coaching and training to help shop owners achieve on average $200,000 in NEW GP dollars in 12 months Dave and his partner/wife Bonnie Schedin also carry extensive Leadership and Personal Self-Development coaching and training at an advanced level. Through both personalized and highly effective 'team' training & seminars, they offer well-rounded coaching for the automotive professional through experiential seminars. Listen to Dave's previous episodes HERE
Brian Bates, the owner of Eagle Automotive Service, 5 locations, bought the neighborhood shop in Columbine Hills back in 2004 as a way to serve the community by offering quality repairs and services while living out his dream of running his own business.
Brian has served as a President of the local NAPA Autocare Business Development group, served on the national AutoCare council with the president and directors of NAPA Auto Parts, and is proud of his team's achievements in becoming an AAA auto repair certified and holding a BBB A+ rating since the inception of the grading system in 2007. Listen to Brian's previous episodes HERE
Brian Holthe- Brian's automotive trade experience started in Sept 1980 when he moved from California to Arizona to attend trade school. Brian started his first shop while attending trade school, two years after graduation he landed a dealership technician position working for a Volvo dealership, where he learned how a successful shop should run. He obtained his Master ASE and Volvo Technician certifications while employed there.
After working in other shops as a technician, running a couple in management he ended up in Tacoma WA. In 1989. Here he worked for a shop that did lots of service and repair for everything from dealership lots to fleet and one RV Dealership across from the shop. For this dealership, he worked on RV chassis for coaches to be sold. The shop sold and Brian began a new chapter.
In 1993 Brian opened a shop in Lakewood WA, a suburb of Tacoma. He carried the RV chassis repair business, used car repair business and building on those relationships Genesis Automotive Repair began. It was Brian's new beginning. Brian was
In 1994 Brian changed the business name to include RV Repair and incorporated. Since then, Genesis Automotive and RV Repair has also taken on service and repairs of food service vehicles, mobile pet grooming vehicles servicing chassis, internal equipment and power generation, becoming an Onan authorized sales, service and repair facility. Genesis Automotive and RV Repair has grown to be respected in the service and repair of automotive and RVs. 
Key Talking Points
Training is the #1 customer benefit and profitability in a business. Has to be relevant to the employee and applied. Culture needs to be receiving of something new. Let training experience be positive. One person in training has short 'shelf life.' Ask employees where they want to improve- employee reviews. There are a lot of ways for people to learn besides sitting in a classroom setting. 

Training incentive- remember, it's a journey, not overnight perfection. Have set hours of training per year. Bonus based on certificates. Consistency bonus- training all year not all at end of the year. Time off for training. Recognition and celebrating achievements come in all different forms.

Hiring people that want to grow- in community, in business, as individuals. Ask potential hirees if training is important to them. What's the last book they read? When is the last time you invested in yourself? 

Pushback for training- they won't be fully committed to all aspects of the job

Retirement mode for older technicians- they must keep up with technology 

Leading by commitment, not by command- include in the job description when hired, address what is holding their commitment level down? Leaders build more leaders. 

Gift of teaching- having a mentor for in-house training/onboarding for new employees. 

Survival, success, significance phases for individuals and business

The Ideal Team Player by Patrick Lencioni
A special thanks to Dave Schedin, Brian Bates and Brian Holthe for their contribution to the aftermarket.
Facebook   Twitter  LinkedIn   Instagram  Youtube   Email  
Join the Ecosystem – Subscribe to the INSIDER NEWSLETTER HERE.

This episode is brought to you by Shop-Ware Shop Management. It's time to run your business at its fullest potential with the industry's leading technology. Shop-Ware Shop Management will increase your efficiency with lightning-fast workflows, help your staff capture more sales every day, and create very happy customers who promote your business. Shops running Shop-Ware have More Time and generate More Profit—join them! Schedule a free live demonstration and find out how 30 minutes can transform your shop at getshopware.com