Leadership Series Part 4 with Mike Davidson – Growth Environment (Continued) [RR 664]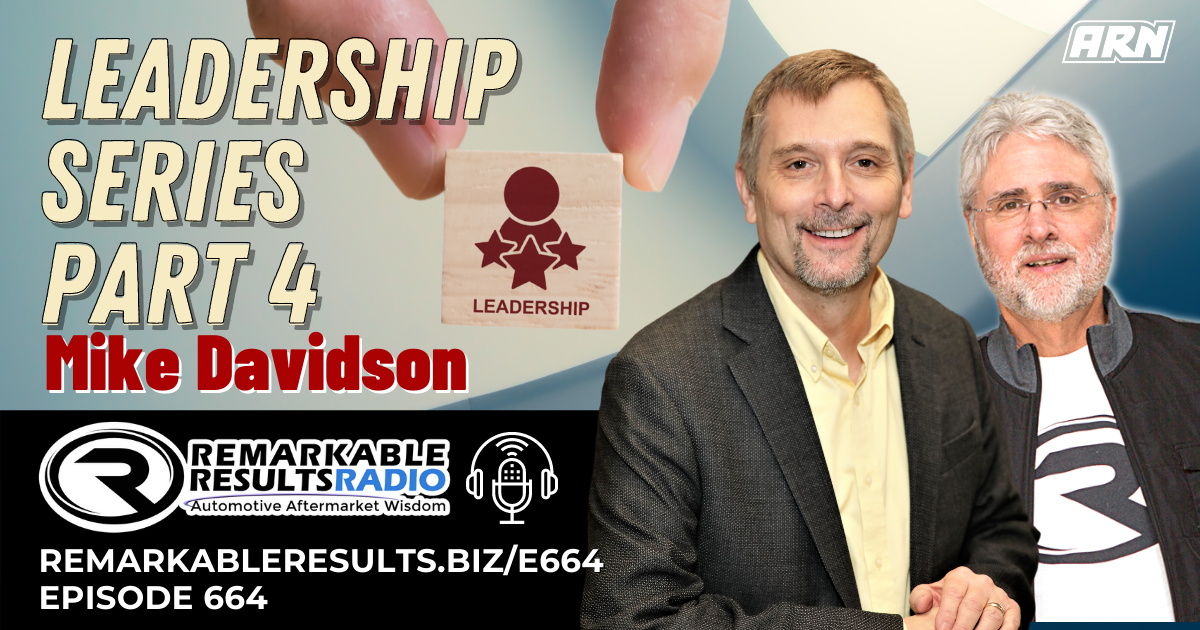 Mike Davidson is passionate about growing as a leader and helping others achieve a better life through leadership.  He believes that your growth is the only guarantee for a better tomorrow. Mike began his automotive career in 1984 as a car detailer at a GMC dealership. He started working in independent shops in 1992 and opened Parkway Automotive in 1998. He joined RLO Connor's Bottom-Line Impact Group in 1999 and graduated from the Automotive Management Institute in 2000. Mike was voted Arkansas' NAPA/ASE Technician of the Year from 2001 to 2008,  joined Elite Pro Service Peer Group in 2008, and continues to be an active member. He has been a business coach for Elite Worldwide, a published author, and a presenter at multiple conferences across the United States. He created a live interview seminar called Hiring for Keeps in 2013 and developed an automotive apprentice program approved by the United States Department of Labor in 2016.  As a John Maxwell, certified speaker, trainer, and coach, Mike has developed a training program to assist shop owners to develop leaders within their organization. He is married with four grown children, resides in Alexander, Arkansas, and is a member of The Bible Church of Little Rock, where he has served as an elder, a deacon, and a Children's Ministry Director.
You can reach Mike at miked@parkwayautomotive.net    Listen to Mike's other episodes HERE.
Key Talking Points
Lesson 6 Assigning responsibility- step back and watch. Difference between delegation and developing people. Delegation- giving people things you don't want to do. Developing – giving people things you do want to do, but allowing someone else to do it. Have policies in an accessible place (digital)- find out answers on their own. Well-written policies bring value to the business for selling in the future.
Lesson 7 Identifying the people in your organization that are willing to invest in themselves- giving people opportunity, you can change without growing but you can't grow without change. Change pertains to the future that will be impacted by what you do today. Renewing the mind of employees' responsibility to grow as leaders. Doesn't happen in a day, but it happens daily. Training questions to ask: what did you learn? How did you apply it? Why didn't you (if the answer is no). Who takes initiative?
Lesson 8 Developing meetings without you- separating shop into small teams I.e. 1 service advisor and 2 technicians. Allow them to work to solve their own problems, set up their own meetings monthly with two subjects to go over. What are areas of growth for each?. Gives service advisors responsibilities and authority. The owner meets with service advisors once a quarter
Lesson 9 Letting go- the hardest part for an owner, there is an emotional attachment to the business. You can still have ideas, but let your second in command implement them. Self-discipline to let things go. Don't tell employees what to think, ask questions to help them to think.
Lesson 10 What does your day look like now? Develop your life and calendar. Sit at a certain time of the week and plan that calendar. Send a copy to all staff. Interruptions became less and less.
Link mentioned for AAPEX Award Nominations

HERE

.
Thanks to Mike Davidson for his contribution to the aftermarket's premier podcast.
Link to the 'BOOKS' page, highlighting all books discussed in the podcast library HERE. Leaders are readers.
Listen for free on Apple Podcasts, Google Podcasts, Spreaker, iHeart Radio, Spotify, Podchaser, and many more. Mobile Listening APP's HERE
Find every podcast episode HERE.
Every episode is segmented by Series HERE.
Key Word Search HERE.
Be socially involved and in touch with the show:
Facebook   Twitter   Linked In   Email
Join the Ecosystem – Subscribe to the INSIDER NEWSLETTER HERE.

This episode is brought to you by AAPEX, the Automotive Aftermarket Products Expo. AAPEX represents the $740 billion global automotive aftermarket industry and has everything you need to stay ahead of the curve.  The Virtual AAPEX Experience 2020 is in the record books. Virtual AAPEX lived up to presenting leading-technical and business management training from some of the industry's best and brightest. Now set your sights on the homecoming in Las Vegas in 2021. Mark your calendar now … November 2-4, 2021, AAPEX // Now more than ever.

This episode is brought to you by Shop-Ware Shop Management. It's time to run your business at its fullest potential with the industry's leading technology. Shop-Ware Shop Management will increase your efficiency with lightning-fast workflows, help your staff capture more sales every day, and create very happy customers who promote your business. Shops running Shop-Ware have More Time and generate More Profit—join them! Schedule a free live demonstration and find out how 30 minutes can transform your shop at getshopware.com/carm