Behind the Scenes: New Shop Retrofit/Remodel [CC 097]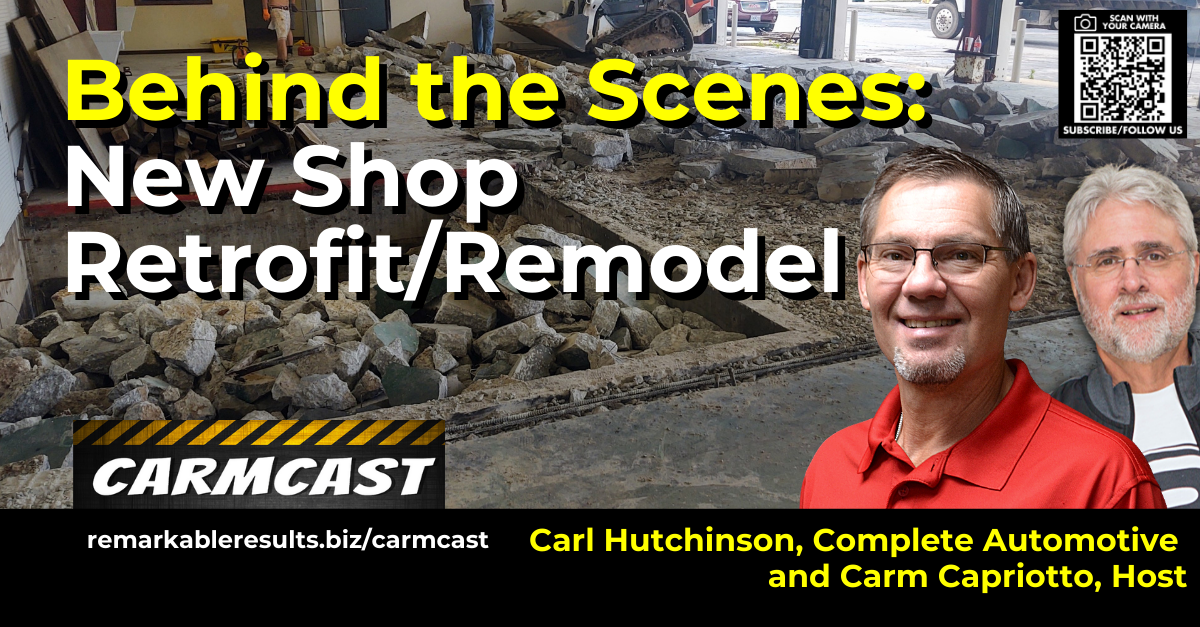 Carl Hutchinson, Complete Automotive, has been in the car industry since 1982, but has worked on vehicles long before that time. He has a passion for engineering, for understanding how vehicles operate, and how to repair a customer's concern. Earlier in his career, Carl started working at a GM Dealership, then went to work at independent repair facilities as a technician and eventually became a service advisor. Carl's experience in the automotive industry led him to his current position as co-owner with Maureen Hutchinson of Complete Automotive in Springfield MO., where he works every day to provide high-quality, valuable service to all customers.
Carl is an Alumni with Ozarks Technical Community College, Springfield MO Campus. He currently sits on the Automotive Advisory Board with Ozark Technical Community College, member of South East Rotary, and a member of the Springfield Midwest Auto Care Alliance chapter.
Carl has his Master ASE Certification, L1 and Service Advisor certification and is an AMI Graduate.
Key Talking Points:
Implemented the EOS program Feb. 2020

Purchased second location building in May of 2021

Hired individuals to help with clean up, paint and rehab, 

removed old in ground hoists, new drains and 1,200 sq ft of concrete, filled in old alignment pit

Epoxy floors by Garage Experts

New Garage Doors by Webster County Door

Storefront glass by American Glass

4 11,000 lb and 1 15,000 lb two post hoists From Whip Industries out of Fort Worth TX

Scissor alignment lift on order

12-14 week rehab time frame

Parking lot repair

Water control – build water drainage ditch behind building to control stormwater, the building flooded while we were in rehab

Blessed to have great current staff in shop 1.

1 Integrator G/M, 3 Fantastic Service Advisors, 2 part-time shuttle/admin/maintenance people, 6 techs

Already hired staff for the second location, Great SA, Master Tech, B-Tech and a young lady as a GS

Planning 2 community service days Aug 30-31, open to the public Sept 1, grand opening Sept 24th
Link to the 'BOOKS' page, highlighting all books discussed in the podcast library HERE. Leaders are readers.
Listen for free on Apple Podcasts, Google Podcasts, Spreaker, iHeart Radio, Spotify, Podchaser, and many more. Mobile Listening APP's HERE
Find every podcast episode HERE.
Every episode is segmented by Series HERE.
Key Word Search HERE.
Be socially involved and in touch with the show:
Facebook   Twitter   Linked In   Email
Join the Ecosystem – Subscribe to the INSIDER NEWSLETTER HERE.

Are you seeing auto shops in your area get hundreds of 5-star Google reviews and are you feeling left behind because your shop only has a few?
Hey look, Broadly is your answer to getting more online reviews. With more reviews, your business will rank higher in search results — and that means more customers coming into your shop every day.
Broadly helps you automatically request reviews so that your customers can promote your business with just one click.
When you immediately ask for a review after service, when the experience is still fresh in their mind, you're more likely to get a 5-star positive review.
Plus, asking for feedback makes your customer feel valued and more connected to your business. Isn't that what you want a connected customer? See how Broadly can help grow your auto shop.  Visit www.getbroadly.com/carm to learn more.