Creating a Culture of Productivity – Scott Brown [RR 671]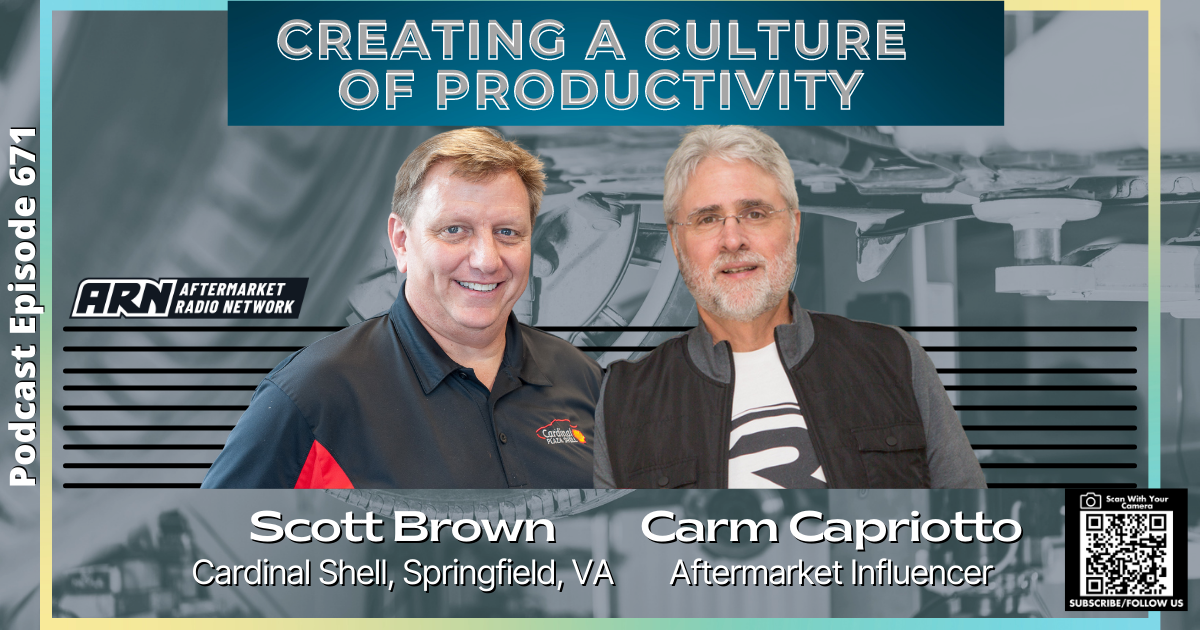 Scott Brown, Cardinal Plaza Shell, Springfield, VA. The second-generation owner of Cardinal Plaza Shell, a 2,700 square feet, 5 bay independent repair shop and LEVEL 5 Solutions, an automotive technology company. Celebrated 50 years in business during 2019. Scott is a Member & Past President of Virginia Automotive Association, Member of Car Care Professional Network through the ACA. and founding partner of the Blue Ocean Buying Group for independent repair shops. Listen to Scott's previous episodes HERE
Key Talking Points
Culture of productivity- 5 bay shop produces 4.2 million per year. 

CEO must set culture and value system- must be rigid

Being grateful for everything, entitled to nothing – creates an attitude of resilience, instead of chasing productivity you're striving for achieving performance. Look beyond the numbers. 

Falling into a trap- have to do everything, be strong for everyone, all "I" statements. Problem with pride- don't want to show vulnerability/weakness. Turn "I" statements to "we." Become more concerned for the needs of others instead of yourself. Giving up control allows your team to thrive. The only barrier is you (the owner)

How can you increase culture every single day? Staying late to help, recognizing hard work from someone else, going out of the way to give praise to each other. Everyone can be a leader and give back to each other. 

How do you know if the culture is working? Do you love going into work every day? 

Goodhart's law- "when a measure becomes a target, it ceases to be a good measure."

Who does the shop belong to? Anyone but the owner, it belongs to the clients, the team etc.

Competition with yourself instead of others- everyone can still pull together 

Are you living inside of a broken culture? Need permission for more than one person to make a purchase or try something new, lack of communication, budgets that cripple creativity. 

Organizational debt- problem happens once but there is a creation of procedure that doesn't serve the organization  

Apple TV Show: Ted Lasso
Thanks to Scott Brown for his contribution to the aftermarket's premier podcast.
Link to the 'BOOKS' page, highlighting all books discussed in the podcast library HERE. Leaders are readers.
Listen for free on Apple Podcasts, Google Podcasts, Spreaker, iHeart Radio, Spotify, Podchaser, and many more. Mobile Listening APP's HERE
Find every podcast episode HERE.
Every episode is segmented by Series HERE.
Key Word Search HERE.
Be socially involved and in touch with the show:
Facebook   Twitter  LinkedIn   Instagram  Youtube   Email  
Join the Ecosystem – Subscribe to the INSIDER NEWSLETTER HERE.

Since 1989 TRACS has been the industry's leading shop management system. And in the last 30 years it's gotten better and better. Today TRACS Enterprise offers even more of the features AutoCare Center owners want—things like a powerful interactive scheduling calendar, faster and streamlined work flow, plus streamlined parts ordering and purchasing options. And there's more—Punch-out to Mitchell ProDemand, mobile VIN capture, and multi-shop capabilities. That means you can count on TRACS Enterprise to help drive your success today and well into the future.
Learn more about TRACS Enterprise and the hundreds of other benefits the NAPA family has to offer. Talk with your servicing NAPA store or visit www.NAPAAutoCare.com.