Start Your Engines for ASTE 2023 [CC 112]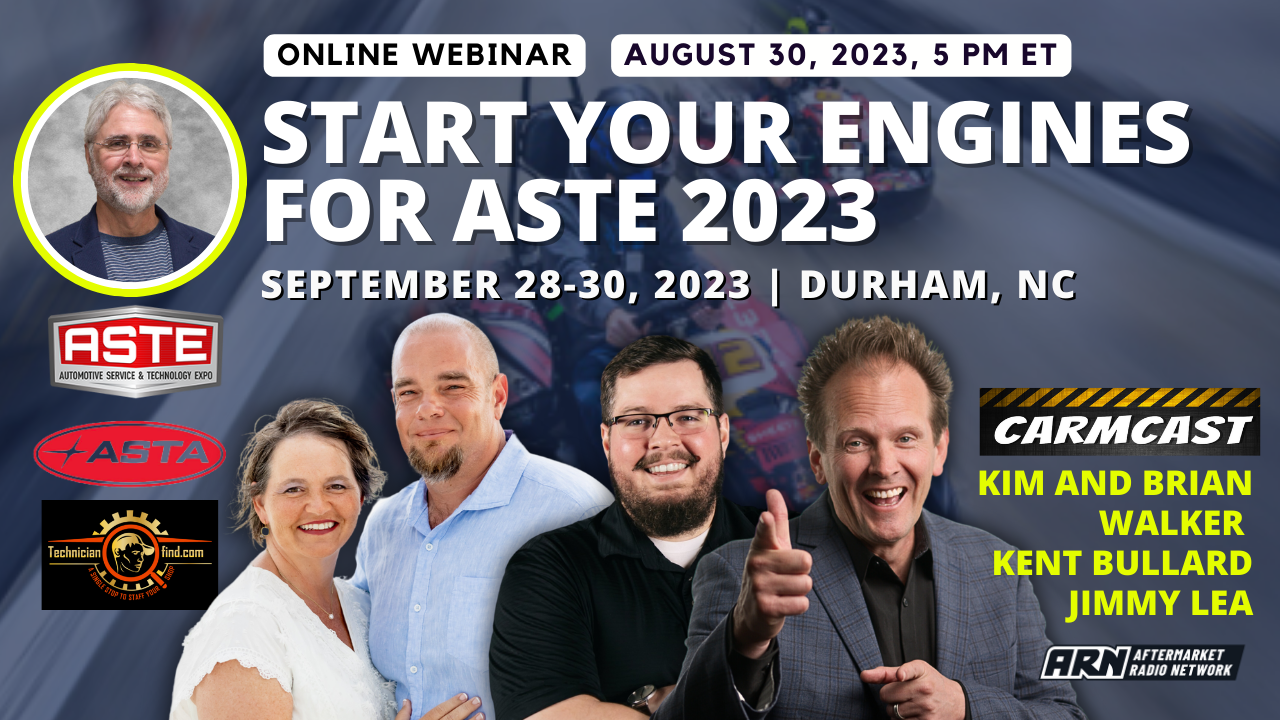 We've got a fantastic panel of guests, including Jimmy Lee and Kent Bullard from The Institute, and Brian and Kim Walker from Shop Marketing Pros to discuss ASTE, the Automotive Service and Technology Expo in Durham, North Carolina.
Kim and Brian Walker, Shop Marketing Pros, Auto Repair Marketing Podcast
Kent Bullard, COO, The Institute. Listen to Kent's other episodes HERE.
Jimmy Lea, The Institute. Listen to Jimmy's previous episodes HERE
Show Notes
The Go Kart Event (00:05:26) Discussion about sponsoring the Go Kart event at the Automotive Service and Technology Expo (ASTE), and the excitement surrounding it.
Prizes and Activities (00:06:38) Details about the prizes and activities at the event, including fastest lap and time, golf simulator, axe throwing, and more.
Management Training and Effective Communication (00:10:11) Mention of various management training sessions, including effective communication, hybrid diagnostics, and marketing strategies for different personalities in the industry.
Phone Skills Training (00:16:51) Discussion on the importance of having good phone skills before investing in marketing.
Handoff from Marketing to Sales (00:17:32) Exploration of the issue of service advisors not properly handling phone calls and potential solutions.
Training Programs for Staff (00:21:36) Importance of developing training programs for technicians and service advisors to ensure their growth and retention in the business.
The importance of investing in training (00:24:37) Investing in training and taking care of your team is crucial for success in the industry.
Networking and building relationships at events (00:26:06) The value of networking and making connections at events like ASTE cannot be underestimated.
The significance of sharpening your skills (00:27:12) Attending training events is like sharpening your tools to become a better technician, shop owner, service advisor, or manager.
---
Thanks to our Partner, Technician Find
If you are tired of struggling to find skilled automotive technicians for your independent auto repair shop, say goodbye to the endless search and let Technician Find be your solution. We are a 'Single Stop To Staff Your Shop.' http://www.technicianfind.com
Connect with the Podcast:
-Join our Insider List: https://remarkableresults.biz/insider
-All books mentioned on our podcasts: https://remarkableresults.biz/books
-Our Classroom page for personal or team learning: https://remarkableresults.biz/classroom
-Buy Me a Coffee: https://www.buymeacoffee.com/carm
-The Aftermarket Radio Network: https://aftermarketradionetwork.com
-Special episode collections: https://remarkableresults.biz/collections