RR 002: Dynamic Automotive Part 1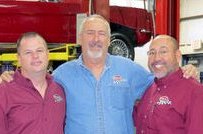 Jose Bueso, Lee Forman and Dwayne Myers make up the partnership team from Dynamic Automotive. These three successful leaders credit their success to a customer centered culture. Learn how their customer focus has made such a huge success in their business and how being involved in their communities is a secret sauce to their success.
The interview covers how the business got started. And some great wisdom on how partnerships can survive. Hear about a few regrets they have and how much they are involved in the aftermarket industry. When asked about their business differentiation, don't miss the analogy to a doctor.
Jose, Lee and Dwayne shared their best use of marketing, their social media focus, information on how they pay their techs and how they liken training to fertilizer. And so much more.