RR 029: Andy Massoll from Curt's Service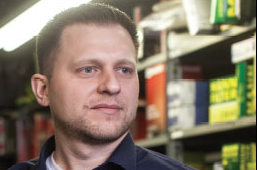 Curt's Service started out as so many shops did back in the day as a Sunoco Station. That was 34 years ago that Curt Massoll got the bug. Andy Massoll, second generation owner of Curt's Service in Oak Park Michigan. Guest Andy Massoll is second generation owner and has a top shop designation from Motor Age.
Their DNA: New shop built in 2012 is a 15,000 SQFT operation with 14 Bays, a total staff of 15 that includes 8 techs, 3 service advisors, a general manager, and a parts person. Listen to Andy discuss what he calls his 'dream shop' because of the many unique features built into the facility that makes this a very GREEN operation. You can see a video with Andy describing the new shop on their website … curtsservice.com. Among many environmental friendly features is water pneumatic lifts, radiant floors and 100% recycled waste oil.
Andy has great thoughts on where the future techs are going to come from and what shops owners need to do for young talented techs. Andy talks about leadership and the fact that he is a tool junkie; find out his latest purchase and what type of equipment he's investing in. He is a member of CCPN and ASA.
He also talks about what he looks for in a parts supplier, his latest work flow improvement and about his recent purchase of his 1st branch and where he sees his future as an MSO. There are many great take-a-ways including a big one on his brand called Detroit Hybrid.com.