RR 090: Technician Training Round-Table Part 2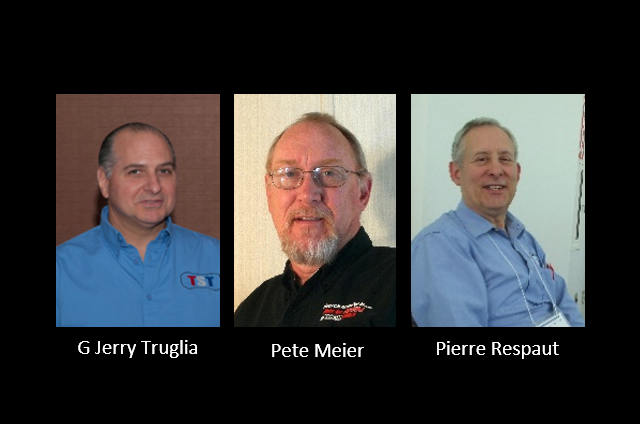 In a continuing series on Technician training welcome to part two of a Face To Face Video Podcast.
Professional automotive trainers G Jerry Truglia from ATTS, Pete Meier from Motor Age and Pierre Respaut in a great dialogue about technician training. See their bios below.

There are two ways to enjoy this round table discussion. You can watch the video replay below or listen to the audio only podcast when you are traveling, commuting or when you can't be in front of a screen. The podcast is available on iTunes, Stitcher Radio and of course listen above.
What's in it for you?
Listen to what the pro's are saying about the state of technician training today and what to do about it.
Understand why on-going training is the #1 critical need for techs today.
Learn why the industry needs manufacturer support for affordable training.
Realize the value for having a strong training culture.
Appreciate why basic electrical knowledge is critical if you want to repair today's vehicles.
Learn how TST was able to divert funds from manufactures to reduce the cost of the 13th annual 'Big Event' Training in March 2016.

This episode is brought to you by Federal-Mogul Motorparts and Garage Gurus. With brands like Moog, Felpro, Wagner Brake, Champion, Sealed Power, FP Diesel and more, they're the parts techs trust. For serious technical training and support – online, onsite and on-demand – Garage Gurus is everything you need to know. Find out more at fmmotorparts.com and fmgaragegurus.com
When these three amigos get together to talk 'shop' it makes for a fun and exciting episode with even a few belly laughs. Don't forget you can catch the audio only and/or the video replay, whichever you prefer. Now here we go with Technician Training Part 2 and G Jerry Truglia, Pete Meier and Pierre Respaut.
You know G Jerry Truglia. He's a You Tube Training guru and well known for his automotive training through his company ATTS: Automotive Technician Training Services. G's training covers a wide range of subject from hybrid vehicles, electricity, to Heavy Duty Truck repair. G is also a very proud founding member of the non-for profit Technician Service Training group (TST). TST is a 501(c)(3) educational not-for-profit and is devoted to the following since its inception. And there is an important annual event coming up in March 2016 we will talk about. (Episode 70)
Pete Meier. You know Pete as the Director of Training for UBM Advanstar Automotive Group of publications. Specifically, … you've read Pete in either Motor Age, ABRN, Aftermarket Business World or Dealer News. His primary goal is to bring working technicians the information they need to succeed. Pete is an ASE certified Master Technician and sponsoring member of iATN. Pete pulls on his 35 PLUS year's practical experience as a technician and educator. (Episode 36 & 59)
You know Pierre Respaut because he recently provided training for Bosch and his involvement in various capacities, with STS, TST, the Bmmer tech and support groups. He has almost 50yrs in the automotive business having worked at BMW, Ferarri and VW dealerships. I owned "Ultimate Cars", a BMW repair shop for 30 yrs.
Watch Video Replay Below