RR 273: Technician Round Table Part 3 -Heipp – Landry -Fanslow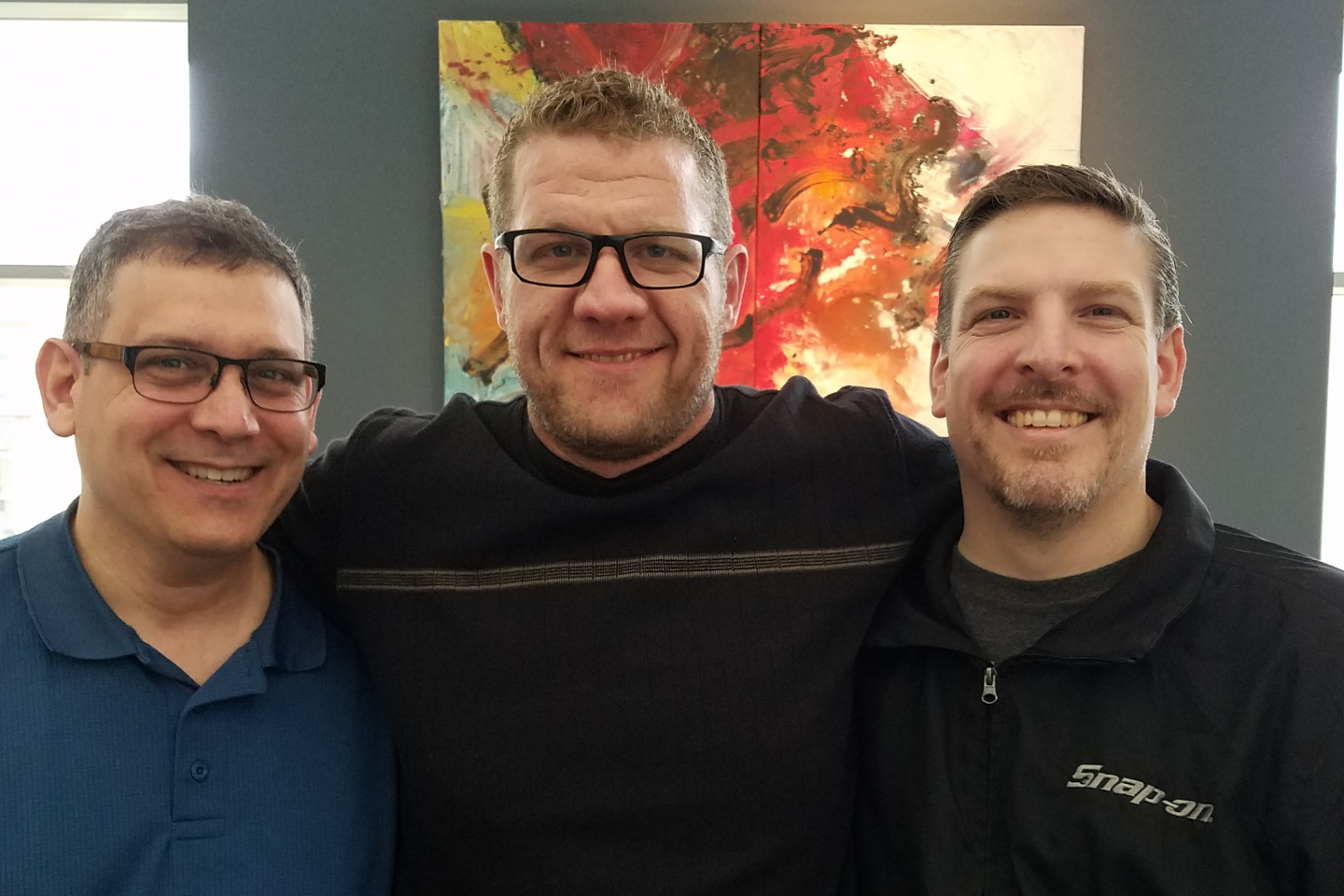 Pictured above Bob Heipp, Peter Landry and Matt Fanslow
Previous roundtable discussions:
The PANEL:
Matt Fanslow is the diagnostic tech/shop manager at Riverside Automotive in Red Wing, MN.  His primary responsibilities are to diagnose driveability and electrical/electronic issues, and perform most all programming, coding, initializing, adaptions, etc. Basically, if it needs to be figured out or has wires, it goes to Matt. He's been a tech since 1996.
Matt is also a subject matter expert for ASE and has instructed at Vision Hi-Tech Training and Expo.
Matt has participated on 18 ASE technical committees for the ASE Practice Test, A6, A7, A8, and L1 tests. He's also done case studies for Standard Motor Products.
Fanslow's goal is to do everything in his power to improve the overall level of professionalism within the automotive and light truck repair trade and also raise the level of its public image. Hear Matt in these Remarkable Results Radio Episodes HERE.
Bob Heipp works for Mobile Auto Solutions, LLC as lead tech and Technician Manager in the Chicago metropolitan area and northwest Indiana.
Having accepted a job that required passing an IM240 emission class, he was introduced to new alternatives of diagnostic testing.  This spurred a quest for learning.
Bob believes his desire to learn is what opened doors to meeting technicians around the world.  Hoping to help so others could have the same opportunities, he partnered with ASA-IL and initiated the CAN Conference after one of his favorite conferences (the Linder Conference) was no longer being presented.  He considers these experiences have led him to the opportunity to work for Mobile Auto Solutions. Bob is also a dedicated Vision High Tech Training and Expo attendee. Hear Bob in his own interview and the roundtables HERE.
Peter Landry is an ASE L1 Master Automotive Technician from Brookfield, WI. Peter has a strong automotive background in electronics, network and driveability diagnostics. His prowess for fixing problem vehicles and passion for staying up on emerging technologies led him to form Landry's Mobile Diagnostics, a mobile diagnostics and module programming business servicing the Milwaukee Metro area. He recently sold his business to Mobile Auto Solutions and now works for MAS.  Hear Peter's interviews HERE.
Here are talking points from the interview:
Bob Heipp recently wrote an article for ABRN.
Matt was recently interviewed in a roundtable format with Motor Age.
Fanslow is very outspoken about technician pay, benefits and training.
Not enough techs are willing to invest in themselves so why would the owner invest in them.

If you have pride you will find a way to get training.
There are no other industries like the automotive that doesn't pay 100% for their people's training.

Shop owners deserve to get paid for diagnostic time that affords them the monies for training and equipment.

We must value ourselves to our clients.

What about mandatory technician certification?

Fanslow: Torn by it.
Heipp: Who will carry the stick? It would be a waste of time if there is no enforcement.

He is 100% on board if it gets figured out.

Tech Shortage?

We have a shortage of competency.
We have an abundance of incompetency.

Massive problem with techs and shops is to realize they need training.
Good training gives you a thought process that will transfer to other things.
In 2017 Bob's entire work team went to Vision as a group.

The owner should invest in you and you should invest in you.

You'll get more out of it.

There are 15,040 techs employed in Chicago land.

Automotive seminars have 6 training centers in Chicago that get 40-50 guys per session.
The CAN conference (Chicago Area) has about 200 people show up.
Question: Why wasn't there three hotels full of industry technicians to attend free training at Automechanika.

Landry: Show me why I should go to training?
Leon Anderson episode demonstrates a great learning culture. Listen HERE.
Find a way and a means to get to training.

Share a room.
Stretch yourself. Take courses you may not normally take.

Many techs without their owners support, find a way to get to training.
Calibration of new ADAS systems.

Challenges exist
Cost of equipment is high
Windshield replacement critical to have the OE glass
OE's are making the rules on calibration.

Idea: License training and trainers.
Be socially involved and in touch with the show:
Facebook   Twitter   Linked In   Email
---
This episode is brought to you by Federal-Mogul


Motorparts and Garage Gurus. With brands like Moog, Felpro, Wagner Brake, Champion, Sealed Power, FP Diesel and more, they're the parts techs trust.  For serious technical training and support – online, onsite and on-demand – Garage Gurus is everything you need to know. Find out more at fmmotorparts.com  and fmgaragegurus.com