RR 297: Jay Goninen from Find A Wrench & Find A Mechanic.com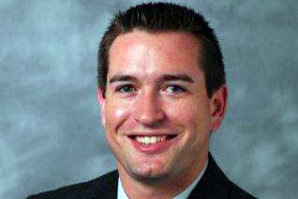 Jay Goninen was exposed to the automotive industry at a very young age. His family took over the independent repair shop that his Dad had worked in when Jay was about 9 years old. Due to limited resources, Jay had to pull his weight around the shop by answering phones, scheduling work and even filling out deposit slips during the summer months and after school.
After graduating High School, Jay went to Tech School to study Automotive Technology and ultimately ended up back at the shop he grew up in. An unexpected twist happened about a year into his return to the shop when he started to figure out that he wasn't as passionate, experienced or qualified to work in the shop as he thought he was and a knee surgery ultimately finished his short run as a Tech.
This ultimately was the best thing that could have happened in his career as it led him to figure out what he was good at while never losing perspective on how difficult it is to work in a shop. Jay went on to be a District Service Manager for a Construction Equipment Manufacturer and then led the Parts and Service Departments as the Corporate Aftermarket Manager of a 7 store Ag & Construction Equipment Dealership.
Over time, the appreciation and respect gained by failing as a Tech but succeeding in other aspects of the business led him to want to connect people. Because of this, Jay started a company called Find A Wrench, which is a recruiting service used by shops around the country to assist them in finding Technicians. On top of that, Jay's company purchased a popular niche job board called FindAMechanic.com. Jay has a passion for promoting the industry and the many talented people we work with, and to be a voice for those who don't like to promote themselves (Techs).
Talking points:
There is not enough supply to meet the demand for the service repair industry.
You are competing against all trades that want skilled people.
Building your culture starts with the interview and the job description.

Need job descriptions for every position in the company.

Very important and undersold in its value.
These are important legal documents.
Job descriptions are there for accountability to the job and performance reviews.

People leave people not companies.

People leave because money piece is important. It can be their boss or money

Is your place a good place to work?
Do you have a path to growth?

More responsibility, more money.
Can your technician use his diag skills for a different type of job vs. the mechanical side and punishment on the body?
Pathway could be diagnostician and mentor roles within your company or the industry.

It is slowly becoming attractive to move to a new city if the money/ offer is right and family is ready.
Inducements to hire top technicians can be:

Health Care.
Retirement.
Good pay program with performance bonuses.
Paid training.
Airconditioned and radiant heat in the proper environment.
Boot and uniform allowance.
Lockers and lunch room.

What is your unique differentiator as an employer
A technician may need to market themselves to the industry to find great opportunities.

Technicians traditionally don't feel the need for networking or to have an online resume.
Technicians don't favor writing resumes.

Jay's company can help with that.

Don't wait for an urgent moment to replace a tech. Always be interviewing.

Find the right attitude, with a good mentoring program and grow your own top technician.
Talent management program outlines a training pathway.

The public title of mechanic may not change no matter how we look at our people in our shop or whatever title or job description we have.
Set a goal to interview one technician a month. Build your Rolodex bench. Always be recruiting.
Interview every person who sends you a resume. You may have to weed out a few, but for future opportunities, find the right attitude for your future no matter how good the resume may look.
Consider every resume candidate like a 5 Star Football Recruit for Your College Sports Program. Interview them all.
Tip: Post your job on your website.

Create a form to submit your name/resume.

Find a Wrench.com for Shop Owners looking for technicians.
Find a Mechanic. com is a job board for techs and shop owners to recruit from.
Find A Wrench Website   (Recruiting Service)
Find A Mechanic Website  (Job Board)
Be socially involved and in touch with the show:
Facebook   Twitter   Linked In   Email    Events    Speaking
This episode is brought to you by Federal-Mogul

Motorparts and Garage Gurus. With brands like Moog, Felpro, Wagner Brake, Champion, Sealed Power, FP Diesel and more, they're the parts techs trust.  For serious technical training and support – online, onsite and on-demand – Garage Gurus is everything you need to know. Find out more at fmmotorparts.com  and fmgaragegurus.com
---
Download the Remarkable Results Radio listening APP for your smart device: