RR 296: The Digital Shop – A Discussion | Sevart | Connor | Kleinschmidt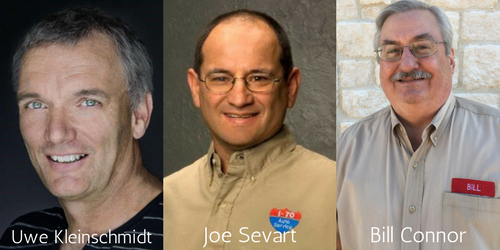 Panelists:
Joe Sevart from I70 Auto Service, Kansas City, MO. Previous Episodes

HERE

.
Bill Connor, GM at Craig's Car Care, Allen, TX
Uwe Kleinschmidt, CEO/Founder from AutoVitals. Previous Episodes

HERE

.
Roundtable Talking Points:
Bill Connor got into digital inspections because he wanted to shrink the number of steps his people needed to travel in order to communicate with each other. This challenges made him work very hard to implement the paperless digital shop.

Voice to text was a big help.

Joe Sevart. Digital inspections benefit the customer.

So many reviews have commented positively on the inspection process.

Working with a smartphone and buying on Amazon is a way of life. We are digital. Why not bring this technology and speed of access of information into the service bays?
Comments from industry. Fifty-fifty down the middle:

Best thing since sliced bread. I already sold a $3,000 job using digital inspections.
I do not know how to hold the tablet. It is so different than paper.

Bill Connor, did not see much pushback from his technicians. He involved them in the process and encouraged their input to keep developing the process.
Inspection with pictures and technician's notes becomes a baseline for failure rate. It is like X-Rays from your dentist.
Bill Connor created a video and process to show any new tech how to use the digital inspection tool.
Transition phase from the attitude; 'they are watching me' to one of 'thank you for building consistency and increasing morale.'
Accountability and measurement is a strong byproduct.
Sixty-six percent of technicians finding are not sold. This is an opportunity.
A strategy is to give have the service advisor do more advising and less busy work.
A great service advisor takes the customer to their car and shows them the problems discovered. Digital now allows the customer to be anywhere and still see the problems via still pictures and videos.
There is a positive word of mouth from customers who share their digital inspection report with friends. Their friends want one of those reports on their car.
Google shared information a few years back:

Paraphrase: 30 times more searches happen for parts and educational content than for shops.

Motorists getting a second opinion and using their smartphone for searches and knowledge.

Managing SEO Strategy is so important today and knowing what people are searching so.
Digital inspection is a great foundation for managing your fleet customers.
Bill Connor sets an exit schedule on his calendar to get in touch with the customer to follow up in a few days. His team checks with the customer to see that everything was done right and to their satisfaction.
Customers are concerned about the health of their vehicles. They are not neglecting their car on purpose. So why is there an open rate on 20% on email

Once you have shown the customer the transparency in the transaction you can send the same richness in an email from declined work and keep engagement high.
Be socially involved and in touch with the show:
Facebook   Twitter   Linked In   Email    Events    Speaking
This episode is brought to you by Federal-Mogul

Motorparts and Garage Gurus. With brands like Moog, Felpro, Wagner Brake, Champion, Sealed Power, FP Diesel and more, they're the parts techs trust.  For serious technical training and support – online, onsite and on-demand – Garage Gurus is everything you need to know. Find out more at fmmotorparts.com  and fmgaragegurus.com
---
Download the Remarkable Results Radio listening APP for your smart device: