RR 306: The Young Auto Care Network Group – YANG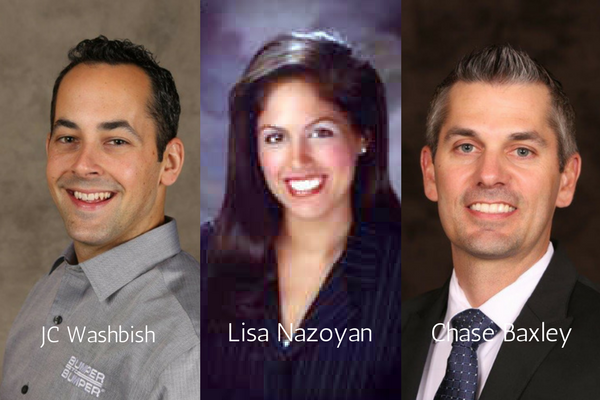 Lisa N. Nazoyan currently works on the Marketing team at MAHLE Aftermarket, Inc., leading the company's marketing efforts in brand strategy, media and budget planning to exhibit planning and execution.
Prior to MAHLE, Nazoyan owned and operated a small brand-marketing company, Soaring Marketing, where she worked with companies of several industries, including auto care industry, to direct the refresh of their brand image and strategy. Within our industry, her company most notably rebranded Women in Auto Care: A Global Community's (formerly Car Care Council's Women's Board) branding.
She also worked on the OE side of the automotive industry in marketing for a fibrous-based thermal and acoustical technology leader as the company's Corporate Marketing Manager.
Prior to that, Nazoyan worked in the aftermarket divisions of manufacturing companies such as ZF TRW and NGK Spark Plugs. In these marketing roles, she was responsible for managing divisional marketing budgets, public relations, large trade events, social media, digital media and advertising, as well as designing, creating, and delivering marketing programs to support the growth and expansion of company brands, its customers, and products.
Nazoyan currently serves on the board of the Young Auto Care Network Group, a movement providing young auto care professionals in their twenties and thirties the opportunity to network with industry peers, enhance knowledge and improve leadership capabilities. She is also an active committee member of Women in Auto Care: A Global Community, a group comprised of auto care professionals dedicated to providing opportunities, education and career leadership to women in the auto care industry, where she serves on the Member Development Committee.
After graduating from the University of Florida Chase Baxley found the aftermarket and 10 years later still calls this industry home.  Chase is the Vice President of Product & Supply Chain at The Parts House.   He held various positions in sales and purchasing during his 10-year career with The Parts House: Intern, Buyer, Sales Representative, Director of Purchasing, and Vice President of Product & Supply Chain.
Volunteer service remains a priority to continue growth within the industry and help provide a path for others to join.  Industry volunteer service includes: ACA Marketing and Communications Committee, ACA Education Committee, YANG founding member, Automotive Distribution Network Product Committee Chairman and member, Delphi Distributor Council, Veyance Distributor Council, Motorcraft Catalog Committee, and ACDelco Inventory Optimization Committee.
Earning significant responsibilities at The Parts House early in his career tested his resolve but allowed him to showcase strategic thinking and implementation.  Challenging status quo and leading by example are important values to Chase as a change agent with the ability to absorb tough critics who struggle embracing change. His proudest achievements include the successful development of new employees with bright futures at The Parts House and product program improvements providing millions in financial benefits.  If Chase is not in the office you may find him on the golf course or riding a motorcycle.
JC Washbish is the Director of Marketing for the Aftermarket Auto Parts Alliance and Vice Chair of the Young Auto Care Network Group.
Episopde Talking Points:
YANG, the Young Auto Care Network Group the under 40-year-old nationwide organization.
Chase works in a YANG discussion in his interview process. His applicants find it intriguing.

Young people are looking for a career path and that we are a large industry.

Lisa, YANG makes our large industry smaller as you see the other segments of the industry.
1,500 Members as of the interview.
This shows the industries leadership that there is a secure group behind them ready to learn what it takes to succeed into greater leadership roles.
YANG allows connections to leadership roles within the industry.
There are many industry veterans that are willing to lend an ear and be a mentor for members of our industry especially the YANG membership.

Simple meanings in complicated situations.
Mentors must provide trust and a listening ear.
As a mentee, you must want to give back and volunteer to grow the industry and relationship.

Trends:

Companies thinking more globally.
Electric vehicles will become more relevant.
What does distribution need to do to help the service professional repair the new technology?
Will we have more IT people than counter people?
As telematics expands the industry can learn more about failure rates and get the right SKU into the market based on data and access to the data.
It is a technology arms race.
Will the amount of trip to the bays be there? Will the jobs be higher ticket?
We need the right to repair these vehicles by having access to the data.

Get involved with the annual Auto Care Legislative Summit
Technicians are going to be prepared to manage larger fleets because of TAAS.
Twice a year YANG conference held during the Spring and Fall Auto Care Leadership days.
May 9-12, 2018. Information at autocare.org
Lisa found her pace in the industry when she started to give back.
YANG website HERE. Get involved if you are under forty.
Acronyms mentioned in this episode:
YANG: Young Auto Care Network Group
AWDA: Automotive Warehouse Distributor Association
TAAS: Transportation As A Service
Be socially involved and in touch with the show:
Facebook   Twitter   Linked In   Email    Events    Speaking
This episode is brought to you by Federal-Mogul

Motorparts and Garage Gurus. With brands like Moog, Felpro, Wagner Brake, Champion, Sealed Power, FP Diesel and more, they're the parts techs trust.  For serious technical training and support – online, onsite and on-demand – Garage Gurus is everything you need to know. Find out more at fmmotorparts.com  and fmgaragegurus.com
---
Download the Remarkable Results Radio listening APP for your smart device: