THA 056: Your Ideal Customer – Defining Your Avatar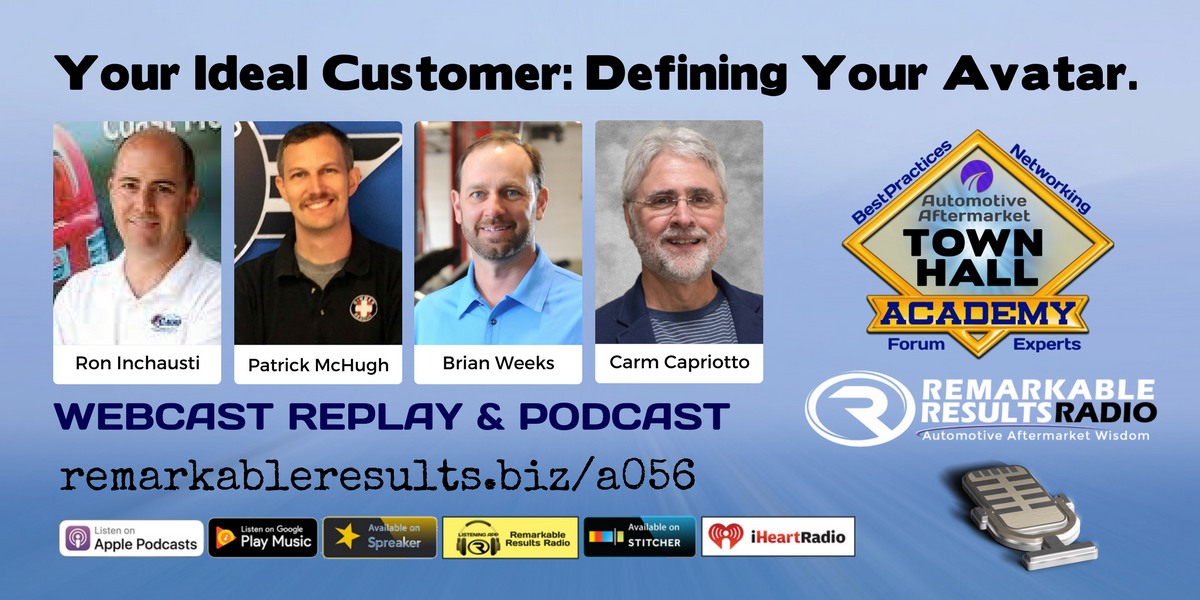 Your Learning Curve Never Sounded So Good!
Helping automotive aftermarket professionals improve; one lesson at a time.
Learn from your industry peers in a round-table forum. Get new ideas, perspectives, trends, insights, best-practices and expertise from aftermarket professionals.
Watch like a DOCUMENTARY … Learn like a SEMINAR.
---
In Part One we discussed Controls, Operations and Accounting/Finance. Listen HERE.
---
The Academy Panel:
Ron Inchausti always had entrepreneurial ideas since childhood, but lacked goal setting to implement these ideas. He started his automotive career like most, working for someone else. He never considered, or saw the need, to start his own company. This young, eager mechanic had a special passion fueled by providing quality service with a thoughtful approach to the customers' needs. Ron recognized that the customer was inconvenienced by a car problem, but he knew he could do more than just fix the car.
He worked his way through several independent shops realizing that in order to fulfill his needs, he would need to work for a dealership. Isn't this the pinnacle of quality service and customer satisfaction? It took less than 2 years for Ron to realize that the dealership did not share his visions of what the automotive service industry should represent.
In 2005 Ron was approached with the opportunity to take over a failing business. The reasons for failure were clear to Ron, and he knew he could build the service experience customers did not know existed. Ron didn't see the need for a formal business plan or investors. He started Coast Motor Werk with excess passion for a simple goal. This goal would later ignite him as a serial entrepreneur.
He set his goals on providing the highest level of service to a very niche market. He opened his first shop in 2005 along the coast of Southern California. The odds were against him as he immediately narrowed his geographical footprint, as half of his customers could not reside in the Pacific Ocean. To narrow his customer base even more, he chose to work solely on BMW and MINI's. Taking it a step further, Ron created what he refers to as his "cardboard cutout". This "cardboard cutout" philosophy of his revolved around his belief that he did not want to get in to the business of fixing cars, but rather into the business of fixing customers. By narrowing his customer base, he could focus his excellent service on excellent customers. Ron shares, "Anyone can fix cars. That's why I focus my business on fixing customers' problems. Auto repair can be inconvenient, but the repair process shouldn't be."
It is clear that Ron's success is due to realizing who your ideal customer is and what their needs are. By modeling his business around this philosophy Coast Motor Werk has met, and exceeded, it's original goal. To maintain growth, Ron is constantly setting new goals as each milestone is reached. He feels without a well-defined goal to reach, he has nothing to work towards. After his first shop had proven the potential of his business model, a new goal would be set. As he has nearly accomplished this second goal of expanding his brand to 5 locations (currently sitting at 4), Ron is already working on what his next goal will be. Listen to Ron Inchausti's previous episodes HERE.
Brian Weeks is a third generation shop owner that teamed up with his brother Chris in 1999 and bought the family transmission business that was owned by his father and two uncles. Brian and Chris transformed the business into a full-service automotive business with two locations.
Growing up in the family business allowed him to gain valuable experience at a very young age.  At the age of 12, he worked on his first customer's car for his dad.  This experience led to building manual transmissions by the age of 14.
Racing has always been his true passion and was the reason for seeking an engineering degree.  Brian graduated in 1996 from Southern Polytechnic State University with a Bachelor's degree in Mechanical Engineering and Technology. He says that the degree continues to pay dividends as vehicle technology advances at a rapid pace.
Brian and Chris implemented a re-man transmission program in 2004 that allowed them to back away from the bench; building transmissions. This allowed them to concentrate on business growth.
A big move for the business was to re-brand in 2010 from Augusta Transmission Clinic to atc AutoCenter. This allowed Brian and Chris to expand the business to more than just transmissions. Now as a full-service repair center they opened their second location in September 2015.
They spent two years on the Jasper Advisory Council in 2012-2013 and was awarded Jasper Engines Top 100 independent shops the past three years. atc AutoCenter was also honored with the Elite Worldwide Ethics award in 2016. Listen to Brian Week's previous episodes HERE.
Patrick McHugh always tinkered with 'stuff'. His dad bought an '85 BMW. They learned all about that car together. A friend, Eric, had a lift and was a BMW person who helped Patrick and his dad learn everything about the CAR.
At 15 years old he started working in an airport, doing odd jobs, to earn credits to learn to be a pilot. He soloed at 16 years old. The day before college he got his pilot's license
Patrick attended Purdue University where he studied aeronautical technology. He kept flying and earned his instrument license and became an instructor. He loves to teach.
As fate would have it, he became a pilot upon college graduation from Trans State Airlines a regional carrier for United. He was based in Richmond Virginia. With normal pilot downtime, he continued to tinker with BMW's.
He discovered that being a pilot was not for him, so he went into avionics and shade tree work at home. There were too many cars in the driveway, so he had to decide to stop or go into business.
Bimmer Rescue was created in 2008 in Richmond Virginia and generates a big portion of its business through referrals. They earn their business through their professional service and attention given to each customer.
Patrick's goal is to develop a relationship with BMW, Mini, Audi, and Volkswagen owners that allows them to get the maximum amount of value from their vehicle rather than buying a new one. Listen to Patrick McHugh's previous episodes HERE.
Talking Points:
Your Avatar or your cardboard cut-out is your ideal customer. It is you defining the very best customers and then focusing on them.

They trust you and are advocates for you.
Least likely to stray.
Most likely to recommend.

It takes time to cement the logic of your Ideal Customer.
Ron Inchausti makes a connection to his Avatar with food.

When he genuinely has a conversation with this Avatar he loves to talk food.
When you have a conversation that is not about the vehicle your relationship goes beyond repair/maintenance.

To start to find your ideal customer you may have to discover who you do not want to serve.

When you are creating a brand and a brand story not everyone will connect.

Patrick McHugh discovered his Avatar by starting to plot his customers on the map. It allowed him to find a pocket of customer that was 20 miles from his location. He discovered they worked in a business park next to his shop. That was an important profile. It is not where they lived but where they worked.
Process to find your ideal customer.

Look over your records discover the who, what, why and how.
You will not alienate your customer. You are looking for the most market share you can get. You are looking for the peak of the bell curve and people who are suited for your business.
You need to eliminate your non-customers like; the ones who are dealer only, the techies who are DIYers and know every P-code.
When you involve your team, it improves your morale and company culture.
Who are you passionate about serving?

Everything you do from branding, marketing, culture is designed around targeting your ideal customer.
Looking for your ideal customer opens your eyes in ways you never thought possible.
Multi-shop owner: you may have slightly different ideal customers by location depending on the affluence in the market. At their core, they are the same people, but their affluence may change.
Patrick McHugh realized that there are different Avatars with a BMW owner vs a Mini Cooper client.
Don't design your Avatar around you. It is about your customer. You will attract who you are if you do not have an ideal customer defined.
Your best customer will think of you as their 'mechanic', their 'trusted guy'.
Brian Weeks calls is ideal customer profile P4

Profitable – This relationship affords you to be profitable.
Point others to us – Word of Mouth.
Praise us – Reviews
Passion – someone we are passionate to help…it's what motivates us.

You are only as good as the last time the customer was in your shop. You must back up your brand promise by what you do.
Advocate vs Avatar

Distinct differences. You can have a customer be an advocate and not be your avatar.
Advocates can influence their family and friends to your business but not necessarily be an ideal customer.

Your Avatar drives your marketing.

Distill your ideal customer down to the 'Nth' detail.

Give a name to your Avatar so they become a real person.

Listen to your Avatar. Interview them. Understand them.
If they have complaints about you or the industry fix them.

Customer lounge, bathroom, coffee. Fix it. Make it right. Make it better than right.

Some women come in for the first time with their customer. If the husband approves of the environment, he may never come in again. He wants her to be comfortable.
Ask and offer them creature comforts, even if they don't partake, the gesture is what matters. It feels like you are inviting them into your home.
What do they value? If they feel valued from your shop, they'll become a client.
You must hold up your end of the deal.

Don't let the business determine your Avatar. Let your customer determine your Avatar. Ask them why they come here.

Update it every year.
Train your people on the value of your Avatar.
---
This episode is brought to you by Jasper Engines & Transmissions. When a car's engine or transmission fails, it's

not the end of the road. A remanufactured drivetrain product from Jasper Engines & Transmissions will give your car a new lease on life. JASPER has over 2000 Associates, three manufacturing facilities, two distribution centers and 45 branch offices across the country. They're all working to produce, transport and deliver the perfect product. That's what they do best… keep customers happy. Visit jasperengines.com