RR 327: Prepare to Change – O'Neal – Barrett – Cloutier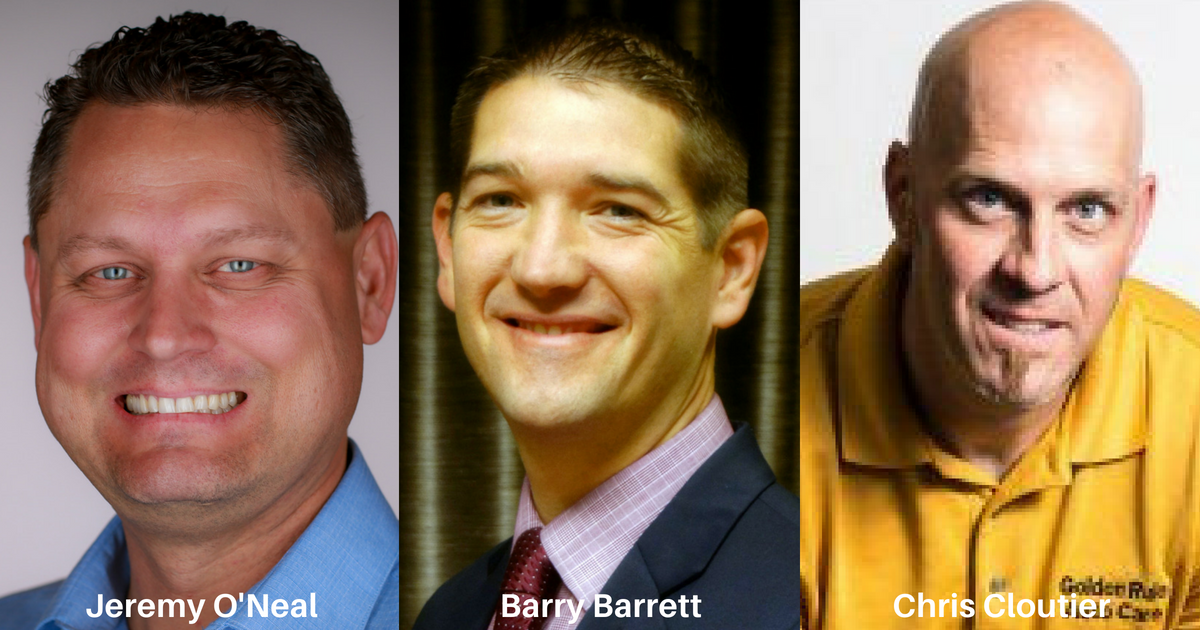 The panel:
Jeremy O'Neal  President and lead sales trainer for Advisorfix, began his career as a Service Advisor and moved into Service Management at the dealership level for VW, Audi, and Porsche. He consistently placed in the top 3% of Service Advisors across the nation. With a passion for helping others, Jeremy started coaching Service Advisors in 2007. Jeremy also owns an independent auto repair shop, Freedom Automotive in Hesperia, CA.  Jeremy's previous episodes HERE.
Chris Cloutier is co-owner of Golden Rule Auto Care in Dallas, Texas for the last 5 years and is an expert at software development who understands what customers want in a digital sales process. He came from the software industry developing solutions for companies like Southwest Airlines, and Wyndham Intl. Chris worked for companies that understand the marriage of service and software and have applied it in an effective way.
After opening his shop, he founded autotext.me, a workflow and communication solution, specifically to give his shop a competitive advantage. As he talked to more shop owners he realized there was a need for better technology and has since worked toward helping the industry embrace and move forward with it. Chris's previous episodes HERE.
Barry Barrett is an authority on sales and selling. He is the Director of Training for RLO. Barry's sales and training capabilities operate at full capacity in his dual roles as the lead salesperson and service manager trainer.
During Barry's career as a Service Manager and top salesperson, he honed his talents in communicating with people.
Barry is tireless in his pursuit of excellence in the automotive industry and in all that he does. His passion for providing tools to train owners and their teams to the next level is unlimited. Barry is a Ziglar Legacy Certified Coach. Listen to Barry's previous episodes HERE.
Talking points:
Two ways leaders lead.

Pain. Required to do it because everyone else is.
Vision. New, innovative, pioneer to try something different.

Changes to operations and processes are digital inspections.

Fear of losing control of the sale.
We are moving away from a sales society to a consumer buying driven society.
Moving to completely digital you can save on payroll, meet demands of the customer.

Fear change.

Unsure of the outcome of change, but able to adapt as change becomes more prevalent.
Afraid of being incompetent after they're already competent and comfortable on a certain way of doing things.
You're either surviving or thriving/avoiding pain or gaining pleasure.
Fear of the unknown and failing at it.
Fear of losing something, protecting what is yours.

How do we deliver the value to the customer and not lose the control of the sale? Curse of knowledge that we cannot explain what we do. An automobile is a complex machine and we need to explain our competency to the customer at a level 2, not at a level 10 knowledge. Don't go overboard.
What do consumers want? Easy access to making an appointment without having to get a verification email or phone call. Instant online access to your workflow is necessary.
We are in an 'on-demand' society.
We will change, but we need to understand everything about it. We want to get to the end game without any pain.
There are three pricing models:

Amazon.
Android/Apple.
Have the best product, but the highest pricing model based on a relationship.

You'll always get paid more for this vs the other two.

73% of people that get a text from you consider you in their inner circle.
Teach your child to talk. Conversing face to face will become a dying art.
Deliver your client the transaction in the method they want. Over the phone, in person, texting, or email.
Embrace Change and envision the future instead of being afraid of it.

Vision can be an abstract concept and it scares a lot of shop owners
Crawl, walk, run: start one thing at a time to adopt change
Consider the big change that happened with the preference of texting over a phone call.

Technology doesn't make you the worst person it exposes you. Gary Vanerchuk
Everyone communicates, not everyone connects with each other.

Most people have adapted to Amazon based services "I want what I want when I want it" without customer service or face to face.
The ways consumers are spending is constantly changing.

Loss Aversion. When you protect what you have so much because you don't want to lose it. A protectionist mindset.
You need an abundance mindset.
Busy is a four-letter word.
Not all will fight the fight.
Winners and losers have one thing in common. They both hate doing the same thing every day. Winners do it anyway.
Be socially involved and in touch with the show:
Facebook   Twitter   Linked In   Email    Events    Speaking
This episode is brought to you by Federal-Mogul

Motorparts and Garage Gurus. With brands like Moog, Felpro, Wagner Brake, Champion, Sealed Power, FP Diesel and more, they're the parts techs trust.  For serious technical training and support – online, onsite and on-demand – Garage Gurus is everything you need to know. Find out more at fmmotorparts.com  and fmgaragegurus.com
---
Download the Remarkable Results Radio listening APP for your smart device: