THA 067: Your Ideal Customer Part 2 – Training Your Team To Embrace Your Avatar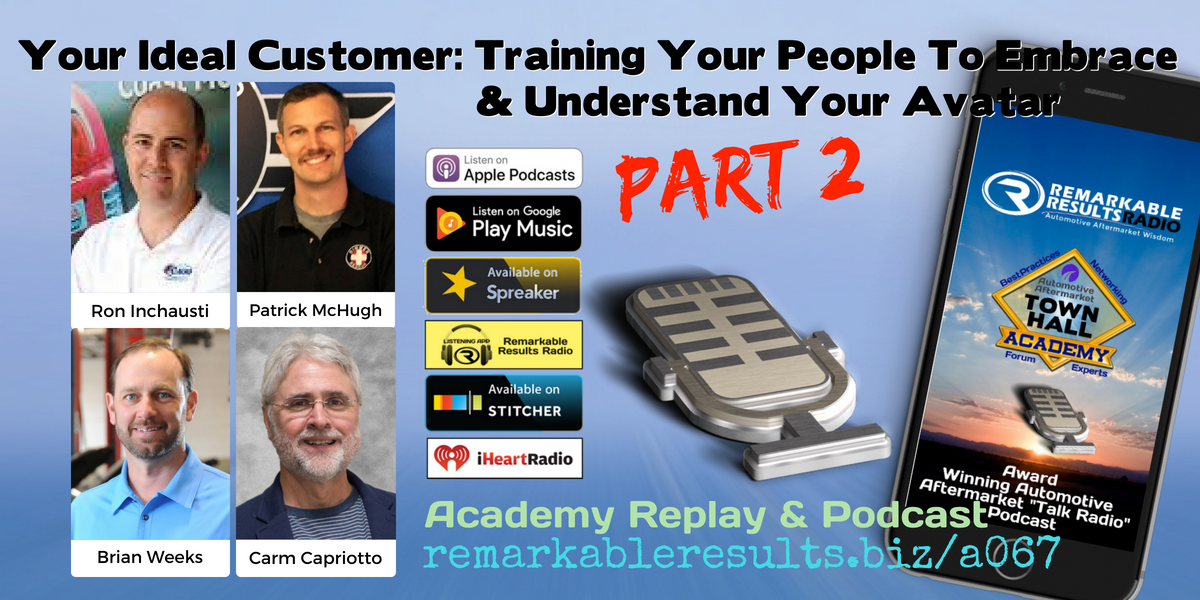 Your Learning Curve Never Sounded So Good!
Helping automotive aftermarket professionals improve; one lesson at a time.
Learn from your industry peers in a round-table forum. Get new ideas, perspectives, trends, insights, best practices and expertise from aftermarket
---
PART 2
The Academy Panel:
Ron Inchausti always had entrepreneurial ideas since childhood but lacked goal setting to implement these ideas. He started his automotive career like most, working for someone else. He never considered, or saw the need, to start his own company. This young, eager mechanic had a special passion fueled by providing quality service with a thoughtful approach to the customers' needs. Ron recognized that the customer was inconvenienced by a car problem, but he knew he could do more than just fix the car.
He worked his way through several independent shops realizing that in order to fulfill his needs, he would need to work for a dealership. Isn't this the pinnacle of quality service and customer satisfaction? It took less than 2 years for Ron to realize that the dealership did not share his visions of what the automotive service industry should represent.
In 2005 Ron was approached with the opportunity to take over a failing business. The reasons for failure were clear to Ron, and he knew he could build the service experience customers did not know existed. Ron didn't see the need for a formal business plan or investors. He started Coast Motor Werk with excess passion for a simple goal. This goal would later ignite him as a serial entrepreneur.
He set his goals on providing the highest level of service to a very niche market. He opened his first shop in 2005 along the coast of Southern California. The odds were against him as he immediately narrowed his geographical footprint, as half of his customers could not reside in the Pacific Ocean. To narrow his customer base even more, he chose to work solely on BMW and MINI's. Taking it a step further, Ron created what he refers to as his "cardboard cutout". This "cardboard cutout" philosophy of his revolved around his belief that he did not want to get in to the business of fixing cars, but rather into the business of fixing customers. By narrowing his customer base, he could focus his excellent service on excellent customers. Ron shares, "Anyone can fix cars. That's why I focus my business on fixing customers' problems. Auto repair can be inconvenient, but the repair process shouldn't be."
It is clear that Ron's success is due to realizing who your ideal customer is and what their needs are. By modeling his business around this philosophy Coast Motor Werk has met, and exceeded, it's original goal. To maintain growth, Ron is constantly setting new goals as each milestone is reached. He feels without a well-defined goal to reach, he has nothing to work towards. After his first shop had proven the potential of his business model, a new goal would be set. As he has nearly accomplished this second goal of expanding his brand to 5 locations (currently sitting at 4), Ron is already working on what his next goal will be. Listen to Ron Inchausti's previous episodes HERE.
Brian Weeks is a third generation shop owner that teamed up with his brother Chris in 1999 and bought the family transmission business that was owned by his father and two uncles. Brian and Chris transformed the business into a full-service automotive business with two locations.
Growing up in the family business allowed him to gain valuable experience at a very young age.  At the age of 12, he worked on his first customer's car for his dad.  This experience led to building manual transmissions by the age of 14.
Racing has always been his true passion and was the reason for seeking an engineering degree.  Brian graduated in 1996 from Southern Polytechnic State University with a Bachelor's degree in Mechanical Engineering and Technology. He says that the degree continues to pay dividends as vehicle technology advances at a rapid pace.
Brian and Chris implemented a re-man transmission program in 2004 that allowed them to back away from the bench; building transmissions. This allowed them to concentrate on business growth.
A big move for the business was to re-brand in 2010 from Augusta Transmission Clinic to atc AutoCenter. This allowed Brian and Chris to expand the business to more than just transmissions. Now as a full-service repair center they opened their second location in September 2015.
They spent two years on the Jasper Advisory Council in 2012-2013 and was awarded Jasper Engines Top 100 independent shops the past three years. atc AutoCenter was also honored with the Elite Worldwide Ethics award in 2016. Listen to Brian Week's previous episodes HERE.
Patrick McHugh always tinkered with 'stuff.' His dad bought an '85 BMW when he was 14 when he noticed Patrick was running out of things to tinker with. A friend, Eric, had a lift and was a BMW person who helped Patrick and his dad learn everything about the car.
At 15 years old, Patrick started working in an airport, washing planes, and mowing grass to earn credits to learn to be a pilot. He soloed at 16 years old. The day before college he got his pilot's license.
Patrick attended Purdue University where he studied aeronautical technology. He kept flying, earned his instrument license, and became an instructor. He discovered a passion for teaching.
As fate would have it after graduation, Patrick became a pilot for Trans State Airlines, a regional carrier for United. He was based in Richmond, Virginia. With normal pilot downtime, he continued to tinker with BMW's.
He discovered that being a pilot was not for him, so he went into avionics and shade tree work at home.  Cars were lining up in the driveway, so he had to decide to stop or go into business. So in 2011, he dove in head first and started Bimmer Rescue!
Patrick has a real passion for the industry; not just for the day to day, but for the future as well.  He teaches STEM classes for teenagers to show them career opportunities in the auto industry, hosts Women's Car Care Clinics, and even has regular Art Shows in his shop's gallery to support local artists.  Patrick enjoys trying to change auto repair for the better and loves the great opportunities this industry offers! Listen to Patrick McHugh's previous episodes HERE.
Talking Points:
See Part #1. Academy episode # 56

HERE

.
Your team is a customer service workforce that just happens to fix cars.
The Avatar concept can be tough understand and be accepted.  It will take time to get this concept across to your team. Do not wavier.
Your team can be a large part of creating your ideal customer. They like working on certain types of customers cars. Their insights can be a big part of your Avatar design.
Brian Weeks did a rebranding of his business and made their Avatar the centerpiece of their new strategy and created a Customer Trust-Building Journey. (See below outline)
Think about the customer, not the car. Too many think about the car and not the customer.
Listen to the customer. Ask the right questions to determine an Avatar match.
The intrinsic trust in a mechanic has been lost over the years. We are not teaching trust to the customer anymore.
Customer asks questions about price and we clam up. But the customer is not asking questions about price. Top service advisors are diverting these questions and move to trust.
A great question to ask a customer: 'What is really happening here.'
Every team member must fit into your culture. You must have core values that they all can align with including knowing your ideal customer, your avatar. Your customer can sense your culture like they can the wind.
Tell people that you are different. Tell them how awesome you are and the special things you do for them.
You may need to emulate your Avatar in order to really discover more about them.
Live your own life with value and not always about price. Walk the walk and talk the talk. This can show you how your Avatar will buy.
Friendships are built over time and it takes trust to get there.
Avatars can be great advocates of the company and will do your own advertising.
Don't get discouraged on the engagement with your team. It takes time. You can measure the success via specific KPIs.
The little things matter to your Avatar. Even if the repair was extensive they accept the seat to be in the same position, the radio not changed, the clock set right and no smudges. Put yourself in your customer's shoes because their life was interrupted because of car maintenance or repair.
Your only as good as the last time the customer walks in the door.
The customer may not appreciate the depth of the repair and you need to explain to the customer exactly what was done to keep their car in safe running condition.
You may have the right avatar with the wrong car or wrong timeline. The car may be at the end of their lifecycle. Advise the customer to start over and purchase another 3-year-old car and keep them coming to your shop. Reasons to move forward with a newer vehicle is safety. Side curtains and other safety features in a newer car.
Get your team to help you create your Avatar instead of pushing it down to them. Pull it up instead of pushing it down.
The Avatar or cardboard cut out works. When you know your customer and your customer knows you, your business will strive. The challenge is it to get your team to embrace and buy in. You'll need to train your team to total commitment to your defined ideal customer.
---
Seven Step Customer Trust Building Journey. (Courtesy of Brian Weeks)

Pre-Purchase

Step 1 – Connect. Online presence (Social Media/website), involvement in the community, reputation management, testimonials, meet the team
Step 2 – Call. How easy is it to contact us, phone call process (phone script that everyone knows), on hold messaging, FAQ online

Purchase

Step 3 – Arrive. How appealing is our physical presence (building/parking/accessibility), Google maps,
Step 4 – Waiting. Refreshments, comfort, transparency (glass doors and walls)
Step 5 – Deliver. Vehicle delivery process

Post purchase

Step 6 – Follow-up. Next appointment, follow up phone call, Thank You card
Step 7 – Follow-through. Referral Program, Special Events, CRM email

We hire people based on their ability to fit into our culture…cater to our Avatar
---
This episode is brought to you by Jasper Engines & Transmissions. When a car's engine or transmission fails, it's

not the end of the road. A remanufactured drivetrain product from Jasper Engines & Transmissions will give your car a new lease on life. JASPER has over 2000 Associates, three manufacturing facilities, two distribution centers and 45 branch offices across the country. They're all working to produce, transport and deliver the perfect product. That's what they do best… keep customers happy. Visit jasperengines.com