RR 328: Trained By Techs – Martino, Kline, Culotta, Miller, Brandt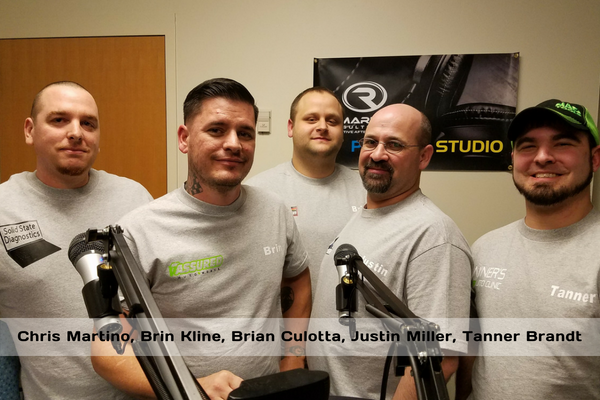 The panel:
Brin Kline is owner of Assured Auto Works in Melbourne, FL.  His career in automotive repair spans 17 years with nearly 8 years as an owner.
Brin knows that the automotive repair industry is ever changing.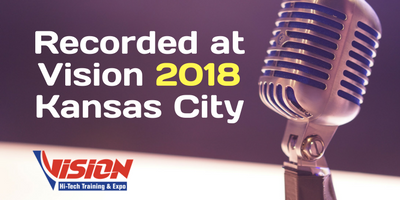 Diagnosing and repairing automobiles of today have many more requirements for up to date training than they did in years past.  Today, a technician must network with and befriend other likeminded individuals, commit a lot of their personal time to craft their skills so they can confidently, efficiently and accurately diagnose the issues that they face on a daily basis.
Brin's journey to becoming an advocate for improving the automotive repair industry at the national level began when he started to attend conferences and training.  At these events, he rubbed shoulders with amazing people who, recognize the need for a national automotive repair industry step-by-step protocol for entry-level recruitment and training, continuing education events, and conferences, sharing of case studies, and helping businesses grow.
One of Brin's favorite professional moments was being able to attend the 2016 Spring NASTF meeting at the Sheraton in Overland Park, KS. The topic was attracting and retaining technicians.
Brin feels that being a shop owner of a company with great potential is not what gives him a voice. He believes that being an enlightened industry professional is what gives him a voice.
Enlightenment through training, networking with like-minded professionals, collaborating, sharing ideas, knowledge and our experiences with each other, removing pride and egos, getting involved, receiving help and helping each other is the way to a better future and a better industry.
Brin enjoys building case studies for most of the issues that he diagnoses. He has plans of sharing them with training companies, trade magazines and at some point, possibly presenting them himself. Find previous episodes featuring Brin HERE.
Chris Martino has spent 20 years behind a wrench. He currently works at Skumi Garage in Huntington NY, Chris spent the last 4 years retraining in electrical diagnosis with a heavy emphasis on lab scope usage and theory. Chris bought hi first business when he was 22. and ran it until 2008, when the crash happened. His current focus is on European vehicles.
Chris started sweeping floors in his local repair shop right after high school. After fixing his first vehicle he became hooked on auto repair. He watched every job being done and jumped in when he could. At the end of the day Chris would run through the whole day over in his head to figure how he could improve it the next time. He pushed himself to become the absolute best at everything he did. When Chris bought his own place, he had to give himself a crash course in diagnostics. He did the best he thought he was capable of.
After Chris closed his business down, he started to realize that his way of doing things was not the way to go. He was no longer happy with being "kinda sure" a car was diagnosed properly. He knew nothing of training in his area, so he hopped online. There was so much information available, and he absorbed it like a sponge.
Chris heard about the 2017 CAN conference on a youtube video. He knew he had to go. It was there that he met the group that would become the Trained By Techs team. Tomi Olivia, Brin Kline, Brian Culotta, Justin Miller, Tanner Brandt, Richard Falco, Mike Robinson and others. They talked about some of the frustrations and shortcomings of the current generation of training. After a discussion online, in which it became clear that some people weren't familiar with a certain testing technique, what was to become TBT was born. Justin Miller put everything in motion. He shot a short video and put it online and it caught fire. The response was great. They all got together and came up with a game plan, and the rest of the story is history.
Vision 2018 came around, and Chris wanted to attend. Unfortunately, financial problems came up and he just didn't have the money to attend. Justin Miller donated some money towards the fee, the rest of the guys came together and raised the money for airfare and hotel etc. This is what the group is about. Different people coming together from all around the country to make our industry better as a whole. Chris says,  no ego, no drama.
Justin Miller is the owner of JM Diagnostics from Salt Lake City, Utah and an ASE designated Master Technician. He has paid his dues and worked in the automotiveindustry for almost 25 years now. He realized some years back that his body was not going to hold up much longer at the physical pace he had become accustomed to. Seeing it difficult to change careers completely, he decided to invest in his natural diagnostic abilities within the same industry. This internal drive he possesses has made him the top technician that he is today. "How" and "why" are the questions he constantly asks himself and must find the answers to.
A little over 2 years ago, he reached out to his peers in social media for help finding training events. It became clear that he must attend Vision in Kansas City. That event changed him. A class that he attended, taught by John Thornton, opened his eyes to so much more than he ever dreamed. He absorbed as much as he could but needed more!
Understanding the imminent shift in the industry, he began a knowledge quest and attended as many training events as he could; including CAN in Chicago in 2016 & 2017, AVI/APEX/SEMA in Las Vegas, ATE in Seattle, Automechanika in Chicago and Vision again in 2017.
At Automechanika held in Chicago in 2017, he met a diverse group of like-minded individuals. They agreed to keep in touch and communicate until they would be joined again at the next CAN Conference. They began networking and talking on a daily basis.
All this time, Justin was devoting many hours helping other technicians posting in Facebook groups looking for direction. As Justin was making suggestions for a particular posting, another person didn't understand the testing procedure Justin was describing.
In an attempt to make it clear for everyone involved, he decided to make a video ;to clearly show how the test is completed. The response was surprising; he received great feedback and requests for more videos from his peers. At this time he approached his group with an opportunity to join him in making videos from their own experiences.
This group together has formed "Trained by Techs" and is producing videos in a wide variety of subjects to help the common technician expand their personal knowledge. It is apparent for those searching, that certain information is not easily accessible for the average technician. Understanding that many are greater than one, together they are striving to improve the industry and the stigma associated with "auto mechanics".
Brian Culotta lives in Willoughby, Ohio and works at Dave's Auto Care. He is the  Shop Foreman/Diagnostician/Master Technician. Brian holds ASE certs: A1-A8 (master) L1, L3. He has 15 years experience and has held a wrench ever since he was a baby. His father is a retired Mechanic of 50 years and his mother has owned/operated a radiator shop for over 20 years.
Brian attended Auburn career center (Junior/Senior year of High-school) and studied automotive technology. He also attended Universal Technical Institute and studied Automotive technology/Diesel Technology/Truck Refrigeration/ Industrial Hydraulics/ Ford FACT Program.
Brian started his journey like most technicians in the industry very early following in the footsteps of his parents. Growing up he was a shadow to his father. Later, in his teenage years, he spent a lot of time working at his mother's radiator repair shop.
Brian is extremely passionate about bettering the industry and bettering himself. He attends as many training seminars as he can work into my budget and schedule.
Tanner Brandt began working on cars at age 15 at Wayne Technical and Careers Center. He took two years of automotive technology at their campus. During that time Tanner worked nights and weekends at a repair shop as well as at a race shop.
From there he went to Monroe Community College. This is where his interest was sparked for the diagnostic side of the trade. From there the rest has been history. He attends training conferences throughout the US to learn from others and network. He has a deep interest in making our field more professional and bettering the industry for everyone.
Going to large training conferences allows Tanner to network with other like-minded individuals and find out what changes others want to see in the industry as well. Recently he has been involved with the rest of the Trained By Techs group to help bring time sensible training videos to the masses. He wants to be able to continue to help repair shops and technicians on diagnoses of vehicles as well as learn how to do so.
Where To Find Trained By Techs.

Their videos live on their YouTube Channel that's appropriately called Trained By Techs. They usually share the link to their YouTube videos on Closed Automotive Diagnostic Facebook Groups.

They can easily be found on a lot of the better technical Facebook groups and we're often attending the best training events.
Talking Points:
Started as group message for Automechanika attendees, of about 10 people

They started to encourage each other as a tool to solve problems together.
The camaraderie was to better yourself and your business.
Turn your job into careers through having a network of friends and attending conferences together.

Hours technicians need per year for training

100 hours: 40 hours of hands-on at conference training.
Networking at a conference is priceless and necessary to grow your career.

Attending classes

Offer honest feedback to the instructor.
Learn at least one takeaway from every class.
Don't be afraid to start a dialogue with class and instructor, get involved to get most out of class.
Thank the instructor for the training.

Daytime training

An ideal time for people to learn
Invest into turning your technician's job a career
Pay for training and no loss of wages.

Online training another option.
Trained by Techs

FB videos and YouTube Channel
Solving problems/figuring out issues
It started helping other technicians

Events like Vision are career changing.
Be socially involved and in touch with the show:
Facebook   Twitter   Linked In   Email    Events    Speaking
This episode is brought to you by Federal-Mogul

Motorparts and Garage Gurus. With brands like Moog, Felpro, Wagner Brake, Champion, Sealed Power, FP Diesel and more, they're the parts techs trust.  For serious technical training and support – online, onsite and on-demand – Garage Gurus is everything you need to know. Find out more at fmmotorparts.com  and fmgaragegurus.com
---
Download the Remarkable Results Radio listening APP for your smart device: