RR 360: Shop Talk 3 – Millennial Shop Owners.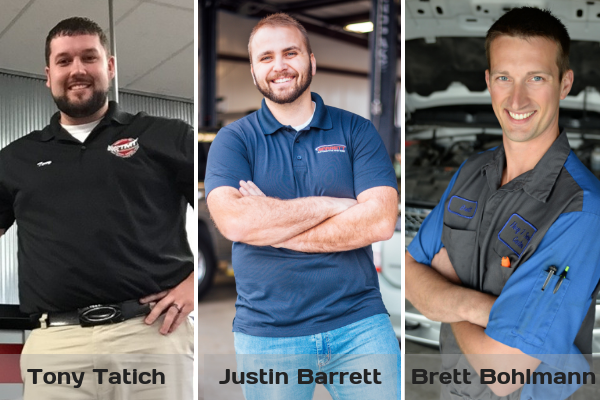 The Roundtable:
Tony Tatich is the General Manager of TMT Automotive, Bremen, IN. He works on solidifying his current shop while building human capital. He is, currently, exploring a second location with the second shop already located. One of his present challenges is finding the right person for the second location. He thinks about his continued growth personally, business, and into multiple facilities.  he is working through challenges of growth & being a Yes shop in massive growth periods.
He is looking for harmony and to build a shop that runs 100% without his involvement. He leads a staff of technicians that are 21, 28, & 33 with a senior technician @ 54, Growing out next people homegrown! He is very excited about –   2nd child on the way, 19.8% growth in the first 6 months! Find out more about Tony's episodes HERE.
Justin Barrett is the owner and operator of Barrett Automotive, Cornelia, GA. He is excited about the future of this industry with autonomous vehicles and the role the independent repair shop will play in that arena, and with the changing landscape how we are going to have to be nimble and adapt to stay relevant.
Leadership is something that is extremely challenging to him but rewarding when done right. He had some leadership failures and wins which are adding to his growth in that area. His biggest challenge right now is the same thing that he is working on and that is building a great team. In the last 18 months, he had gone from leading himself and one other to leading 6 and still adding to keep up with growth. Find out more about Justin's episodes HERE.
Brett Bohlmann, along with his wife, is the owner of HWY 7 Service Center, Newell, IA. He began his career in the automotive industry as an automotive technician. Over the years, Brett began to acquire top notch experience and a love of automobiles but more of a passion for learning in the entire automotive industry.
In 2010, Brett had an urge to start and open Hwy 7 Service Center with the goal of always exceeding the customer's expectations. Oil definitely pumps in his veins as automotive knowledge, skill, and work ethic radiate from his actions and words. However, the fuel for the fire comes from his family at home and the community that has become a large family too. Find out more about Brett's episodes HERE.
Key Talking Points:
Team building- taking a leadership role instead of tech

Leaders are readers- gain knowledge to take action

"5 Levels of Leadership" by John Maxwell

Work on business instead of in it

Maintain culture while hiring new people

Relationship with external customers and employees

Working on it vs. Working in it.

Keeping the same feel for customers with different people instead of the owner

Market business with a face of the owner

Taking over the business after father steps out

Building trust with customers, credibility   

Rapid growth

Employee turnover

Book "Traction" Gino Wickman   

Sales to customers

Rehearsed, deeper in the presentation

Recording phone calls and listening for areas of improvement

Be unique

Serve and love on customer

Make the customer feel great about auto repair  
Other Resources:
TMT Complete Auto Service Center Website
Book: 5 Levels of Leadership by John Maxwell
Leave me an honest review on iTunes. Your ratings and reviews really help and I read each one of them.
A special thanks to Justin Barrett, Brett Bohlmann and Tony Tatich for sharing their stories.

Be socially involved and in touch with the show:
Facebook   Twitter   Linked In   Email    Events    Speaking
This episode is brought to you by Federal-Mogul

Motorparts and Garage Gurus. With brands like Moog, Felpro, Wagner Brake, Champion, Sealed Power, FP Diesel and more, they're the parts techs trust.  For serious technical training and support – online, onsite and on-demand – Garage Gurus is everything you need to know. Find out more at fmmotorparts.com  and fmgaragegurus.com