THA 083: What Separates the Outstanding Technicians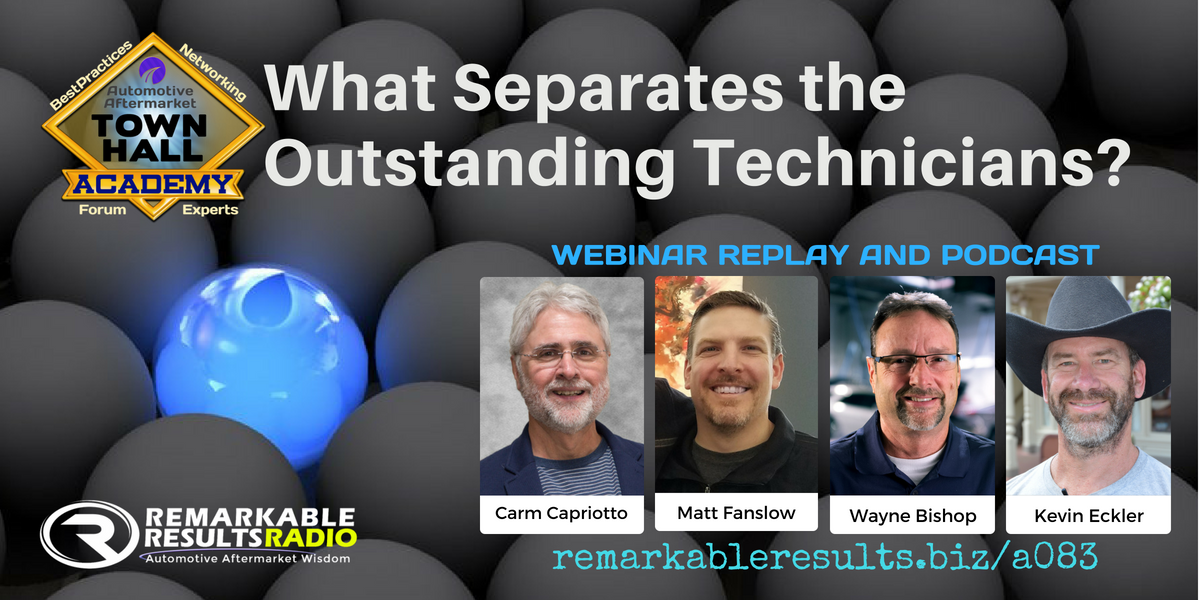 Your Learning Curve Never Sounded So Good
The Panel:
Kevin Eckler is a native New Englander who moved to New York State's Hudson Valley with his parents back in the mid-1980's.  Kevin began his automotive career at the age of 14, pushing a broom in a mom and pop shop in Rhode Island, he attended a trade school, graduating at the top of his class and went right to work as a tech in a prestigious Porsche/Audi dealership in Cape Cod.  Kevin continued his dealership work when he moved to NY and eventually came to work for two brothers who owned Foreign Car Specialists.  When the owners retired in 1995, Kevin bought the business and the rest is history. Kevin's previous episodes HERE.
Matt Fanslow is the diagnostic tech/shop manager at Riverside Automotive in Red Wing, MN.  His primary responsibilities are to diagnose driveability and electrical/electronic issues, and perform most all programming, coding, initializing, adaptations, etc. Basically, if it needs to be figured out or has wires, it goes to Matt. He's been a tech since 1996. Matt is also a subject matter expert for ASE and has instructed at Vision Hi-Tech Training and Expo. Matt has participated on 18 ASE technical committees for the ASE Practice Test, A6, A7, A8, and L1 tests. He's also done case studies for Standard Motor Products.
Fanslow's goal is to do everything in his power to improve the overall level of professionalism within the automotive and light truck repair trade and also raise the level of its public image. Hear Matt in these Remarkable Results Radio Episodes HERE.
Wayne 'Jerry' Bishop began his automotive career as his Dad's shop helper in the 1970's. After graduating high school in 1979, he attended Florida Community College, studying Industrial Electronics. Having a good understanding of electricity gave him an edge working with his dad after school. Jerry has worked more than 30 years in the automotive repair industry, specializing in auto air and drivability. Before owning his own automotive service and repair business, he worked for Ford Motor Company, AutoNation USA, Daimler Chrysler / Jeep as well as a few large independent shops in Jacksonville Florida. After closing his business in 2004, he worked for American Honda. In 2006 Jerry joined Standard Motor Products as a Pro Training Instructor. He is an ASE Master Certified Technician with L1, L2 and L3 certifications. He also holds a State of Florida Emissions License. Jerry currently lives in Fleming Island Florida with his lovely wife and his daughter. He and his family enjoy cooking, fishing, bicycling and hiking. Wayne's previous episodes HERE.
Key Talking Points
Outstanding does not equate to being an 'A' tech. An A Tech, B Tech or C Tech can all be outstanding.

To be excellent and outstanding technicians need balance in their life.

Be grounded with personal time.

They lead in the shop and help develop the culture of growth, a learning environment and take on work others may not want, but also how to take a certain path to a solution.

Will help younger technicians grow in their career.

They will show and share their knowledge.

Outstanding technicians want to work at outstanding shops.

Passion is required. A burn or fire in your belly to show up every day to do your best.

Being self-critical.

Pride in your work to be able to fix a problem no one else can.

Having pride in your workmanship.

Prideful techs will verify their solution.

Pride requires humility.

Growth in maturity is a large factor in these outstanding qualities.

Precision in work quality is an important quality to strive for.

Being accurate and right.

A great fix and a greasy floor or fingerprints on the vehicle will not bring the customer back.

Is the owner creating the environment that attracts outstanding technicians?

Kevin Eckler looks at the Disney model against his own business.

Your team will need to have measures to understand what outstanding means in your business.   

Outstanding Techs:

Are mature.

They realize that they don't know it all.

Want to learn more every day.

Will want to stay current.

Balance

You need a hobby that is not working on cars.

Spend time with family and friends to avoid burnout.

Teach the younger technicians to find this balance early in their career.

Humility comes from age and wisdom and can come at any age.

Flat rate pushed techs to form being outstanding and push to be fast.

A flat rate may have killed a lot of technicians careers.

At dealership doing a job over and over again. Flat rate works.

At independent shops seeing new and different jobs more often lends itself to a salary and bonus program.

Networking is an important ingredient for outstanding technicians.

Learning different points of view on tackling a challenge.

Also, manage shop managers and owners to help you find different perspectives on your work challenges.

Mentoring helps you be 'like' someone by learning their ways and methods.

Finally:

Good communication.

Honesty. Be truthful.

Don't take frustrations home.

Let your family ground you.

Learn to disconnect.

Create a work environment where it is safe to talk about anything.

An outstanding technician is confident and a contributor.

He is a great citizen and helps others.

She has great values.

Learn from your failures.

Don't fake anything beyond your skill level.

Have multiple mentors that can provide you with different perspectives on your challenges.

Must be a perpetual student  
Facebook   Twitter    Linked In    Email
---
This episode is brought to you by Jasper Engines & Transmissions. When a car's engine or transmission fails, it's

not the end of the road. A remanufactured drivetrain product from Jasper Engines & Transmissions will give your car a new lease on life. JASPER has over 2000 Associates, three manufacturing facilities, two distribution centers, and 45 branch offices across the country. They're all working to produce, transport and deliver the perfect product. That's what they do best… keep customers happy. Visit jasperengines.com