RR 359: Mike Maleski. PSK Performance – Underappreciated So He Opened His Own Shop.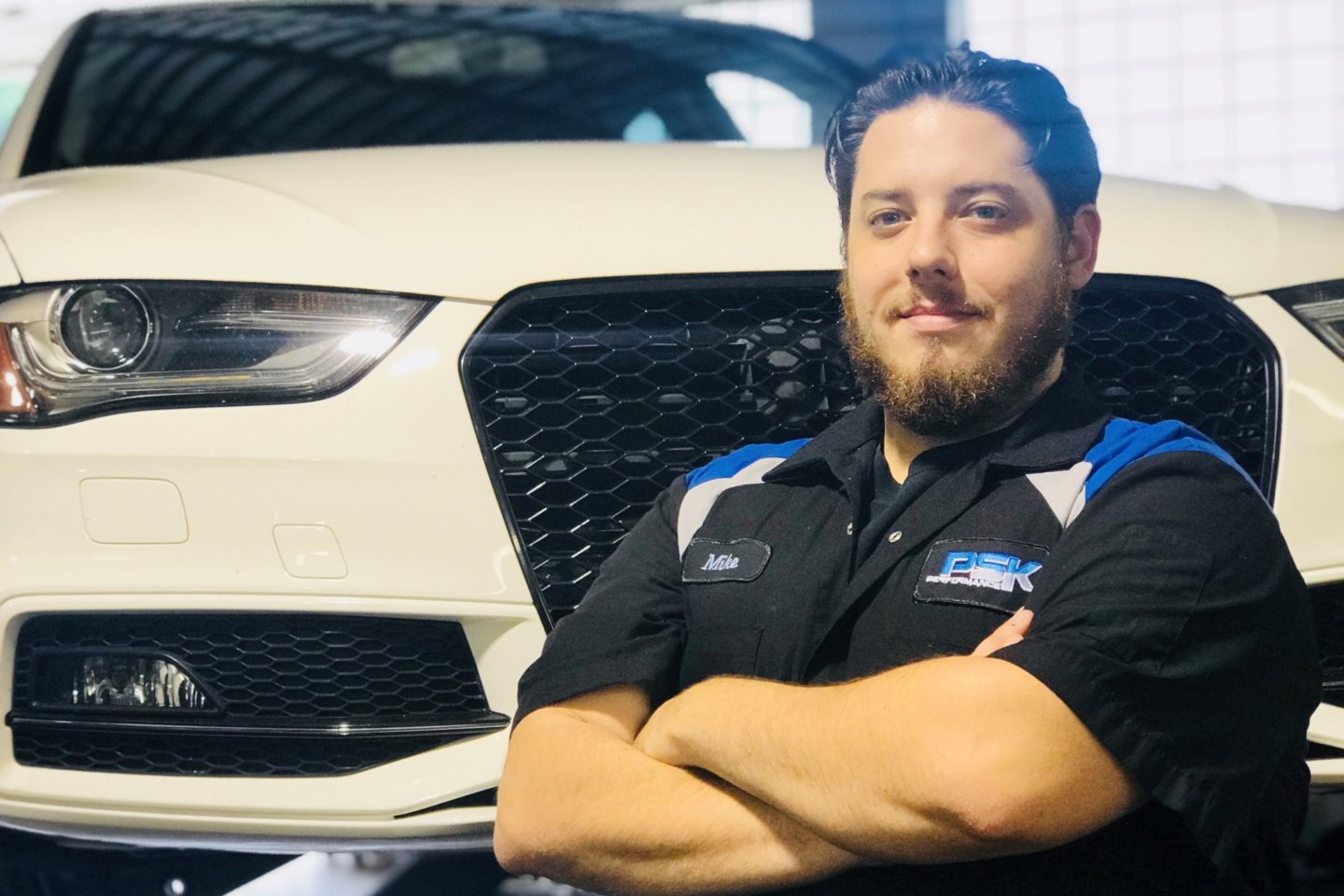 Mike Maleski is the Owner of PSK Performance in Pittsburgh, PA. He started the business 5 years ago after 7 years of working for Honda and various independent shops doing everything from specialty Euro to mobile electronics installation. He holds multiple ASE, MECP, and State recognized certifications. He went to Rosedale Tech and acquired an Associates Degree in automotive technology under the wing of Paul "ScannerDanner".  
In his (very little) free time, he likes to spend it with his family, self-educate to stay current, and brainstorming new ways to grow his business!
Key Talking Points:
Mike left a job at Honda dealership and started a business, PSK Performance LLC, 5 years ago working on primarily European vehicles

He felt disposable at the dealership and not appreciated- Shows appreciation and love to own employees every day.

He was nervous to leave a comfortable job.

Networking- Utilizing contacts from Vision as mentors and friends to ask business questions and advice.   

Stays connected with former college with presentations to students and is on the advisory board.

Makes his career in diagnostics.

Growth plan for facility, staff and second location.  

Labor rates

Increased by almost double than the original rate when first opened.

Parts margin- 45% markup.

Tech shortage

Apprentice- Grow your own tech.

Recently hired new tech- let the new prospect know they will be appreciated, everyone works together, customer treated properly

As most Mike was a tech first, now a businessman. He understands that his role is evolving and he needs to work on the business.
He is changing his learning curve to that of business acumen.

He handles the tough diag side of the business and is working to get one of his guys up to his level.

He met the trained by tech guys at Vision.

He is quick to point out that he is still a; mom and pop; shop

10 -15 year plans another location

He is an advocate for the future.

Paul Danner is one of the reasons he is such a good diag.
Other Resources:
Leave me an honest review on iTunes. Your ratings and reviews really help and I read each one of them.
A special thanks to Mike Maleski for sharing his story.
Shop Profile

| | |
| --- | --- |
| Number of locations: | 1 |
| Total square feet of all facilities: | 3,900 |
| Years in industry: | 12 |
| Years of business ownership: | 5 |
| Number of technicians: | 3 |
| Number of service advisers: | 1 |
| Number of lifts: | 3 |
| Number of bays: | 3 |
| Days open: | Mon-Fri |
| Labor rate: | 95/hr – a recent increase from 80 at our 5-year mark. |
| Average car count: | 25-30 per week. We perform larger services primarily so we do not have 40 oil changes a week. |
| Percent Repair vs Maintenance vs Other: | 50-25-25 |
| Technician training hours per year: | 50 |
| Service adviser training hours per year: | 10 |
| CEO training hours: | Every Chance Available/Daily |
| Specialty: | We are a specialty shop that performs not only routine repair and maintenance services such as State Safety Inspection and Alignments, but we perform vehicle tuning and modification as well. |
| Specialist in: | Import and Euro is our target clientele. VW/ AUDI Primarily. Honda/ Acura is my dealer back background so I brought a lot of those customers with me when I left the dealership. |
| Personal certifications: | Mike was Honda Goldstar certified when working for the dealer, MECP certified ( aftermarket mobile audio certification), Technician in the shop is Audi Master Certified. |
| Special accreditations: | Miscellaneous General ASE certs between the technicians in the shop. I was Honda Goldstar Certified when at the dealership. Misc |
| Shop management system (SMS): | Mitchell and Quickbooks |
| Website provider: | Being rebuilt and restructured at this podcast release |
| Primary supplier: | Advance/CarQuest |
| Performing hybrid repairs: | Yes |
| Engaged with a supplier advisory council: | Yes |
| Succession plan: | Yes |
| Biggest challenges: | Technician Shortage |
| Entrepreneur hack: | NETWORKING is key to spreading the word and your reach throughout the professional community. It will reverberate out to the general public and your business demographic |
| Philanthropy: | We support local charities and donate to our local schools. Being active alumni with Rosedale Technical College, assisting on the advisory board, presented in Paul Danner's classroom has helped me share my experience with future technicians |

Be socially involved and in touch with the show:
Facebook   Twitter   Linked In   Email    Events    Speaking
This episode is brought to you by Federal-Mogul

Motorparts and Garage Gurus. With brands like Moog, Felpro, Wagner Brake, Champion, Sealed Power, FP Diesel and more, they're the parts techs trust.  For serious technical training and support – online, onsite and on-demand – Garage Gurus is everything you need to know. Find out more at fmmotorparts.com  and fmgaragegurus.com