RR 366: Defend Our Marketplace – Keeping Up With Connected Cars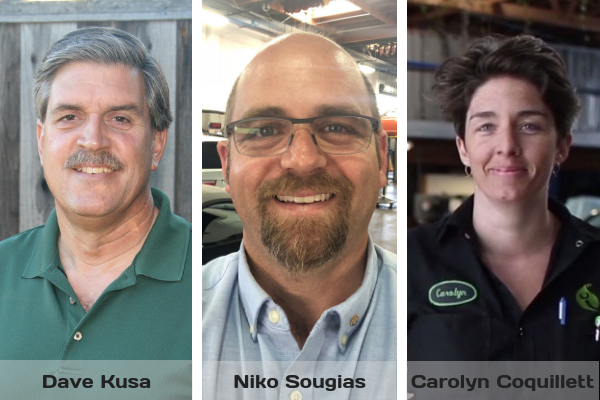 The Panel:
Carolyn Coquillette of Luscious Garage, San Francisco, CA chairs the ASCCA Connected Cars Committee, serves on the ASCCA Board of Directors and is active in her local San Francisco chapter. She's also the Founder and CEO of Shop-Ware.  Look for Carolyn's other episodes HERE.
Dave Kusa is the owner of AutoTrend Diagnostics in Campbell, CA. Dave is very active in Chapter 42 and currently serves as a board member and chapter representative. He has also helped several new shops become ASCCA members. Dave advocates with local legislators on behalf of small businesses and their employees. He contributes to TeamTalk and is a huge resource for members. He was ASCCA's past president. Look for Dave's other episodes HERE.
Niko Sougias and his sister Julia work side by side with Charlie and Shelly to carry on the family tradition of Charlie's Foreign Car Service, one of Downtown Encinitas's most successful and enduring local businesses. Niko purchased the shop from his father 3 years ago. Charlie's Foreign Car is a BOSCH service center. Niko is a member of ASCCA and sits on the connected car committee. Niko is a newly appointed BOSCH Car Council member. Also an Encinitas Rotarian. He is Married with 2 kids. Niko now operates the shop with 7 technicians, 3 service advisors, and a parts manager. Look for Niko's other episodes HERE.
About ASCCA's Connected Cars Committee
ASCCA's Connected Cars Committee was established August 1st, 2017 with the mission to "protect the ability of ASCCA membership to do business in California, including safe, secure, and uninterrupted access to vehicle onboard systems and the required tools to fix them."
Committee members are also active in:
National Automotive Service Task Force (NASTF)
Society of Automotive Engineers (SAE)
California Automotive Wholesalers Association (CAWA)
Auto Care Association (ACA)
Auto Service Association (ASA)
ASCCA Government Affairs Committee
Connected Cars Committee Objectives
Membership Support: The Connected Car Committee supports ASCCA membership, providing:
news and analysis of the trends in "connected" cars (telematics and autonomy e.g.)
resources for information and training
guidance on best practices
Partner Collaboration: The Connected Car Committee will work with ASCCA partners, providing:
feedback to partners on "connected" issues as they pertain to California
representation in partner advocacy nationwide
participation in "connected" related events across the Aftermarket
Government Support: The Connected Car Committee will support the ASCCA Government Affairs
The committee, providing:
coordination on "connected" issues; at least one current member on both committees
a dedicated mouthpiece (for members and partners) regarding "connected" issues
immediate updates on "connected" issues that may be relevant to legislation.
Key Talking Points:
ASCCA Team Weekend -Reassurance and clarity after learning more about the changing cars in the industry

Keynote speaker Fred Gruner- Principal Engineer at NVIDIA

Any decision a person makes in less than a second a machine and robot can do it. But human brain compared to supercomputer can still out compute it

Autonomous cars can learn

How do you operate autonomous vehicles safely? Functional safety- A situation with the absence of unacceptable risk.

Can you repair autonomous cars? Yes

Security of autonomous cars will be elevated- Need to be prepared with credentials in order to access cars  

What's next?

Stay ahead of curve- continual learning and being ready for autonomous cars

"Adapt or become obsolete"

Get involved with organizations and associations
Resources Mentioned:
ASCCA Connected Cars Webpage HERE
Luscious Garage Webpage

HERE

Autotrend Diagnostics Webpage

HERE

.
Charlie's Foreign Car Webpage

HERE.
Thanks to Carolyn Carolyn Coquillette, Dave Kusa and Niko Sougias for their contribution to this podcast.
Leaders are Readers. Go the BOOKS page on the website.

Be socially involved and in touch with the show:
Facebook   Twitter   Linked In   Email    Events    Speaking
This episode is brought to you by Federal-Mogul

Motorparts and Garage Gurus. With brands like Moog, Felpro, Wagner Brake, Champion, Sealed Power, FP Diesel and more, they're the parts techs trust.  For serious technical training and support – online, onsite and on-demand – Garage Gurus is everything you need to know. Find out more at fmmotorparts.com  and fmgaragegurus.com