THA 086: Stop Being Busy and Improve Your Productivity!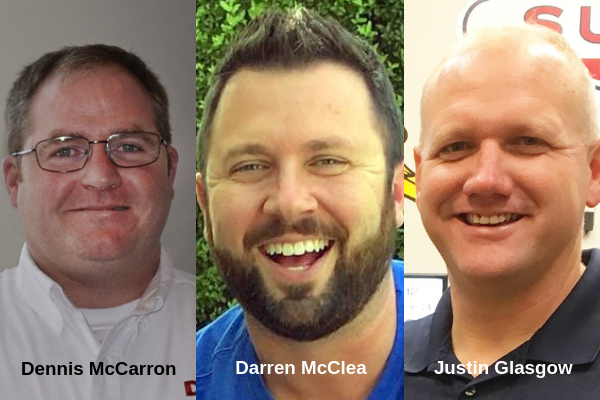 Your Learning Curve Never Sounded So Good
The Panel:
Dennis McCarron, formerly Bridgestone's National Management Instructor, joined Dealer Strategic Planning, Inc. (DSP) as a group facilitator and is now Executive Director.  This is Dennis's second appearance on the podcast.

He passionately studies behavior analysis and teaches sales. His experience includes 8 years managing retail stores for Bridgestone and 10 years designing, instructing and facilitating Bridgestone's management courses.  This development training covered the company's 2,200 retail locations.
I asked Dennis to come back in part two to share his sales philosophy. The talking points below will outline all the great wisdom that Dennis shared. He stresses technique over style.
At DSP, Dennis and his team help independent aftermarket dealers manage the financial, branding, and human resource aspects of running a business. Listen to Dennis's previous episodes HERE.
Justin Glasgow from Performance Tire & Wheel in Topeka, KD, earned a full scholarship to play football for the University of Kansas in 1995.
During his time at KU, he was selected Captain of the team in his senior year.  In 1999, Justin earned a degree in Sports Administration and was drafted by the Miami Dolphins. Football ended for Justin a few months after I graduated from KU. Growing up, he had always worked on and off for his father at Performance Tire & Wheel.  His first professional job was with the Boston Beer Company. Most people know the Boston Beer Company as the purveyors of Samuel Adams and Twisted Tea. The Boston Beer Company allowed me my first chance to cut my teeth in sales and good service.
In 2003, Justin re-joined his father at Performance Tire & Wheel. The company evolved from gas stations that were opened in 1946. His father bought Performance Tire & Wheel in 1990 after the gas stations were consolidated down to two tire stores. In 2013, Justin bought Performance Tire & Wheel from my father and am now the third owner of the corporation. Justin is also the current president of the Mid-America Tire Dealers Association as well.
Darren McLea of McLea's Tire and Automotive in Santa Rosa, CA, grew up in the tire and automotive industry working for his dad, Les, and uncle, Rick.  Starting as a "clean up kid" at age 13 working summer breaks and after school. Darren has worked every position within the family business including and is currently running the day to day business as Vice President and Director of Operations.
Darren graduated from SDSU in 2006 with a Bachelor of Science degree in Geography and a minor in Political Science.  While his schooling and degree would suggest him taking a different career path, the urge and desire to work with his dad and uncle was too strong.  
While away at college, he also realized a new passion…sales and customer service.  He worked at Circuit City selling TV's and components. He was really good at it and his sales were at the top for part-time employees. He realized that he had a way of connecting with the customers. His true enjoyment came from customers coming back and asking for Darren by name.  He took that as the highest compliment. He was hooked on customer service.
All these experiences led to Darren saying that he can't imagine doing anything else with his professional life. He really has the opportunity to do it all in this industry and he can't imagine doing anything else.  Darren is married to his wife, Lisa, and together they have two sons and a daughter, Darren II, Nicholas, and Marie. Listen to Darren's previous episodes HERE.
Key Talking Points:
You must prioritize your life, your responsibilities and your tasks.

We do busy things just to be busy.

Mindless things like being the IT guy when you have an IT person.

Paint the wall because you feel like you get it done.

Owners and managers have no finish line.

The gratification of finishing disappears.

It is easy to put off tough management and leadership stuff and go back to what is easy and mundane.

Darren has a low tech way to prioritize. A paper to-do list.

The phone is always ringing or texting or buzzing.

You get dragged into the smartphone like a squirrel looking for his next nut.

The daily list will carry over to next day on tasks that were not done.

You have no personal firewall.

We are easily reachable.

However, we need to delegate some of the tasks and people who are wanting to get some of your bandwidth.

Get into work early and review your day and prioritize the critical task.

Time management quadrant from Steven Covey.

We are still learning how the medium of email works.

It was never intended to be an immediate way to get in touch with people.

We are info junkies because we'll spend 1-hour reading mindless emails.

We want to know the best new 'game changer'.

When clients reach out they are looking to make a decision on repairs/purchase within 72 hours. You've got to respond in a timely manner.

Customer emails must have priority.

Carve your time out to manage personal priorities.

You need to focus on what is important.

You may have to forgive social media time.

You must know your key priorities as a CEO

You need to make yourself unavailable to your people. Close your door. When it is closed it send a message to solve your own problems.

Create a culture of solving problems.

What would Darren (insert your name) do?

You should have four questions to ask your people to solve their own problems.

They will go through the critical thinking process. They will solve their own problems.

Justin Glasgow holy trinity. His three questions:

Is it good for the customer?

Is it good for the company?

Is it good for the car?

Bonus idea from Robert Henderson:

Does it match our core values?

Cell phone policy can improve productivity in the shop.

Learn to say no can improve your productivity.

There is a right way to say no.

If you say yes to something you are never going to do you are prolonging the inevitable.

You must define your mission, vision, and values.

You'll be able to apply your values to every decision you make. Decisions get easier to make.

Working on continual improvements in processes and procedures will improve overall company productivity. You must consider the disciplines of lean. Go HERE for podcasts on lean.  

Never create processes or procedures on your own. Involve your people and your buying will improve because your team was involved.

Digital tools will improve efficiency

Texting can create almost instant communication with your customer.

DVI, Pictures

Ideas for DVI pictures put a new part next to a worn part like an air filter or disc brake pad.

Dennis talks about slowing down the customer inbound process to not create a land mind. If the customer cannot communicate with you-you'll need to come up with a plan or stop and do it right now.

Consider batching your projects. Seeing reps; consider Tuesdays are the day for reps. This tightens up your planning efforts.

Finishing projects that matter gives you a great feeling of accomplishment.

Frank Sinatra said if you eat a frog first thing in the morning the rest of the day is great.

Steven Covey talks about Rocks. See Books Page for 7 Habits.
---
Resources:
Dennis McCarron Dealer Strategic Planning Website
Performance Tire & Wheel Website
McClea's Tire and Automotive Website

Episodes with Time Management discussion points

HERE

.

Episodes with Lean discussion points

HERE

.

Books Page HERE
Leave me an honest review on iTunes. Your ratings and reviews really help and I read each one of them.
A special thanks to Dennis McCarron, Darren McLea and Justin Glasgow.
Facebook   Twitter    Linked In    Email
---
This episode is brought to you by Jasper Engines & Transmissions. When a car's engine or transmission fails, it's

not the end of the road. A remanufactured drivetrain product from Jasper Engines & Transmissions will give your car a new lease on life. JASPER has over 2000 Associates, three manufacturing facilities, two distribution centers, and 45 branch offices across the country. They're all working to produce, transport and deliver the perfect product. That's what they do best… keep customers happy. Visit jasperengines.com