RR 381: SVI – Secure Vehicle Interface: The Future In Secured, Standardized, And Direct Access to Vehicle Networks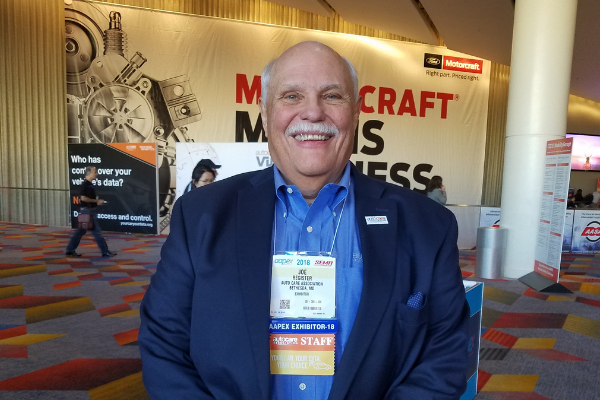 Joe Register has over 40 years of experience delivering progressive system solutions to companies in every channel of the Automotive Aftermarket. This work includes the design and implementation of enterprise systems for two startup ventures.

Joe presently leads Emerging Technologies at Auto Care and participates as an ANSI expert assigned to ISO TC22 Road Vehicles, ISO TC204 Intelligent Transport Systems and SAE vehicle security committees. His current focus is the industry's adoption of secure and standardized access to in-vehicle systems to ensure today's increasingly complex vehicles can be properly maintained and repaired.
Specialties: Strategic planning; program management; systems architecture/modeling disciplines applicable to business processes, data and application integration; web service design & development.   Listen to Joe's other episodes HERE.

Key Talking Points:
Joe managed a 30 bay shop when he was 25 years old and has written software (code) in the aftermarket to help improve the industry.

ADAS (Advanced Driver-Assistance Systems) is about vehicle automation today

Auto care has made a substantial investment to bring SVI standards to the industry.

SVI is a parallel track to ADAS

SVI(Secure Vehicle Interface) is about connecting the automated vehicles to themselves and to infrastructure securing the information shared and warding off bad actors that could infiltrate.

SVI is a secured and standardized and direct access method to the vehicle network(s) and builds a profile of the individual who can gain access to the vehicle data. Authentication and authorization.
Security: Are you who you say you are?
What are you authorized to do?

ITS: Intelligent Transporation Systems infrastructure (A big investment)

Implemented wired or wireless  

OE's may want certifications to work on their cars.

Joe started to engage w/OE (Influence)

Involved in Standards in Design (Bodies)

By 2020 50% of the vehicle cost will be in electronics.

Shaping the aftermarket's engagement in SVI, but we can't outspend the OEs.

The best course of action was to be more sympathetic to the aftermarket.

Get involved with States and get Fed to see.

One interface with every application.

VtoV, VtoI, Direct access Diagnostics, Telematics.

No OE pushback.

Security certificates.

SVI security

Like online banking.

Seamless

Complex behind the scenes

Different profile like a bank.

Enables direct access

OE fancies that all data will pass through their filters and they decide what gets passed on.

Certificates get access.

How do I get my certificates?

Qualified diagnostician.

You'll get access to codes and updates: ECMs and apply patches

B to B,  B to I (Business to Business, Business to Infrastructure)

OEs are saying that 50% of the cost of a vehicle will be electronics/computers in the near future.

Will become more important than the driver.

Pay attention to ADAS because if you don't when SVI arrives you will be lost.

ADAS is the most important to learning vehicle automation.
Resources:
Thanks to Joe Register for his contribution to the aftermarket's premier podcast.
Link to the 'BOOKS' page highlighting all books discussed in the podcast library HERE. Leaders are readers.
Leave me an honest review on iTunes. Your ratings and reviews really help and I read each one of them.


Be socially involved and in touch with the show:
Facebook   Twitter   Linked In   Email    Events    Speaking
This episode is brought to you by Federal-Mogul

Motorparts and Garage Gurus. With brands like Moog, Felpro, Wagner Brake, Champion, Sealed Power, FP Diesel and more, they're the parts techs trust.  For serious technical training and support – online, onsite and on-demand – Garage Gurus is everything you need to know. Find out more at fmmotorparts.com  and fmgaragegurus.com