RR 389: The Art of Successful Mentoring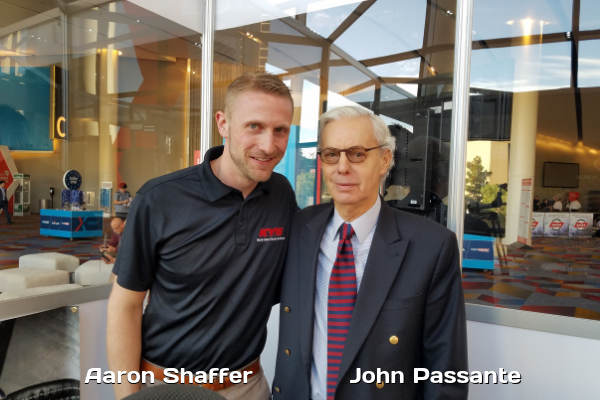 Dr. John Passante is a legacy automotive aftermarket Human Resource professional and the President and CEO of The Organizational Development Group.  He's worked with and for some of the biggest names in our industry including Monroe/Tenneco, Delphi, Moog and Car Quest.
I've seen John speak at many events and he always ignites the spirit of self-development and leadership. John works with many aftermarket organizations to increase its effectiveness by better utilizing their human capital to implement change initiatives including Management Development, Leadership Development, Personal Development, and Team Development among others.
John is the author of the book: The Human Side, Human Touch Leadership in a High Tech World
and the creator and thought leader behind the book: A Woman "s Perspective on Leadership!!
An adjunct Professor at the University of the Aftermarket, listed in Who s Who in Training and Development and in the Automotive Hall of Fame. John is also an Executive Coach to many aftermarket leaders. Find John's other episodes HERE.
Order John's books here: Orgdevgroup@gmail.com
Aaron Shaffer began his career with KYB in 2002 as a Territory Sales Manager after working in several auto parts stores. In 2003, Shaffer was promoted to manage the introduction of KYB into an auto parts wholesaler with 300 locations.
In 2004, he relocated to KYB's headquarters in Addison Illinois, where he was named Customer Service Manager. In this role, he managed a team of 11, improving policies and procedures to adjust to KYB's growing aftermarket business. Mid-way through 2005 Shaffer became KYB's Marketing Manager. As Marketing Manager, his responsibilities included Advertising, Public Relations, and Pricing. He helped to create KYB's first National Marketing Calendar, and was involved in many special projects including the launch of KYB's complete corner assembly, Strut-Plus, and the introduction of KYB's service provider-focused training initiatives.
In 2010 Shaffer relocated to Washington DC to work directly with channel partners on the east coast. He assisted with KYB's service provider training programs and was later promoted Business Development Manager, working directly with several key national account distribution partners. The Import Vehicle Community recognized Shaffer with the Young Executive of the Year Award in 2016.
Shaffer recently moved to Indianapolis to work out of KYB's North American Headquarters and was named the Director of Product and Marketing. He is responsible for new product development and introductions as well as marketing materials, national promotions and all public relations activity
Shaffer holds a BBA in Economics from Northwood University.  He is a lifelong automotive enthusiast and has been active in Motorsports competing in 24 Hours of Lemons events as well as racing sprint cars. Aaron is married to Jennifer Louie Shaffer.
Key Talking Points:
It helps the Mentee on the road to Self – Awareness !!

Their Values, strengths, and areas that need improvement !!

And probes what they are passionate about !!

External self-awareness is how other people see us !!  It is indeed a journey to learn about one"s self !!

The goal is Professional and Personal Growth !! Only about 15 percent of the population has a true sense of Self- Awareness !!!  It involves Trust and Courage !!

Mentoring from both sides, people who have mentored me; Mike Howarth, Mac McGovern and Dr. John Passante and people I have helped and coached

The importance of a plan and setting aside specific times to meet. Having a brief agenda is also helpful

Always asking mentees questions, always challenging their thought process and most importantly standing with them when they fail. I believe that a lot of today's younger employees really lack confidence.

Importance of investing in people, because you can't poach people who know more about your business
Resources:
Thanks toDr. John Passante and Aaron Shaffer for their contribution to the aftermarket's premier podcast.
Link to the 'BOOKS' page highlighting all books discussed in the podcast library HERE. Leaders are readers.
Leave me an honest review on iTunes. Your ratings and reviews really help and I read each one of them.


Be socially involved and in touch with the show:
Facebook   Twitter   Linked In   Email    Events    Speaking
This episode is brought to you by Federal-Mogul

Motorparts and Garage Gurus. With brands like Moog, Felpro, Wagner Brake, Champion, Sealed Power, FP Diesel and more, they're the parts techs trust.  For serious technical training and support – online, onsite and on-demand – Garage Gurus is everything you need to know. Find out more at fmmotorparts.com  and fmgaragegurus.com
If you are not mobile, then listen on your favorite listening app HERE.