RR 401: Family Succession Part 1 – Our Future Female Shop Owners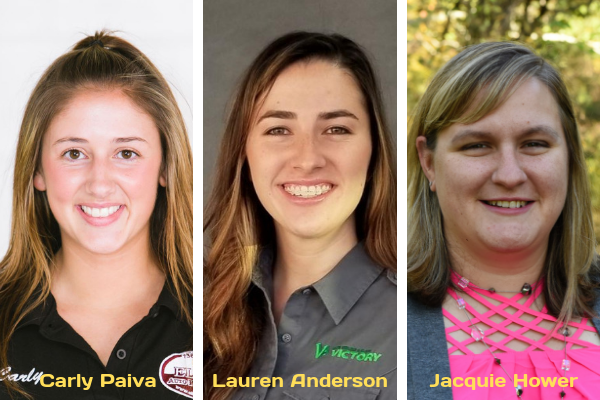 Jacquie Walter Hower is the Director of Operations and 3rd generation at her family's business, Zimmerman's Automotive, in Mechanicsburg, PA. During high school and into college, Jacquie worked part-time for the company working in the Quick Lube department as a technician changing oil and maintaining customer vehicles. After her sophomore year of college, she was given the chance to become a manager for a new Quick Lube location for the company. Since then Jacquie's love for the industry grew into a passion. As director of operations, she handles a number of different jobs such as customer service, service auditing, daily accounting, training, and community involvement/events. In the summer of 2016, Jacquie began the Aftermarket Management program at Northwood University where she hopes to complete her bachelor's degree in two years. Jacquie is involved with the Car Care Women's Board and sits on the board of directors at the Mechanicsburg Chamber of Commerce.  She resides in Mechanicsburg, PA with her husband, Dan, and their two young boys, Brantley (4) and Mason (2). Hear Jacquie's Previous Episode HERE.
Carly Paiva is 22 years old and she has always been around the automotive business since she was 2 years old. Her parents opened Elite Auto Repair April of '98. Due to them both trying to start a new business, she was always at the shop. She started working in the business as soon as she could. Her mom would bring home office work such as filing, making new folders for new customers, mailers and a lot of other stuff. Once she could drive, she would go after school. She went to college full time and worked around her school schedule. She attended a community college in RI where she received an associates degree in business. The longer she worked there, the more responsibilities she had. She did office work, bookkeeping, and was even a driver for awhile picking up customers, washing cars, picking up parts etc. It wasn't just up until this year where she started writing service. Three years ago their shop joined Cecil's Smart Group and Carly have attended many of his classes. She is currently attending one.
Lauren Anderson is an Executive Assistant to her dad. In her position, she gets the opportunity to learn all aspects of the business, through her dad's experience and perspective. She also takes care of anything that her dad asks her to. She is responsible for the management of the company's security including keys, alarm codes, login information, online presence and completing monthly reports. Her dad gave her the Freedom to speak up on any subject at any time either to make suggestions or to ask questions. Freedom to manage her own calendar, schedule, tasks, and responsibilities. She is finding solutions to setting their staff for success.
Key Talking Points:
Know your role

Know your communication style (example DISC)

Mutual Respect

Multiple family members need to understand the parents plan for succession that there will be one leader (president). These tough conversations must be had.

Room to fail

Get training on leadership and the different roles/jobs inside the company

A mountain to learn, gain trust and build relationships

A mentor for both the successor and successee will help.

Jacquie's mentor has been one of her best assets.

Jacquie's mentor came through the Women In Auto Care.   WIAC Website

HERE

.

Connect and keep relationships with the instructor' whose class you've attended.

You will need to learn about your team's ability to change

Seize opportunities to take on projects or responsibilities

Create a personal timeline   for your training and immersion into your leadership role

Don't make a change for the cause of change. You need a strong solution.

Some of the ladies initiatives and accomplishments:

5 day work week.

Digitized a lot of paperwork.

Direct payroll deposits.

Involved with the community bigger than ever – First Responders – Jacquie saw the results of that effort faster than many other programs.
Resources:
Thanks to Carly Paiva, Jacquie Hower, and Lauren Anderson for their contribution to the aftermarket's premier podcast.
Link to the 'BOOKS' page highlighting all books discussed in the podcast library HERE. Leaders are readers.
Leave me an honest review on iTunes. Your ratings and reviews really help and I read each one of them.


Be socially involved and in touch with the show:
Facebook   Twitter   Linked In   Email    Events    Speaking
---
The auto care industry is revving up.  New technologies are changing cars and the way people use them. To stay in the driver's seat of all these advancements, you need to take charge of your learning, your business and your legacy. That's where the 2020 NAPA 

EXPO comes in. With help from industry experts and the best suppliers and manufacturers, the 2020 NAPA EXPO will provide the innovations and answers you need to charge forward into the future.
This is your chance to: network with experts in the industry, discover the latest innovations that will help you stay market competitive, and learn more about the new products, services and equipment you'll soon be using every day.
Join us in Las Vegas, April 6-9, 2020!  Contact your NAPA AUTO PARTS store today to reserve your package for this can't miss event. Enrollment is going on now.
To learn more about NAPA AutoCare and the benefits of being part of the NAPA family, visit www.NAPAAutoCare.com.
---
Subscribe to a mobile listening app HERE.