RR 411: Changing of the Guard at ASCCA with Incoming President John Eppstein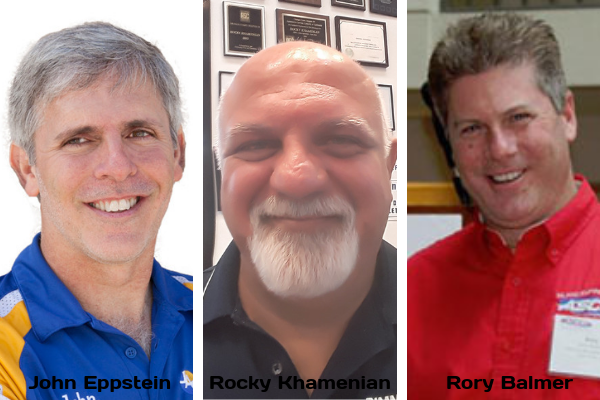 Rocky Khamenian is the owner/operator of Bimmer & Benz Specialists in Costa Mesa, located in south Orange County, CA. He is an active member of Chapters 48 and 50 of the Automotive Service Councils of California. He has served on the Board of Directors for those chapters.
Throughout his 32-year career, Rocky has continually increased his education to maintain the highest possible level of professionalism. He's achieved the status of Master Technician through ASE and he has completed a wide variety of technical classes on the repair and maintenance of BMW and Mercedes Benz vehicles through WTI. He is becoming certified as a Bosch Master Technician.
Rocky is the outgoing president of ASCCA Automotive Service Councils of California. He gives some life lessons for every shop owners, shares the importance of association membership and gives us a glimpse of the new ASCCA Degree program at Cuyamaca College in El Cajon, California. Look for Rocky's other Episodes HERE.
Rory Balmer of Twin Peaks Auto Service in Twin Peaks is a past ASCCA Chapter 14 President and a past ASCCA Membership Committee Chair. He is the incoming ASCCA Vice-President. Rory is working full-time at his business.  He attends De Vry University, where he is completing a BA degree in technical management. He will be attending Washington State University, entering into the Executive MBA program. ASCCA Past President Mary Kemnitz says Rory is "One of the most effective committee members I have ever had the pleasure to work with. He has won the "One Member Can Campaign" twice. He has had a significant impact on the growth and energy within Chapter 14.
John Eppstein is the owner of John's Automotive Care in San Diego, CA. He is the incoming ASCCA President. One thing he credits for his success is making his customer his main focus. John was honored as the 2016 NAPA ASE Technician of the year.  Hear John in our one on one interview in episode 119, 200 and Academy 003 on the Top Qualities of a Service Advisor. Look for John's other episodes HERE.
Key Talking Points:
ASCCA Presidency- engage and unite  automotive shop owners

Follow guidelines

Do the guidelines with your own personality

On 8 committees, visit chapters, and constant communication with the administration

Brought vendors to the association- make industry and association stronger, will only help their business in the end  

VP Rory- ETI committee (Education Training and Information)

Getting new members- need to continue to connect with shops (what's working and not working), every shop has different problems, "what can we do to help?"

Enroll and inspire other chapter leaders/members to connect with people

Legislative day- April, make an impact on shop and industry

Biggest challenges for automotive shops

Finding quality employees

Lack of training

HR issues as your business grow larger

Connected cars

Informing members about the future and beyond

Team weekend trainings- 4 times per year

NASTAF securities
Resources:


Be socially involved and in touch with the show:
Facebook   Twitter   Linked In   Email    Events    Speaking
Subscribe to a mobile listening app HERE.

The auto care industry is revving up.  New technologies are changing cars and the way people use them. To stay in the driver's seat of all these advancements, you need to take charge of your learning, your business, and your legacy. That's where the 2020 NAPA 

EXPO comes in. With help from industry experts and the best suppliers and manufacturers, the 2020 NAPA EXPO will provide the innovations and answers you need to charge forward into the future.
This is your chance to network with experts in the industry. Discover the latest innovations that will help you stay market competitive. Learn more about new products, services, and equipment. You will be using them every day.
Join us in Las Vegas, April 6-9, 2020!  Contact your NAPA AUTO PARTS store today to reserve your package for this can't miss event. Enrollment is going on now.
To learn more about NAPA AutoCare and the benefits of being part of the NAPA family, visit www.NAPAAutoCare.com.