RR 423: Shop Talk 10 – Sold My Business – What's Next?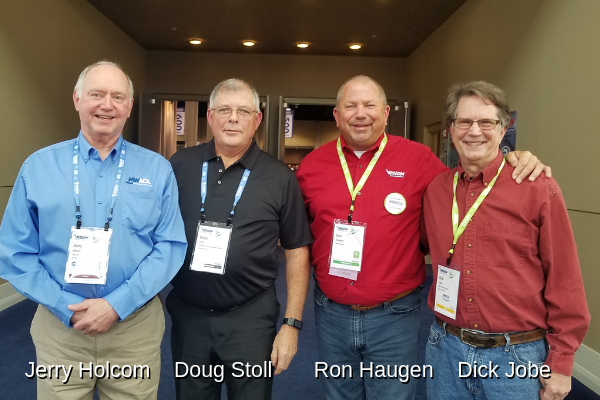 Ron Haugen – Sold his business Westside Auto Pros, Des Moines, IA. Ron is consulting and teaching.
Dick Jobe – Former shop owner, Downtown Import Service. He was known as Dr. Volvo. He now owns Machine Head and he is making metal art.
Doug Stoll – Retired. Past owner of Susquehanna Auto Clinic and The Auto Clinic. Now a part-time coach for Elite Worldwide. A co-founder of Vision.
Jerry Holcom – President of Mid West Auto Care Alliance (MWACA) and owner of S & S Service in Kansas City, MO. A co-founder of Vision.
Key Talking Points
Succession plan- need to plan aheadIt's worth what it's worth- business is worth cash flow not assets
Common mistake- last 5-6 years of owner's career they do not want to spend money/send employees for training. Declining business because they are not aggressively growing it and subsequently will not worth as much when want to sell
You're either going to die or retire- be in control of your retirement, plan when and set yourself up for life after business. Don't let a life event plan it for you.
Future in industry Cost of business increasing
More specialization due to technology
Consolidation
Business coachEstablish and fund budget for annual equipment purchases
JerryHolcomNot retired but his friends on the podcast are!
Loves going to work at shop still
Doug StollHad a goal to retire at 50. He made that goal. Sold business in 2003
Avid golfer
Business coaching part-time
Dick Jobe"Dr Volvo"
Before sold business went back to school and got a degree in machine tool technology and advanced welding
www.machineheadkc.com– mentor interns and help them grow
Started making artistic work
Ron HaugenSold business in September 2018
Business coaching part-time and living the dream in Mexico
Resources:
Thanks to Jerry Holcom, Doug Stoll, Dick Jobe and Ron Haugen for their contribution to the aftermarket's premier podcast.

Link to the '

BOOKS

' page highlighting all books discussed in the podcast library

HERE

.

Leaders are readers.

Leave me an honest review on iTunes. Your ratings and reviews really help and I read each one of them.


Be socially involved and in touch with the show:
Facebook Twitter Linked In Email Events Speaking
Subscribe to a mobile listening app HERE.

The auto care industry is revving up. New technologies are changing cars and the way people use them. To stay in the driver's seat of all these advancements, you need to take charge of your learning, your business, and your legacy. That's where the 2020 NAPA

EXPO comes in. With help from industry experts and the best suppliers and manufacturers, the 2020 NAPA EXPO will provide the innovations and answers you need to charge forward into the future.
This is your chance to network with experts in the industry. Discover the latest innovations that will help you stay market competitive. Learn more about new products, services, and equipment. You will be using them every day.
Join us in Las Vegas, April 6-9, 2020! Contact your NAPA AUTO PARTS store today to reserve your package for this can't miss event. Enrollment is going on now.
To learn more about NAPA AutoCare and the benefits of being part of the NAPA family, visit www.NAPAAutoCare.com.