FTR 041: Keith Williamson – Change or Be Changed and Commit to be a Forever Student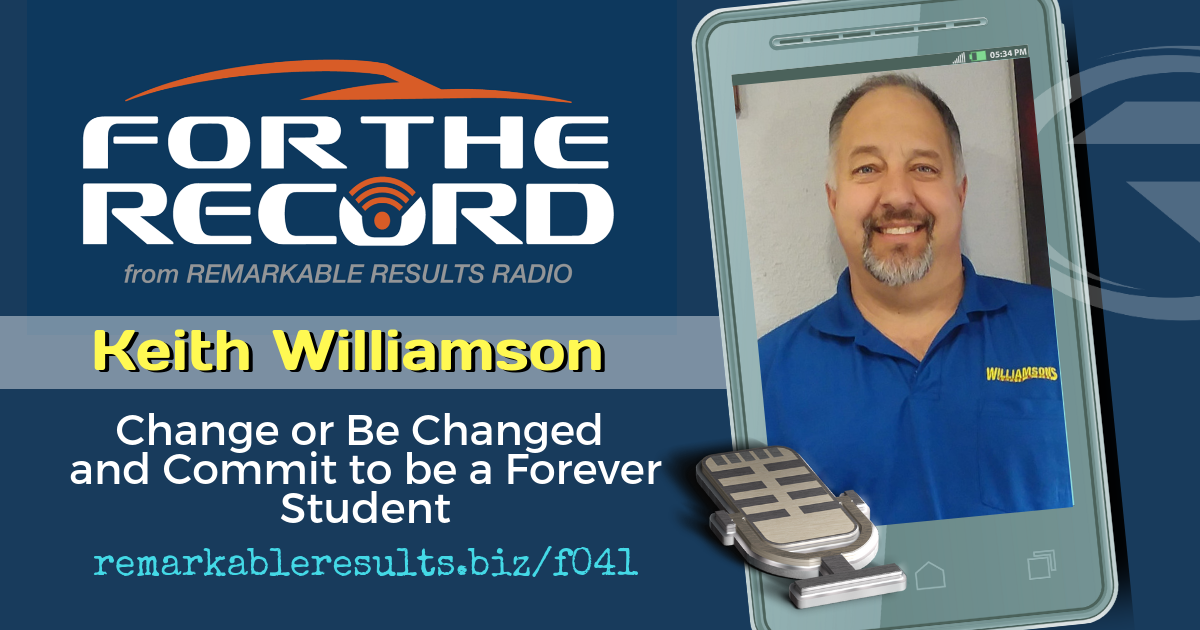 Keith Williamson is the owner of Williamson's Repair and Tire in Bondurant, IA for over 20 years. He is a member of Midwest Auto Care Alliance (MWACA) where he leads the Shop Owner Support Group (an amazing group of shops) in Iowa. He and his team focus on the customer experience, as well as Hybrid, Electric and emerging vehicle Technologies. He recently added a solar array to his building and uses a Toyota Prius and Chevrolet Volt as shuttle vehicles and plans to add more hybrid and electric vehicles as they continually update their loaner fleet. He is a member of RLO Training's Bottom Line Impact Group for 4 years. Listen to Keith's previous episodes HERE.
Key Talking Points
Don't resist change

Always be learning

He decided to get into Hybrids and it was a great decision for him

Continual training

Adapting to technology

Charging what you are worth

Take management classes

The technician shortages goes away if you compensate them based on their knowledge

You need to become more profitable

Learn how to do that

Remove the downers that are bringing your culture and team down

Implement what you learn
---
A special thanks to Keith Williamson for sharing his passion – For The Record.
Books mentioned in the content library HERE
Leave me an honest review on iTunes. Your ratings and reviews really help and I read each one of them.
Email Carm HERE.

Be socially involved and in touch with the show:
Facebook   Twitter   Linked In   Email    Events   Instagram   Speaking
---
This episode is brought to you by FlexCheck Auto Digital Vehicle Inspection Software.
Savvy shop owners use vehicle inspections to find additional work on a vehicle that the vehicle owner may not know is needed. The most successful shop owners fully inspect every car, every time. It benefits the vehicle owner more than the shop because most vehicle

owners want their autos to be reliable.
FlexCheck Auto takes the power of a shop's inspection process and puts it in the palm of your technician's hand so that pictures, video and vehicle specific notes about a vehicle's condition can be shared quickly with vehicle owners. This simple, fully customizable system is designed to operate on any Android device. It improves technician efficiency in the bays, service writer efficiency at the counter, increases average repair order and builds trust with vehicle owners.
Today's vehicle owners want to receive their vehicles health status electronically, this makes FlexCheck Auto the most transparent way to do sell auto repair. Try it for free for 30 days! Go to FlexCheckAuto.com to learn more.
---

Download the Remarkable Results Radio listening APP for your smart device: