Bill Long MEMA CEO – Advancing The Business Interest of Our Industry [RR 499]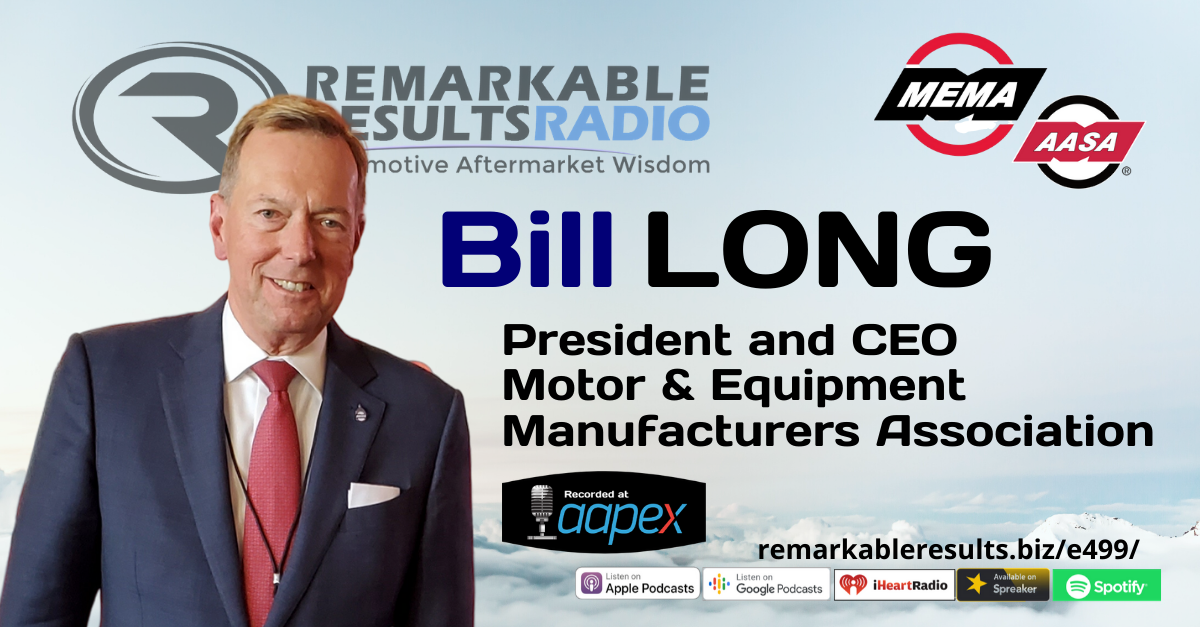 Bill Long is president and chief executive officer of the Motor & Equipment Manufacturers Association (MEMA)
Which represents the largest sector of manufacturing jobs in the US through its four divisions, the Automotive Aftermarket Suppliers Association (AASA), the Heavy Duty Manufacturers Association (HDMA), the MERA -the association for sustainable manufacturing and the Original Equipment Suppliers Association (OESA).
Long is a respected and highly recognized industry leader with more than 30 years of automotive experience in all sectors of the automotive industry. Long joined MEMA in 2012 to lead its AASA division before taking the top spot as MEMA President & CEO February 2019. Prior to joining AASA, Long served as president of Long Strategies LLC and as managing partner of BC Partners LLC, providing strategic planning, brand relevance and leadership services to the automotive industry. Long is most recognized for his 25 years at Echlin/DANA leading the company's Engine Management Division and as Executive Vice President, North American Operations for Proliance International, a leading manufacturer of temp control and heat exchange products.
Long is also well-known in motorsports circles where he served as a corporate officer for NASCAR in Daytona Beach and as a top executive for the IndyCar Series and the Indianapolis Motor Speedway. Long served on the boards of the National Automotive Service Task Force (NASTF), Northwood University Automotive Aftermarket Advisory Board, Automotive Aftermarket Charitable Foundation and the Automotive Aftermarket Charitable Foundation. Board. Long is also a past chairman of the National Car Care Council.
Long was awarded the prestigious MEMA Triangle Award during his time at DANA and Northwood University's Automotive Aftermarket Management Education Award, both recognizing his work in educating federal lawmakers and serving as a technical expert on issues concerning the industry's access to vehicle on-board diagnostics and repair information. Long was honored with the Jack Arute Sr. Excellence in Motorsports Award for his contribution and dedication to the motorsports industry.
Talking Points:
MEMA- Motor and Equipment Manufacturers Association 115th Anniversary
MEMA advances the business interest of our industry
Created trade association to move industry forward
Challenges-rate of accelerated change in the industry, vehicle data access
Vehicle parts manufacturers represent the largest sector of manufacturing jobs in the USA- we have a powerful voice
77% value new car is generated by MEMA members
OE suppliers are members
Bill met with the Vice-President of the United States in the White House this year
A great economyUncertainty with tariffs but hopeful
Supports the right to own your data
It is getting tougher to get aftermarket parts brought to market because of encrypted software in many parts
EcommerceNeed qualified technicians to diagnose issues and problems
Parts sales will continue to grow
Link to http://www.mema.org


Be socially involved and in touch with the show:
Facebook Twitter Linked In Email Events Speaking
Subscribe to a mobile listening app HERE.



Gold Certification recognizes top tier NAPA AutoCare's with a high level of participation in the AutoCare program. The program was built by AutoCare Centers for AutoCare Centers to provide a consistent consumer experience, maximize technology leverage, and reward NAPA's most committed partners. In other words, Gold Certified AutoCare Centers are the standard-bearers for the AutoCare brand nationwide. Simply put, the Gold Certified NAPA AutoCare program, powered by your local shop brand, will separate you from the rest helping you boost your bay counts and your average repair orders. Learn more about NAPA AutoCare, Gold Certification, and the hundreds of other benefits the NAPA family has to offer by talking with your servicing NAPA store or visiting www.NAPAAutoCare.com.