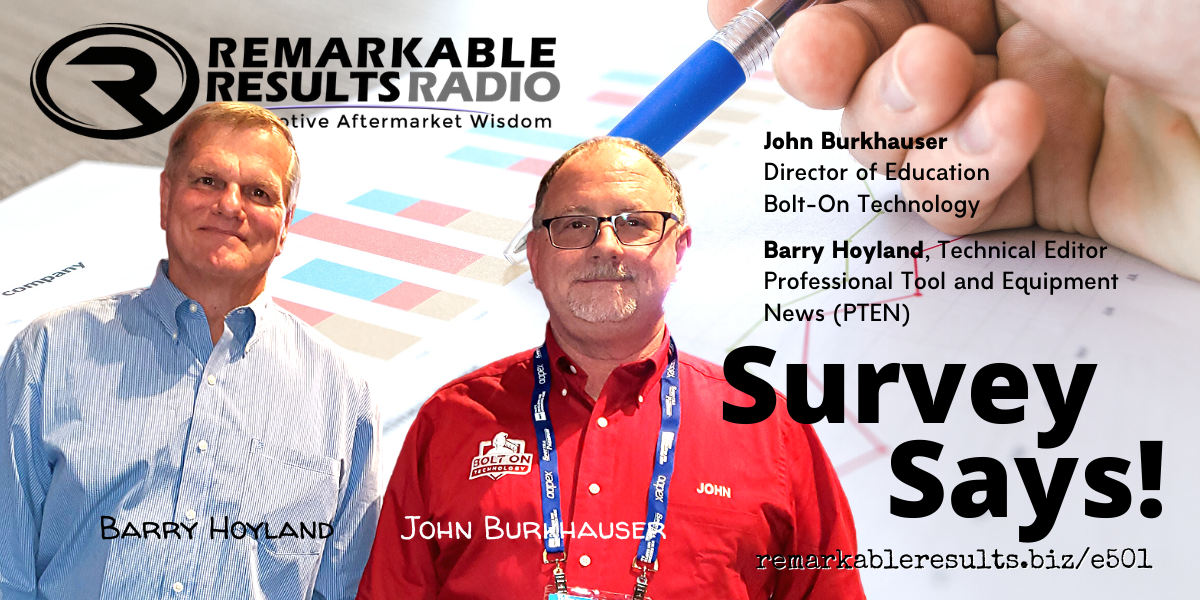 John Burkhauser is currently employed at BOLT ON TECHNOLOGY as the Director of Education, a job that allows him to use a lifetime of learning experience day in and day out. John dreamed of being a meteorologist but found out college wasn't for him.
When his car failed the state inspection, that was the day his career was decided on. John went to Pennco Tech to attend the Auto Gas and Diesel program. After graduation, John started work in a dealership where he went from a "D" technician to an "A" technician in a few short years. He also added shop foreman to his resume. During this time, John became certified as an ASE Master Technician and Advanced Level Technician which he still maintains.
Crossing to the other side of service, he became a service adviser winning the Ford Silver Medallion award. He then became a Service Manager for a large dealership.
John also worked in the independent aftermarket. He then applied to be an instructor at a post-secondary automotive training school where he taught basic electrical and HVAC courses for the better part of ten years.
Fortune would change his career path again when John learned about BOLT ON TECHNOLOGY and became part of the team. Listen to John's previous episodes HERE.
Barry Hoyland has been in the independent aftermarket for more than 45 years as a technician, shop manager, technician trainer, and for over 28 years owned and operated a successful Southern California automotive repair center that offered complete auto care and specializes in emission and diagnostic services. Barry also owned and operated a company that modified vehicles to perform as emergency response units and mobile command centers, incorporating high-end electronic components into today's vehicles.
Barry has for the past 8 years writing and delivering both technical and shop management training programs for Delphi, O'Reilly Auto Parts, Automobile Club of Southern California, and many others. He has also provided consulting services for many automotive shops, fleets, and government agencies in order to improve their operational efficiencies. Barry has for the past 5 years served as the technical editor for Professional Tool & Equipment News (PTEN) Magazine, where he writes technical articles and reviews tools and equipment used by today's technicians.
Barry has worked with many NHRA drag racing teams as a crew chief on supercharged alcohol and nitro-methane fueled cars and currently campaigns two Top Alcohol Funny Cars in NHRA competition.
Barry holds active memberships with a variety of organizations such as SAE, IATN, and STS. Barry also holds certifications in ASE: A1, A6, A8 and L1, maintains a California Advanced Emission license, and certification with Mobile Air Conditioning Society (MACS).
Key Talking Points
Bolton and P10 Survey 70% of people responding to the survey were shop owners
21% of responders did 1 million per year or more, 35% did 200k-999; 40% 200k and lower
The shop sells time so saving time make it more profitable
39% have 2-3 technicians
Training is a key priority, it's like oxygen to your business. If you are not training, your shop is slowly dying.
Do you have an exit plan in place for retirement?
How do you set your labor rate? Most say based on what neighbor's rate is
49% of responders had no plans on hiring
53% huge interest in customer service communication
Anniversary. It was 40 years ago we started to do diagnostics on very basic systems. Look where we have come
Resources:
Thanks to John Burkhauser and Barry Hoyland for their contribution to the aftermarket's premier podcast.
Link to the 'BOOKS' page highlighting all books discussed in the podcast library HERE. Leaders are readers.
Leave me an honest review on iTunes. Your ratings and reviews really help and I read each one of them.
Love what we do, buy a cup of coffee HERE.

Be socially involved and in touch with the show:
Facebook Twitter Linked In Email Events Speaking
Subscribe to a mobile listening app HERE.



As a member of the NAPA family, AutoCare Center owners can take advantage of the NAPA National Health Program from the NAPA Insurance Center. This "NAPA only" program gives you and your employees access to national "large group" rates on medical insurance with premiums discounted up to 30 percent. These rates are based on the collective purchasing potential of 22,500 NAPA locations including both NAPA AUTO PARTS stores and NAPA AutoCare Centers.
The NAPA Insurance Center can help you with a variety of other insurance benefits too. For more information about The NAPA National Health Benefits program as well as all of the insurance benefits available to your AutoCare Center and your employees, visit the NAPA Benefits Center, at www.napabenefitscenter.com or call the NAPA Benefits Center at 844-627-2123.