Cash is King and Important to Your Business [THA 154]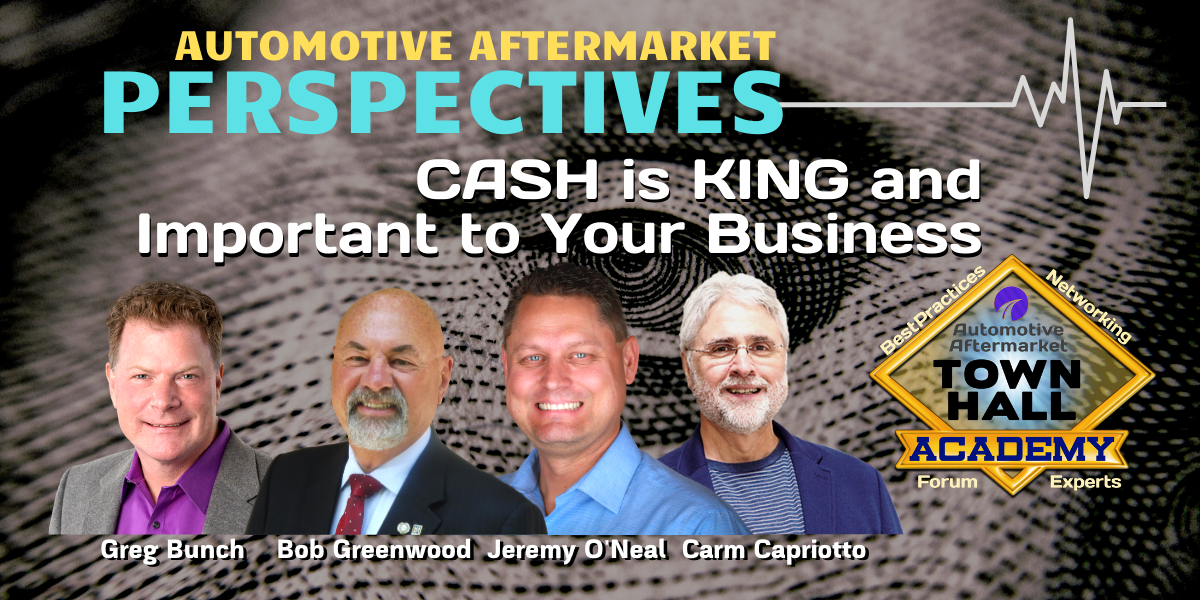 Bob Greenwood, AMAM (Accredited Master Automotive Manager) is President and C.E.O. of Automotive Aftermarket E-Learning Centre Ltd. (AAEC). AAEC is a company focused on providing Business Management Resources and Development for the Independent Sector of the aftermarket industry. AAEC content and technology is recognized as part of the curriculum of the Fixed Operations Diploma and the Aftermarket Degree courses taken at the Automotive Business School of Canada at Georgian College located in Barrie Ontario Canada. This school is the leader and only college in Canada that offers an automotive business education. AAEC is also recognized by the Automotive Management Institute (AMI), located in North Richland Hills, Texas USA, allowing 80 credits for successful completion of the AAEC E-Learning portion of the site towards the 120 credits required to obtain the reputable Accredited Automotive Manager (AAM) designation.
Bob has over 40 years of Business Management experience within the Independent sector of the automotive aftermarket industry in North America, consulting Independent retail shops on all facets of their business operations. His 18 years of running his own local consulting and accounting firm in Ottawa, Ontario Canada created some of the most productive and financially successful entrepreneurs within the Independent sector today.
Bob is one of 150 Worldwide AMI approved instructors. He has created Business Management development courses for aftermarket shop employers/managers, Jobbers and Jobber Sales representatives which are recognized as being the most comprehensive, industry-specific courses of their kind in North America. His courses address the creation of measurable bottom-line profitability and not just developing activity to keep busy, by covering the very detailed nuts and bolts issues that are required to be clearly understood by every level of the industry if an independent shop is going to financially prosper and enjoy a professional future. Bob's previous episodes are HERE.
Link to Automotive Aftermarket E-Learning Centre Ltd. (AAEC) HERE.
Greg Bunch is the owner of Aspen Auto Clinic, a five-location automotive and service business in Colorado. Greg started his passion for cars at 15 when he began rebuilding a 1966 Volkswagen Bug. Greg has moved from a Volkswagen mechanic to ASE Master Technician, to Management, to starting his shop 18 years ago in his garage, to an award-winning multi-location business.
Greg is currently a board member for the STEM-based charter school call "Automotive Institute of Science & Technology" and on the Advisory board of Ratchet and Wrench Magazine. Greg is also a board member of the Autocare organization and a certified instructor for the Worldpac Training Institute and Carquest Technical Institute. Greg's unwavering passion for the industry has also led him to form a company called Transformers Institute, a coaching and training company dedicated to transforming the automotive industry.
Listen to Greg's previous episodes HERE. Transformers Institute HERE.
Jeremy O'Neal President and lead sales trainer for Advisorfix, began his career as a Service Advisor and moved into Service Management at the dealership level for VW, Audi, and Porsche. He consistently placed in the top 3% of Service Advisors across the nation.
With a passion for helping others, Jeremy started coaching Service Advisors in 2007. Jeremy also owns an independent auto repair shop Freedom Auto Repair in Hesperia, CA. Previous episodes HERE. Link to Advisorfix HERE.
Key Talking Points:
More businesses go out of business from lack of cash instead of a lack of profit. Too many run their business out of their checkbook
Undercapitalized, underinsured and lack of cash are indicators when things are not right in OZ
You need a credit line. Get it when you don't need it. It will help you grow and sustain.
Cash does flow to Accounts Receivable. It is not a great place to spend your cash. If your business has fleets then no more than 20% of a six months sales average should be in AR. You must collect your money
Managing costs is a big component of cash management.
Bob Greenwood looks at the amount of labor sold to the total wage package of the entire company. Total grossed-up including benefits. If you achieve 1.30 of total labor to one dollar in your total wage package.
Build a reserve fund of cash. Example $10 per RO each month
Too many spend when they have cash and don't when there is no cash. This is not a great strategy to manage cash
Budgeting is not a dirty word. Budgeting is cash management
When you are spending your cash you have to ask yourself how will this expenditure help my business
Jeremy looks at cash managementSurvival (Tier 1)Mass scramble to put cash in the bank
Stability (Tier 2)Know you can cover the bills, accounting in order, where is the cash coming and going
Significance (Tier 3)Begin to grow wealth
If you are not making enough money, charging a fair price (enough) is important. You have to believe and have confidence in what you are giving for value received for your customer
Triple check your margins. Bills are paid out of gross margin dollars, not margin percent.
Watch the TV show 'The Profit' and learn something
Target market a specialty you and your team have
Get a business coach so you can learn the power of Key Performance Indicator measures
Will an equipment purchase or lease generate enough revenue to pay for it? You will need to be sure you are doing all you can to market and sell the services that support the equipment purchase. How will you pay for the equipment
Service advisor role is to bring in the profitable sales
Bob looks at billed hours per Repair Order [RO]Create daily and weekly objectives and share with the team every day
If billed hours are weak then you are missing a lot of opportunities
The average shop is 1.4 – 1.7 billed hours per RO for consumer work and it should be 2.5Find ways to bring it up
There is money in tires maybe not the best margin, but money is there
If you want to sell your business to a big player you'll need to have tires in your mix
Do not co-mingle funds. Personal is separate. Don't devalue your company with personal assets on the booksKeep personal and business separate
Slow down and think about your business so you can evaluate your business. Know your numbers and ask how are you utilizing your cash
Take action. Save some money each day.
Pay your people well. You need profit and cash
Resources:
Facebook Twitter Linked In Email
Join the Ecosystem – Subscribe to the INSIDER NEWSLETTER HERE.

This episode is brought to you by Shop-Ware Shop Management. It's time to run your business at its fullest potential with the industry's leading technology. Shop-Ware Shop Management will increase your efficiency with lightning-fast workflows, help your staff capture more sales every day, and create very happy customers who promote your business. Shops running Shop-Ware have More Time and generate More Profit—join them! Schedule a free live demonstration and find out how 30 minutes can transform your shop at shop-ware.com