Impact Award Winners 2019 [RR 502]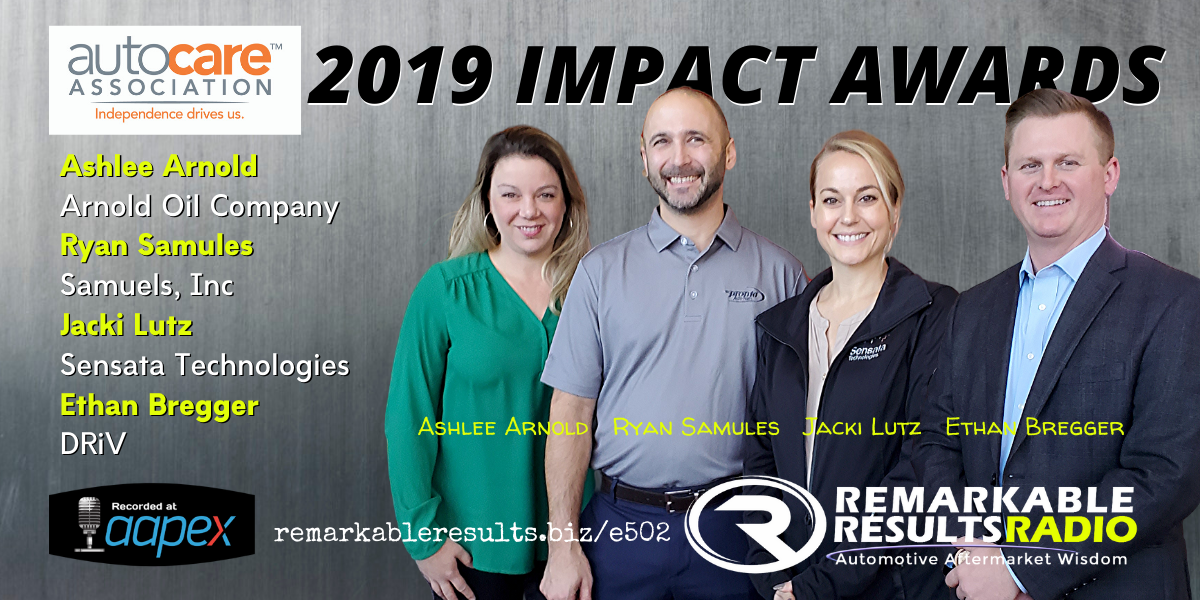 Ashlee Arnold, Vice President, Arnold Oil Company of Austin, has quickly become an influential figure in the aftermarket industry at large and within her own company by persistently showing remarkable leadership and cementing its placement on the esteemed "Aftermarket Business Top 25 Auto Chain" listing several years in a row. Arnold serves on the Federated Auto Parts Board of Governors, Federated Co-Man Council, and sits on the Automotive Warehouse Distributors Association (AWDA) Board of Governors. She serves as a PAC Dog for the AWDA sector and has been a member of the Young Auto Care Network Group (YANG) since its inception in 2014, now serving on the council. She has previously served on the Auto Care's Market Intelligence Committee as well as AC Delco's Policy and Procedure Committee.
Ethan Bregger, training content and curriculum manager, DRiV™️, has a proven track record of success and influence within the auto care industry. Bregger guides the strategy and course content development behind the technical training program "Garage Gurus" and provides insight and guidance on the overall program strategy. An actively-involved member of YANG and a committed Auto Care Political Action Committee (ACPAC) supporter, Bregger recognizes the industry is larger than himself and his company by playing a significant role in the design and operations of multiple industry conferences, including the YANG Leadership Conference and the Auto Care Association's Leadership Days conferences. Bregger is currently serving as Vice Chair of the education committee and volunteers on the Automotive Maintenance and Repair Association/Motorist Assurance Program (AMRA/MAP) Technical Council.
Jacki Lutz, head of global market communications and intelligence, Sensata Technologies aftermarket business, has committed herself to making a lasting impact on the auto care industry and is a proud advocate of the opportunities in the aftermarket. Lutz currently serves as president of the Automotive Communications Council, is a member of Auto Care Association's Marketing Communications Committee, AASA's Marketing Executives Council, AASA's Modern Industry Expertise Council, AASA's Mobility Technology Council and was recently voted as a member of the YANG Advisory Council.
Ryan Samuels, vice president, Samuels Inc., is committed to the continued success of the auto care industry through his investment in training tomorrow's technicians, volunteerism, and advocacy efforts. Samuels is the current secretary of the Automotive Warehouse Distributors Association (AWDA), a member of the ACDelco advisory board, an active member of the National Pronto Association, PAC Dog to Pronto, and was a leading innovator with YANG.
Key Talking Points:
Impact Award- for the future, age 40 and younger
FutureArnold Oil: Diversify business and bring value to customers. Expanded to chainsaws, lawn mowers, etc repair work outside of just parts, oil business and fuel distribution. Make service professional successful- rely on vendors, internal training and management training.
Garage Guru's and DRiV: Service solution offers, goal is to be voice of industry and drive growth of technicians
Sensata Technologies: Specialize in sensors and electronics, new training brand and e-training platform
Samuel's Inc: Building relationships and educating customers
Customer feedback: Are they willing to invest in themselves?
Resources:
Thanks to Ashlee Arnold, Ethan Bregger, Jacki Lutz, and Ryan Samuels for their contribution to the aftermarket's premier podcast.
Link to the 'BOOKS' page highlighting all books discussed in the podcast library HERE. Leaders are readers.
Leave me an honest review on iTunes. Your ratings and reviews really help and I read each one of them.
Love what we do, buy a cup of coffee HERE.
Be socially involved and in touch with the show:
Facebook Twitter Linked In Email
Listen for free on Apple Podcasts, Google Podcasts, Spreaker, iHeart Radio, Spotify, Podchaser and many more. Mobile Listening APP's HERE
Join the Ecosystem – Subscribe to the INSIDER NEWSLETTER HERE.
This episode is brought to you by AAPEX, the Automotive Aftermarket Products Expo. AAPEX represents the $740 billion global automotive aftermarket industry and has everything you need to stay ahead of the curve. With 2,500 exhibiting companies, you'll see the latest products, parts, and technologies for your business. As a result, the event also offers advanced training for shop owners, technicians, warehouse distributors (WDs) and auto parts retailers, as well as networking opportunities to grow your business. AAPEX 2020 will take place Tuesday, Nov. 3 through Thursday, Nov. 5, at the Sands Expo in Las Vegas. Therefore, more than 48,000 targeted buyers are expected to attend, and approximately 162,000 automotive aftermarket professionals. They will be from 135 countries which are projected to be in Las Vegas during AAPEX 2020. For information, visit aapexshow.com