Becoming the CEO – Bob Greenwood [RR 507]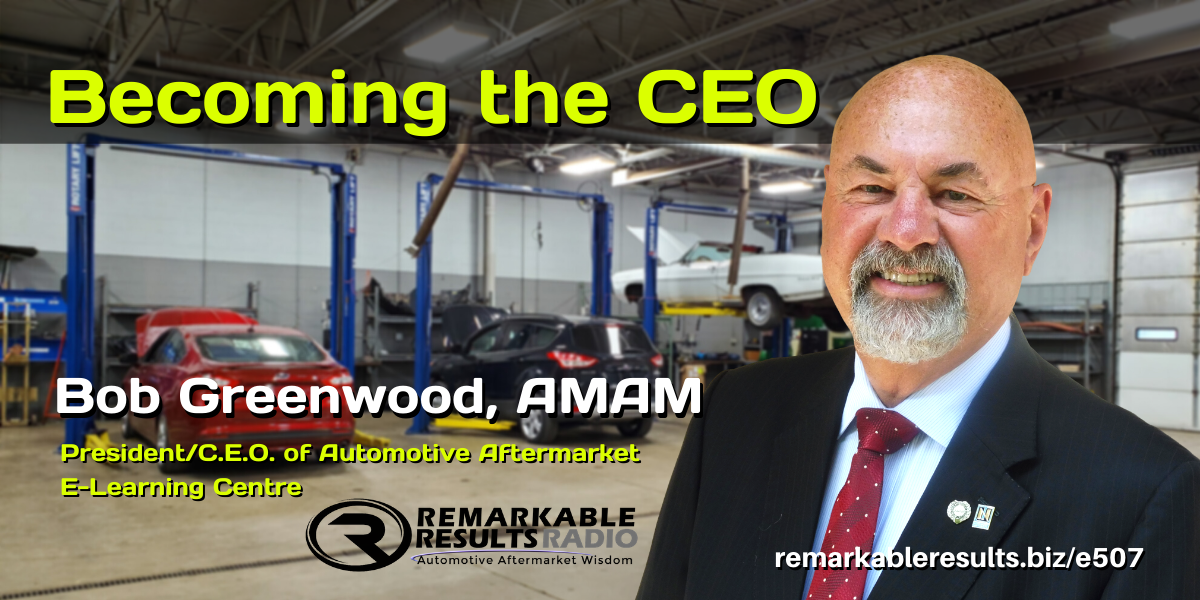 Bob Greenwood, AMAM (Accredited Master Automotive Manager) is President and C.E.O. of Automotive Aftermarket E-Learning Centre Ltd. (AAEC).
It is a company focused on providing Business Management Resources and Development for the Independent Sector of the aftermarket industry. It's content and technology is recognized as part of the curriculum of the Fixed Operations Diploma and the Aftermarket Degree courses taken at the Automotive Business School of Canada at Georgian College located in Barrie Ontario Canada. This school is the leader and only college in Canada that offers an automotive business education. AAEC is also recognized by the Automotive Management Institute (AMI), located in North Richland Hills, Texas USA, allowing 80 credits for successful completion of the AAEC E-Learning portion of the site towards the 120 credits required to obtain the reputable Accredited Automotive Manager (AAM) designation. Bob's previous episodes are HERE.
Key Talking Points:
You need a CEO mindset
You need to move to the next level of the new aftermarket
You need to view your business from the 10,000-foot level
It takes time to learn this new role/position
You must 'RE' your business
Re-New the business model
Re-Learn the business
Re-Tool the business
Re-Certify your standards
Re-Professionalize the business
The mindset of Change. Five bridges the CEO needs to cross
Ability to manage change
The structure that supports the execution
Right people in the right place
Alignment of owner priority. Walk the talk
Shop wide coordination and cooperation. Team. Respect every position
Any size shop needs to find their desire of where they would like to be
These CEO disciplines work for any size business
Resources:
Be socially involved and in touch with the show:
Facebook Twitter Linked In Email
Listen for free on Apple Podcasts, Google Podcasts, Spreaker, iHeart Radio, Spotify, Podchaser and many more. Mobile Listening APP's HERE
Join the Ecosystem – Subscribe to the INSIDER NEWSLETTER HERE.

The NAPA Smart Sign, previously known as Digital Menu Board, gives your shop a professional, state-of-the-art look and feel. It's a great way to educate and inform your customers about needed repairs and service, plus increase awareness of your current promotions. NAPA AutoCare Center that have installed a Digital Menu Board found one out of five consumers ask for a repair or service they've seen on the board. Targeted promotions resulted in double-digit increases. You choose the content from a library of auto care service and repair topics. The latest NAPA national promotions are downloaded to you automatically. And with the Digital Menu Board it's easy to change your services, prices, and video content anytime you'd like. Talk to your servicing NAPA store to find out more.
Learn more about Pro Image and the hundreds of other benefits NAPA offers. Talk with your servicing NAPA store or visit www.NAPAAutoCare.com.