Flat Rate vs Hourly-Bonus Hybrid Pay Plans [THA 157]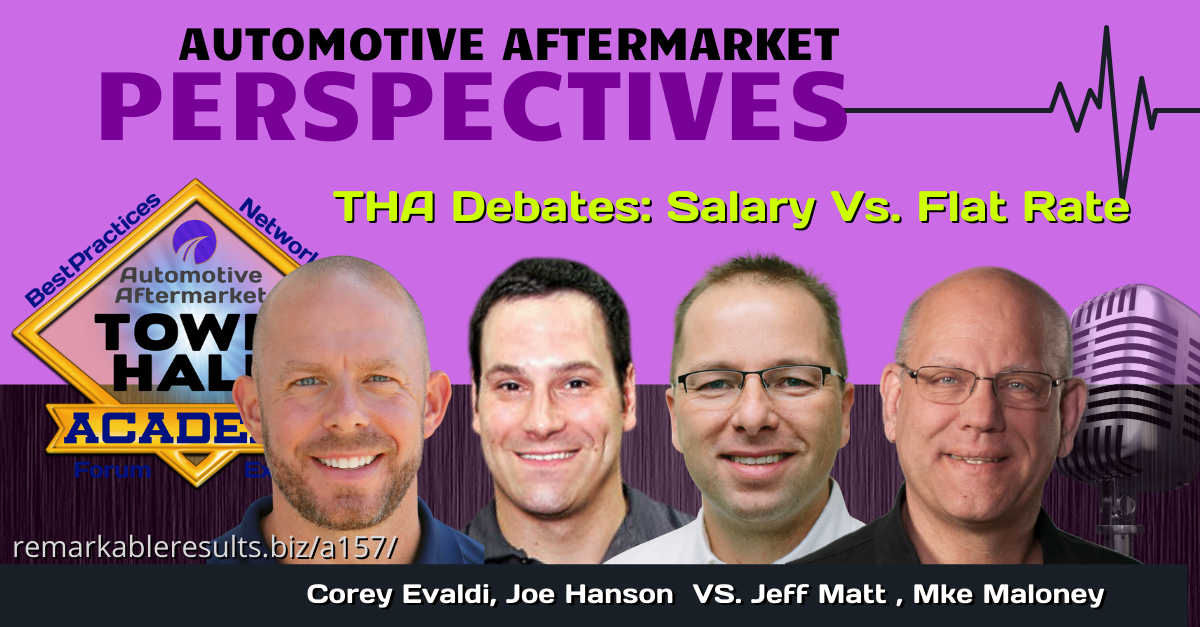 The Panel:
Jeff Matt from Victory Auto Service in Minneapolis and St. Petersburg, FLA, was featured in episode 48. Jeff owns six locations with one being in Florida. He has over 40 team members and has grown through acquisition. Jeff opened Victory in 1997 as a one-bay shop and has slow steady growth over the years. His growth offers up a great view of multi-shop ownership. Episodes Jeff Matt is featured in HERE.
Michael Maloney is president of Convenience Auto Service and owns two general repair facilities in Ann Arbor, Michigan. Mike brings a fairly unusual blend of corporate technical expertise and business leadership to his shops. "I spent thirty years working in large companies, but always wanted my own business." He launched that dream following his retirement from a series of 'regular jobs.' His insights into spaces where automotive, consumer electronics and customer service intersect are drawn from real world experience with some of the world's most successful and innovative companies, including Ford, Nokia, Tyco, GM, Apple, B&W, and Microsoft. His leadership of technology acquisitions, engineering, manufacturing, and purchasing for companies in the consumer electronics, audio and auto spaces gives him a unique perspective relative to other shop owners. Listen to Michael's Episodes HERE.
Corey Evaldi grew up in Buffalo, NY (Lackawanna). He owns Olmstead Auto Care, Olmstead Falls, OH. His dad had his own auto repair shop before Corey was even born. In 1988, he built the shop that is still in business today. He started to enjoy the electronics and troubleshooting of vehicles really young. During his junior and senior year of high school, He went to Potter Road Career and Technical Center and took the Automotive programs. His senior year had an automotive competition at ECC, local community college.
In 2015 he returned and was overwhelmed with the responsibilities of running a shop. he was a technician, service writer, accountant, clean up person, the fireman that extinguished fires all over. He could not keep doing what he was doing. He produced 40% of the billed hours out of 4 techs. He looked for help. Found a coaching firm that really showed him what a business owner looks like. After implementing the changes, there was extreme push back from the existing crew. After standing firm on most things, change over was inevitable. Listen to Corey's Episodes HERE.
Joe Hanson owns Gordie's Garage. Joe has attended Management Success, NAPA training, Lawrence Tech University and most recently he is a member of the RLO 20 Group 13. He has earned his ASE C1: Automobile Service Consultant Certification. Under his father's leadership, he has seen what it really takes to make a business like this work. Listen to Joe's Episodes HERE.
Talking Points For Flat Rate
Jeff Matt: I've never met an hourly paid technician or a technician with a high guarantee of pay that is a high producing technician.
Our limited commodity is time.
To be an effective leader we need to know that pay is just one part of an employee experience
You need to keep your shop full
When they produce you need to be willing to pay them
Mike's tech's hourly rate goes up fast when they hit the breakeven number. He has tiers of hour they need to perform
Jeff:End of day on a Friday when a battery comes in the door. He says if flat rate the customer, the tech and the shop will all win. An hourly tech may not have an incentive to help the customer in this circumstance
Mike says the pay plan should take on the personality of the owner and how he leads
Mike's SMS shows the team where they stand on their hours so they can see their next bonus tier
Mike will pay a GS or Tire Tech by the hour
An example from Mike will offer an hourly bump at 35, 40 and 45 hours
On a comeback, Mike will pay the tech to make it right.Own up to your mistakes
A satisfied customer is job security
Jeff says that the hybrid/hourly plans are a modified flat rateHe wants them simple without profit discussion. That is the owners responsibility
Need the right staff upfront. Another discussion needed
Mike says his technician team is family and he needs to generate enough sales action so they get the hours they need
Jeff has testing levels he sells and it works in his flat-rate systemLV1, LV2 and LV3 of testing he sells
You need a service advisor not afraid to sell diag time
Talking Points for Hourly
Joe places ads that specifically state: 'Are you fed up with flat rate?'
Joe sees good competitiveness among techs but not when it creates tension
He likes when everyone works together for a common goal
Joe like to put a great team together
Corey started as an hourly tech with an incentive.
Corey realizes his job is to create work for this teamHe has a tiered system.
Every shop has a break-even number so he works his tiered system to take that into account
Joe says the pay plan drives the culture
Joe tests his team to find compatibility with each other. He knows their tendencies to communicate with each otherHe has a billable hour goal and the team shares the incentive
His team works together to help each other
Each shop needs to create a pay plan that works for them
Consistency is important to Joe's techs. His program takes the edge away from family finances
Resources:
Facebook   Twitter   Linked In   Email
Join the Ecosystem – Subscribe to the INSIDER NEWSLETTER HERE.

This episode is brought to you by Shop-Ware Shop Management. It's time to run your business at its fullest potential with the industry's leading technology. Shop-Ware Shop Management will increase your efficiency with lightning-fast workflows, help your staff capture more sales every day, and create very happy customers who promote your business. Shops running Shop-Ware have More Time and generate More Profit—join them! Schedule a free live demonstration and find out how 30 minutes can transform your shop at shop-ware.com