Aftermarket Acumen Part 3 [RR 508]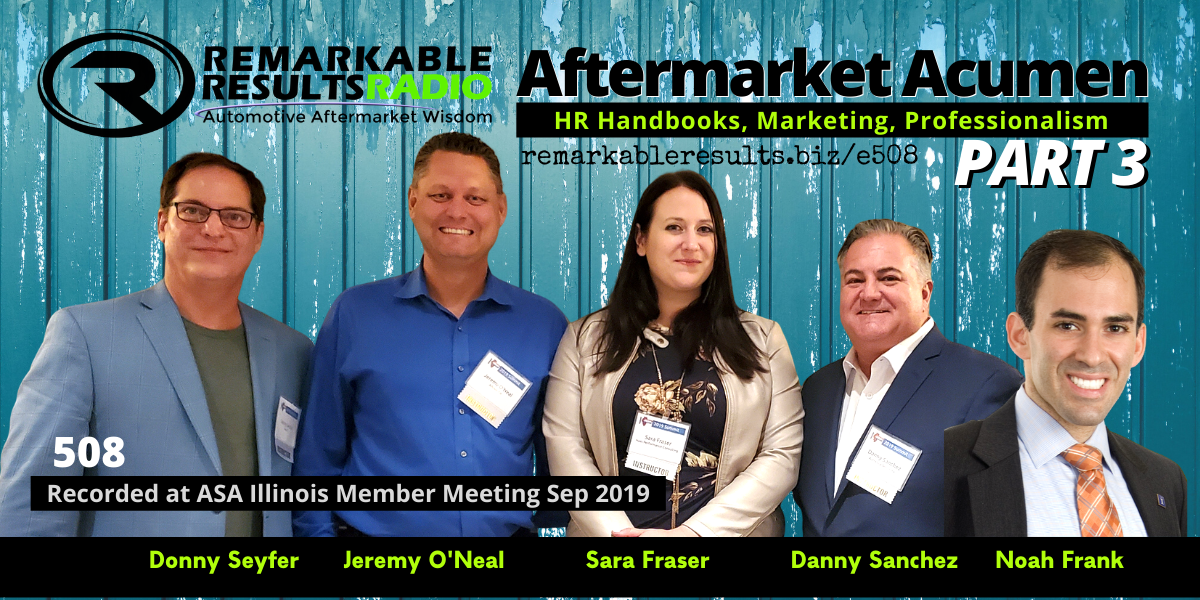 Donny Seyfer the executive officer of NASTF (National Automotive Service Task Force) and Partner in Seyfer Automotive in Wheatridge, CO. Listen to Donny's previous episodes HERE.
Jeremy O'Neal President and lead sales trainer for Advisorfix, began his career as a Service Advisor and moved into Service Management at the dealership level for VW, Audi, and Porsche. He consistently placed in the top 3% of Service Advisors across the nation.
With a passion for helping others, Jeremy started coaching Service Advisors in 2007. Jeremy also owns an independent auto repair shop Freedom Auto Repair in Hesperia, CA. Previous episodes HERE. Link to Advisorfix HERE.
Danny Sanchez is owner and founder, of Autoshop Solutions and grew up spending countless hours working around his dad's auto repair shop in California, eventually taking over and running the business himself. Autoshop Solutions started in 1998, when Danny founded Auto Web Solutions.
The Internet was starting to take off, and Danny took great interest in the powerful marketing benefits it could provide. As a successful shop owner himself, Danny used Auto Web Solutions to consult with other repair shops on their business practices and web presence.
In 2005, when Google launched AdWords and changed its search engine to favor local businesses, Danny saw a huge opportunity for the automotive industry to draw more clients from the Internet. With just a handful of clients and a few websites, Danny built the foundation of his company – quality, affordable, automotive websites and Internet marketing solutions, designed exclusively for the auto industry. Check Danny's previous episodes HERE.
Sara Fraser is a millennial who has a love for life, travel, and connecting with other humans! She has over 15 years of retail management experience, the last 6 of them as an office manager for a used car sales and service center. To bring her customer service, marketing, and business knowledge to the automotive industry she has recently joined the team at Haas Performance Consulting.
Sara loves helping others grow and succeed and is excited to share her expertise on management and social media, her views on how and why the younger generations think and act, and how to work and manage a business within a multi-generational workforce. When she isn't working Sara spends her time traveling, attending theatrical productions, music festivals, concerts, advocating for human and animal rights, celebrating life in general and connecting with other people from all over the world. Look for Sara's previous episodes HERE.
Noah Frank, ESQ, enables businesses to excel under increasingly regulated and taxing environments while protecting them from harmful litigation. He is a trusted partner to a variety of businesses, such as manufacturers, professional services, restaurant chains, medical practices, importers, contractors, and closely held companies.
As a member of the Labor & Employment Practice Group, Noah provides practical and thoughtful advice, strategy, and solutions in a full range of employment, corporate, and workers' compensation matters. He provides comprehensive labor and employment counseling on compliance, policy implementation, and risk mitigation of wage and hour, discrimination, harassment, leave interference and retaliation claims, including under the FLSA, Title VII, ADA, ADEA, FMLA, OSHA, NLRA, Worker's Compensation, unemployment, and state and local laws.
He provides advice to cannabis businesses on their employment practices. Previous episodes HERE.
Key Talking Points:
Sara FraserMillennial workforceThey get picked on for being sensitive. They just will not tolerate things that they deem insensitive
Don't take their phone away from then. It is their connected world
They respond to transparency
Do what you say
Generation Z are the baby babyboomers
Your shops should be human-friendly, not women-friendly
Danny SanchezIf you are working on cars you need to minimize your distractions
You need to have employment agreements and policies
You need a handbook
It has only been recently as shops have cleaned up, become women-friendly. (See Sara's comment above)
We take care of everyone in our community not just women, men or color
Being professional on the inside is as important as how we 'professionally' present to our customer
The small operator model will evolve, but not by standing still
Noah FrankHaving a handbook is a must in any business
Donny SeyferThe younger generation may come to work for you because you have rules
Learn about the generation you are going to hire. Don't fight it
It takes time to move out of the center of everything in the businessYour customers want to talk to you. You have to delegate
If you love to tech, you can find enough help in the industry to be your 'board of directors' to guide you in how your business can grow
Jeremy O'NealAdvertising + Reputation = Sales
Is not a fan of direct mail
As a consumer: Time is more valuable than money
He wants the client to share their experience with the world
He like stories of their experience to be posted
He spends on Uber and Lyft into the 5-star experience for his client
The scorecard refreshes, so you need to have a constant flow of reviews
He looks at the percent of reviews based on the number of clients each week
He loves YELP
When a customer comes in that found his shop via Yelp. He challenges his team to give a 5 Star Experience
Peoples and processes create profits
Resources:
Thanks to Donny Seyfer, Jeremy O'Neal, Noah Frank, Danny Sanchez, and Sara Fraser for their contribution to the aftermarket's premier podcast.
Link to the 'BOOKS' page highlighting all books discussed in the podcast library HERE. Leaders are readers.
Leave me an honest review on iTunes. Your ratings and reviews really help and I read each one of them.
Love what we do, buy a cup of coffee HERE.
Be socially involved and in touch with the show:
Facebook Twitter Linked In Email
Listen for free on Apple Podcasts, Google Podcasts, Spreaker, iHeart Radio, Spotify, Podchaser and many more. Mobile Listening APP's HERE
Join the Ecosystem – Subscribe to the INSIDER NEWSLETTER HERE.
This episode is brought to you by AAPEX, the Automotive Aftermarket Products Expo. AAPEX represents the $740 billion global automotive aftermarket industry and has everything you need to stay ahead of the curve. With 2,500 exhibiting companies, you'll see the latest products, parts, and technologies for your business. As a result, the event also offers advanced training for shop owners, technicians, warehouse distributors (WDs) and auto parts retailers, as well as networking opportunities to grow your business. AAPEX 2020 will take place Tuesday, Nov. 3 through Thursday, Nov. 5, at the Sands Expo in Las Vegas. Therefore, more than 48,000 targeted buyers are expected to attend, and approximately 162,000 automotive aftermarket professionals. They will be from 135 countries which are projected to be in Las Vegas during AAPEX 2020. For information, visit aapexshow.com